The Japanese House at the Electric Ballroom: proof that she's the one to watch
Amber Bain's set in Camden goes to show just how far she has come – but this is just the beginning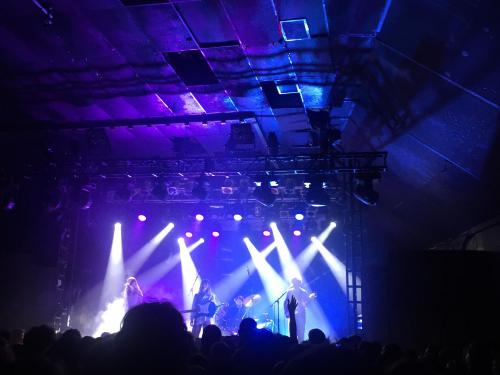 The last time I saw Amber Bain (The Japanese House) perform live was more than two years ago, when her debut album was no more than a dream on the horizon. She was a new face on the electronic/pop music scene, having supported The 1975 on their second album tour and released a couple of EPs. Back then, I remember being so blown away by her hypnotic vocals and ethereal stage presence that I was concerned she may have peaked too soon.
How wrong I was. Fast forward to March of this year and Bain has completely outdone herself with the release of her first album. Good at Falling is a triumph that showcases all of the subtle beauty of her earlier EPs, as well as bringing a new pop edge to her style with tracks such as 'Worms' and 'Maybe You're the Reason.' As we have come to expect from her earlier releases, such as 'Clean,' the production on every track is flawless and serves to complement Bain's magical harmonies perfectly.
All you need on stage is a guitar and a microphone and the music will speak for itself.
In terms of stage presence, Bain has come a long way since a couple of years ago. She now looks so comfortable on the stage and appears so at ease with the audience that it was easy to forget it was a gig at all. Rather, it was as though Camden's Electric Ballroom had been transformed into a listening party for a mutual friend and we had all got the call-up. Bain is a case in point for the fact that, if your rep is good enough, all you need on stage is a guitar and a microphone and the music will speak for itself.
Her set was refreshingly simple and fairly succinct. Material from the album was interspersed with some old favourites, most notably 'Still' and 'Face Like Thunder,' to provide something for both fans old and new. My personal favourite was 'We Talk All the Time,' a great track from the album that was delivered exquisitely live.
Despite being still relatively new on the block, The Japanese House seems to have already marked her territory. Her uplifting but reflective electro-pop has marked her out as one to watch this year in British music. Given she is currently in the US for the American leg of her tour, it would not be unreasonable to think that transatlantic success could also be on the cards.
Admittedly, I am a huge fan, and have already adopted Good at Falling as my exam term soundtrack. I strongly recommend you to do the same.