A sonic youth: exercise with your ears
Columnist Anna Mochar provides an alternative look at the music we use to power us through a workout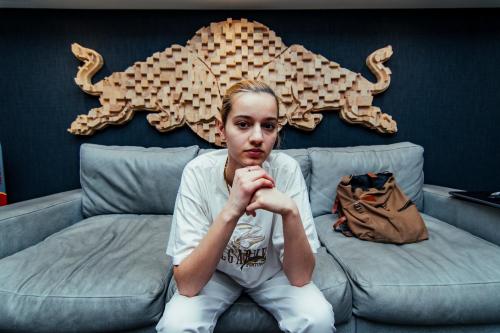 It's been a while since I last stepped foot in the college gym, but when I had a phase of going there most days, there was a ritual to my mornings. An early start, putting on my calm morning playlist, getting dressed, switching to my workout playlist on the way to the gym, a half hour of exercise, breakfast, work. Music was evidently an integral part of the way I'd start my day, besides being important an part of my exercise routine.
This hadn't always been the case: I've tried watching TV while working out (which, to be honest, took the joy out of watching shows a little) and have also exercised in silence, so as to allow myself to just not think for some time. However, I've found that I'm the most effective and energetic when listening to music. This will hardly come as a surprise, seeing as many of us use music to boost our energy and mood. What does this mean for the role of music in this context? Does it only really function as background noise, or have I found myself engaging with it more actively?
Generally speaking, most of the time when I listen to music it will be as background noise or a 'soundtrack' to what I'm doing. Rarely do I actively sit down and listen to a song. This, however, doesn't mean that I don't fully appreciate the music I listen to. I just find that I can appreciate it more if it's part of a moment or mood. For example, listening to Fleetwood Mac in my room is one thing, but listening to 'The Chain' while walking to lectures on a sunny morning, with mist rising from the river is quite another. I have found that this is similar to why I've gradually come to make music an essential part of my workouts. If the whole experience is made more fun and energetic by putting on music that will put me in a good mood, then surely that makes music an integral part of the mood-boosting benefits of exercising.
The average workout playlist you will find online is normally comprised of EDM songs and remixes of familiar tracks. However, though it might seem like it at times, workout music doesn't have to be restricted simply to these genres. Anything that makes you feel happy and pumped will qualify. This can sometimes lead to slightly rogue choices, such as 'Ich geh heut nicht mehr tanzen' by Annenmaykantereit. The juxtaposition of sad and resigned lyrics with a driving bassline makes this a great song for starting out with your workout for the day -  a slow beginning that gradually gets more hyped. I've even found myself squatting to Shostakovich's Waltz 2 from his Jazz Suite No. 2. Basically, anything that fits my mood and the exercises I'm doing will fit the bill – as long as it means I have something to listen to while doing going through my workout.
In general, my selections for a workout playlist will normally be closer to the classic electronic and rock mixes that prevail for this type of song collections. Personally, I don't have a fixed set of songs that I always listen to when working out. Rather, my playlist will be comprised of my favourite songs of the moment. Nonetheless, there will always be a unifying factor to these tracks: they put me in a good mood