Thank u, Ariana
Emily Blatchford consults Ariana Grande for some sage advice from a 21st century icon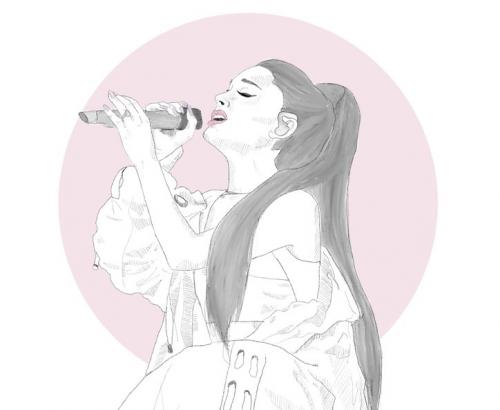 There are many reasons that this year has been a tough one for me, and to top it off I recently got dumped. My year has been difficult but it is incomparable to Billboard's 2018 Woman of the Year, Ariana Grande's last 12 months. The 25-year old singer has been resilient through the Manchester Terror attack, a public break up of an engagement and a death of an ex. I think I can understand, to a far lesser degree, what a hard year feels like, but I certainly haven't dealt with it as successfully as the popstar and her new single 'thank u, next' makes this strength abundantly clear.
There still exists the stigma of break ups, especially for women, that it is somehow humiliating to be dumped
The song is undoubtedly a break up anthem, and went straight on my F U Spotify playlist, featuring 'Bust Your Windows' and a lot of Cardi B. Yet that's not exactly its message. She does not hate on exes and past relationships that she namechecks but, radically, thanks them. In the song, Grande mentions her exes by name, including Big Sean, Ricky Alvarez, Mac Miller and, her ex-fiancé, Pete Davidson. She gives them credit for the positive impact that they've had on her life, singing, 'One taught me love / One taught me patience / And one taught me pain / Now I'm so amazing / I've loved and I've lost / But that's not what I see / So, look what I got / Look what you taught me,' before adding, 'I'm so fucking grateful for my ex.'
Grande is a new kind of empowered strong woman. One that acquires her strength from learning and assimilating her experiences. There still exists the stigma of break ups, especially for women, that it is somehow humiliating to be dumped. Having heard of your break up, others almost always respond by apologising to you before proceeding to pity you and point out negative attributes of your ex's personality. But Grande's message seems to be that going through break ups in your twenties, and indeed at university, is not inherently sad or mortifying, but part of a learning experience that provides you with more positive lessons than negative ones.
She preaches to fall in love and make mistakes, and then to do it all over again
She resists the urge for a Taylor Swift-esque petty takedown, which always in the first instance feels like the most cathartic option. She refuses to dwell on her sadness or pity herself, understanding the ends of these relationships as necessary milestones, and not catastrophic tragedies. She, unlike early single me, does not man-hate, or make an F U playlist. She recognises her vulnerability, but also that crying is not going to help (and that screaming in the smoking area of Life isn't productive). She definitely wouldn't write a fake Crushbridge about herself… Instead we should all simply move on.
Her idea of moving on does not entail a clear cut black and white reaction however. Her message is not about hating past relationships, even though it is often easier to think and talk like that to protect your feelings. Instead she manages to acknowledge that there are things that she loved about these past relationships but that she loved herself more. In the song, Grande continues singing: 'Spend more time with my friends/ I ain't worried 'bout nothin' / Plus, I met someone else / We havin' better discussions / I know they say I move on too fast / But this one gon' last / 'Cause her name is Ari / And I'm so good with that'. Here she appreciates the value of her friendships (something I should definitely do more of) and acknowledges her own worthiness and self-growth.
Unlike every romantic comedy ever, Grande's next relationship is with herself, and not Mark Darcy. She preaches to fall in love and make mistakes, and then to do it all over again. And her advice in support of self-love can be translated to countless other difficult situations we face as we live our lives.
Of course, sometimes I don't live up to Grande's maturity and I just want to eat ice cream and be catty and complain to my friends about how past exes are idiots and I'm great, but I know that the pint-sized popstar and her high-ponytail is right. Grande achieves the rare success of writing something so personal and difficult to talk about and yet empower people in different situations. She manages to have a small-scale impact whilst achieving a large-scale icon status. I have always been cynical of the popstar, but perhaps Ariana Grande should be our new life guru.