Feeling moody with The Neighbourhood
Sophie Weinmann uses the autumnal backdrop as a canvas for connecting with the tristful tunes of The Neighbourhood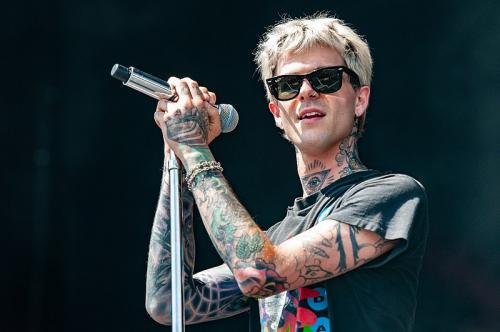 With the days getting shorter, the arrival of more and more grey and gloomy mornings, and those end of term blues slowly kicking in, I've found myself gravitating towards music that embraces the melancholy and fall feelings without dragging my mood into sadness. After making Jesse Rutherford's 2017 solo project & the soundtrack of my summer, this autumn I've rediscovered my love for The Neighbourhood, and specifically their self-titled album from earlier this year.
Sticking to their usual moody, low-tempo rock with hints of pop and R&B thrown in, The Neighbourhood fittingly use the album to explore how they have been dealing with the highs and lows of their career, the refreshingly raw lyrics reflecting what it means to be a part of their band. With a handful of more upbeat songs thrown in, the record is the ideal backdrop to rainy days in the library or dreary strolls to Sidgwick and back.
'Nervous' begins with Rutherford's emotional and eerie concession, "Maybe I shouldn't try to be perfect, I confess, I'm obsessed with the surface."
'Revenge', 'Void' and the appropriately titled 'Sadderdaze' are ideal examples of the generally moody vibe of the album suited to imposing dark afternoons. The hook of my favourite song on the album, 'Scary Love', a track heavy with synthesizers and drums, blends vulnerable lyrics with a strong, propulsive beat. Both 'Scary Love' and 'Blue' provide a welcome disruption with their wavey and hip-hop elements, but still feel natural within the album's lyrical pattern.
Vocally, Jesse Rutherford is especially strong on the final track of the album, 'Stuck With Me', where he elegantly delivers some of his most contemplative lyrics: "I got caught up in the forest, hangin' with the trees//Realized I'm less important than I thought I'd be." Those lines represent one way in which The Neighbourhood explore the theme of perfectionism throughout the album. 'Nervous' begins with Rutherford's emotional and eerie concession, "Maybe I shouldn't try to be perfect, I confess, I'm obsessed with the surface." As the end of term looms, it is natural for us to reflect on our achievements, often judging our relative successes or failures ruthlessly, regardless of how many times we've been through the same demanding cycle. Although Rutherford's reflections on the expectations of perfection and the inevitability of falling short are situated within a very different context, they most definitely strike a chord when it comes to a Cambridge term.
One of the reasons why I have been so drawn to The Neighbourhood lately is the comforting familiarity of listening to tracks that I know so well. When the album first arrived in March, it suited the burgeoning notes of Spring, and Lent term in many ways marked a process of etching the lyrics into my memory. Now, as the shapes and environments begin to shift outside the window, new morphs into old, and we start to search for feelings of serenity and security: putting up candles and fairy lights, watching Christmas movies way too early, or listening to songs that allow us that therapeutic embrace of melancholy.
At this stage of Michaelmas, I'm simply not in the mood to spin any upbeat pop songs or high-energy rap, but not because the grey weather makes me sad; in fact, I must confess these are kind of my favourite days. No, it is because it can be nice to let yourself wallow in some of those winter blues. Striking a balance between reflective and melancholic with a hint of darkness, The Neighbourhood's self-titled album is the ideal soundtrack to accompany that wallowing.