Music through the lens
From the pop power of Eurovision to the strength of Leicester City natives Kasabian, students share with us the gigs that have impacted them as captured through the iPhone lens.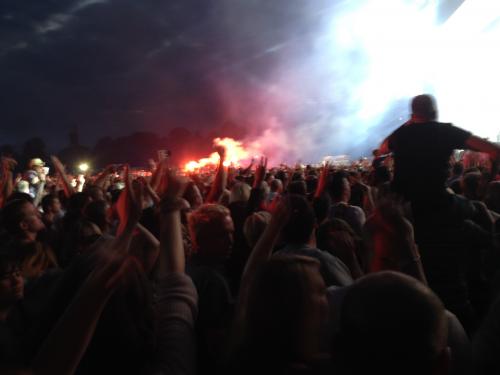 A crowd nervously awaiting a stage-dive; an eye blinded by strobe lighting; a guitar lying in pieces. These may be fleeting moments in the dramatic whirlwind of a concert, but with just one hasty snap from a smartphone they are immortalised. The protests against the taking of pictures at gigs today are numerous, and in a variety of ways justified. But as the following demonstrates, one image has the potential to capture an instance that may otherwise fade for us. Music is about so much more than sound - it is an emotional experience. From the pop power of Eurovision to the strength of Leicester City natives Kasabian, several writers share the gigs that have impacted them, captured through an iPhone lens.
Amber Run
Noella Chye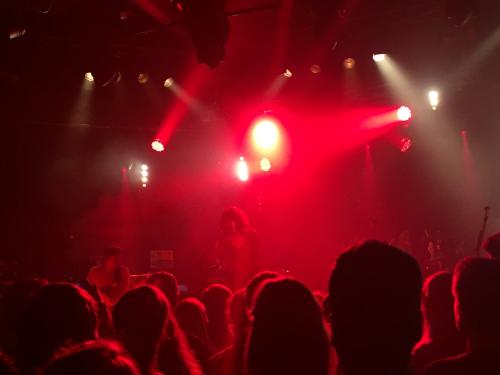 I first saw Amber Run in London before I came to university, then the second time in Cambridge at the start of my second year here. I discovered them a few years ago when I wasn't in the best place; years later, their music continues to speak to me in a way that no one else's does. One moment of their gig in Cambridge stands out above all others. I took a picture because I didn't want to forget it. Everything was bright, loud, red, and all-consuming. For a split second I forgot where I was, who I was.
Eurovision song contest
Alex Thomas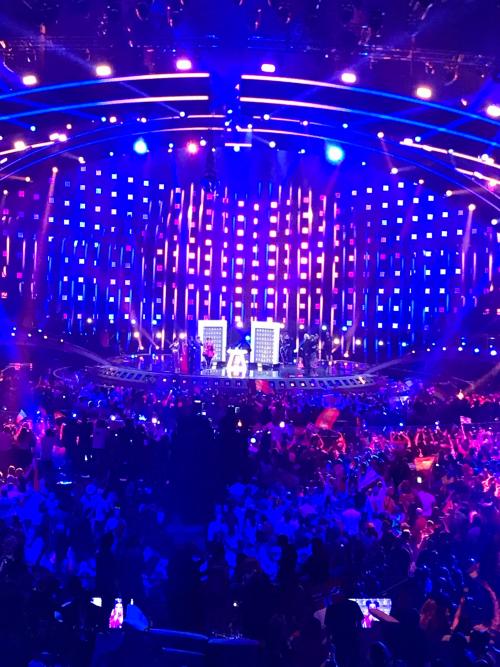 Eurovision is a spectacularly fun evening, not least when controversy strikes around a stage invader ranting about the UK media during our poor entry's performance. There was a palpable sense of congratulation among the audience in Lisbon once she had finished her song, seemingly unphased by the bizarre interruption. The fans were far more vocal in their dislike of Russia and Serbia, with the scorers forced to wait until the grumbling had died down before they could deliver their verdicts. It was certainly a night of unforgettable entertainment, with all the strange and unique trappings that Eurovision is famous for.
Tom Petty and the Heartbreakers
Miles Ricketts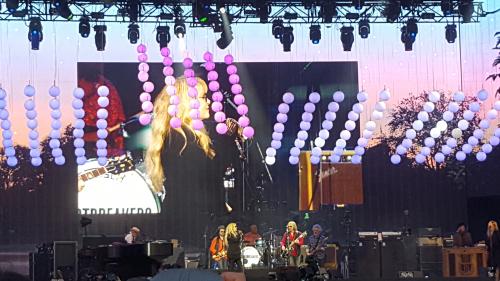 Tom Petty and the Heartbreakers' 40th anniversary show in Hyde Park last year was naturally going to be special. Having waited impatiently for years to see Tom, a true hero of mine, I was perhaps alone in greeting the airing of rare album tracks like old friends. But the moment that brought 65,000 strangers together was Tom introducing who he and the Heartbreakers had always considered "the girl in our band", Stevie Nicks. 'Stop Draggin' My Heart Around' was a genuinely affecting performance that has taken on a real significance for me. With that concert being Tom's final show in the UK before he passed away last October, the image is an emotional and yet strangely comforting one. Barely a week into my time at Cambridge, blasting out 'You Wreck Me' in honour of Tom was the first of many times over the year my neighbour (a fatigued fourth-year) would thump the wall violently and demand for the music to be turned down. On this occasion, the answer was an emphatic 'no'.
Bilderbuch
Anna Mochar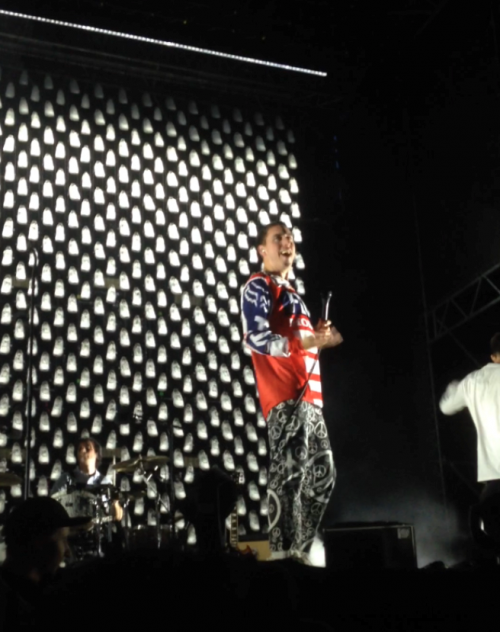 Seeing the Austrian band Bilderbuch was a bittersweet evening, as the concert was a brief homecoming after three months spent working abroad. Seeing everyone again, if only for a short time - and going to see a band that had connected me and my friends back home while I was gone - was happy and sad all at once. Overall, this concert sticks out in my memory as a point at which everything seemed to be gradually falling into place: I was preparing to go up to Cambridge that autumn, my friends were all settled in Vienna, and summer was just around the corner.
ABBA Sensation
Nicholas Harris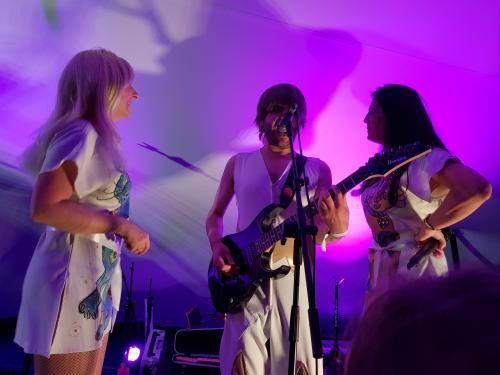 Despite probably hailing from Southend rather than Stockholm, 'ABBA Sensation' perfectly recreated the expected Scandinavian spectacle, making dancing queens of everyone at Jesus May Ball. If the lustre of the night was waning as beer barrels emptied and morning arrived, they provided the ideal infusion of dancefloor-filling Europop to see us through the early hours.
The Japanese House
Alice French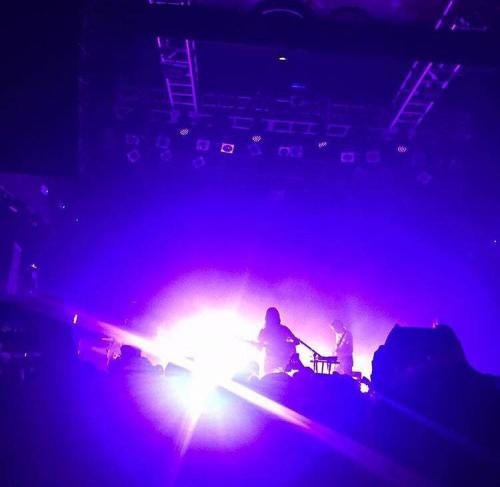 This is a picture I took at The Japanese House's gig at KOKO in Camden in May last year. It has become probably my favourite gig I've ever been to, not just because Amber is such a stunning performer (and her music is amazing), but because it took place just a week before my second year exams started, and was a welcome escape from the madness of Cambridge exam term.
Kasabian
Vivienne Hopley-Jones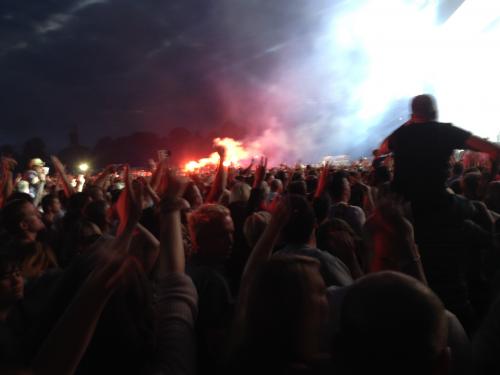 I first saw Kasabian live when I was 16. They performed on the large park in the centre of Leicester, transforming the grassy plane that we'd walk across on the way to college, work or town into an electric space that lives in my memory outside of the familiarity of the gig's location.
I saw them play again following Leicester City's victory in the Premiere League in 2016. The atmosphere was unlike anything I have experienced: the air was thick and palpable with emotion. There was white hot sun, endless beers, people of all ages, backgrounds and ethnicities celebrating, dancing and laughing.
The tragic events of the last week have left me thinking about this summer and about my home city more than ever. We grew up on the rough lyrics of Kasabian - on the opening chords of L.S.F and Fire. As a young child my dad would take us to watch Leicester City play in the third tier, when the team was at their lowest. Every solitary goal scored would be celebrated with the chorus of Fire to which every fan in the stadium would chant along to.
Leicester is a beautiful, multicultural city that brims with life. This gig will always remind me of that: it encases my childhood within the temporal borders of that park. The sense of unity I know Leicester will share following the loss of Vichai Srivaddhanaprabha - someone who contributed more than anyone to the uniting and rebirth of our city - will be as thick and strong and binding as it was in the summer of 2016. The summer of the underdog.
Leicester City FC Parade: Kasabian surprise fans with triumphant homecoming showNME