Are Parcels the face of disco's future?
With one nostalgic foot firmly in disco's glory days, aspiring superstars Parcels attempt to push the genre in brand new directions on their debut album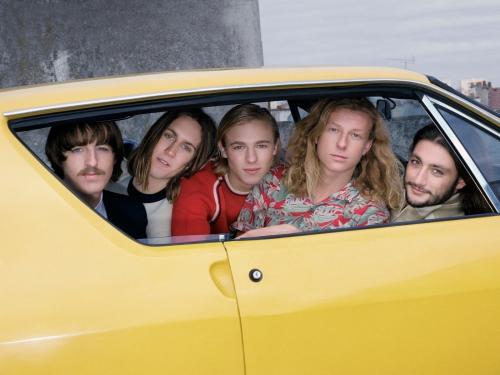 Parcels are a fresh face on the pop-disco scene, slotting in somewhere between Daft Punk and Jungle in its modern musical landscape. Originating from Byron Bay, Australia, but now based in Berlin, their sound combines the freedom and sunshine of an Australian summer with rhythms inspired by some of disco's greatest (the guitarist sounds like a big fan of Nile Rodgers).
Daft Punk are an understandable influence considering the French robots actually cosigned the band
After releasing a stellar second EP, Hideout, at the start of 2017, they went on to play at Glastonbury. One of my good friends in Cambridge caught them playing a secret gig at the hallowed Crow's Nest and ended up meeting the band. When choosing the music for a gathering in a college room next term, I found my selections followed up with some acoustic Parcels recording sessions; I've been a fan ever since.
Parcels is their eponymous debut. Part-accessible electropop, part-underground disco, the album fully establishes their unique sound. Their percussive bass lines, strumming guitar and simple kick and hi-hat beats hark back to the peak of the disco era, which, combined with their retro stylings, create a lush sonic time machine, inviting the listener into their funky alternative reality.
Much like Jungle's 2014 debut, this album documents a musical moment frozen in time, combining classic rhythms with contemporary production to fashion an incredibly velvety sonic texture. It also borrows heavily from Daft Punk's 2013 comeback Random Access Memories, an understandable influence considering the French robots actually cosigned the band after witnessing them in a sweaty Parisian basement; they eventually went on to produce their 2017 single 'Overnight'.
Parcels gradually seem more comfortable in demonstrating their full musical scope and artistic ability
The opening track, 'Comedown', begins with a soft synth introduction, the first beat introduced via the break of a record, instantly emphasising the retro feel in which the album is grounded. A pulsing bassline underneath slow strings, reminiscent of the intro to Donna Summer's groundbreaking 'I Feel Love', ushers a crescendo into the first funk jam.
As is the case on almost all of the songs on this record, the silky smooth vocals are used mainly to add texture to the song, with lots of repetition and effects, and little depth of meaning. The transition from 'Comedown' into 'Lightenup' is seamless, the two songs, back-to-back, feeling like the natural progression of a single 7-minute jam.
'Everyroad' seems to be a turning point on the record, moving away from the first four tracks which, although good songs, are all quite similar to their earlier singles and EPs. As the track builds over 8 minutes, it feels like Parcels were influenced by Random Access Memories' centrepiece odyssey 'Giorgio by Moroder', but instead ended up with their own distinct sonic voyage. Although a complete break from their other work, as a unique combination of prog-styled vocals and dubstep leanings it creates a really special moment.
Following this, Parcels seem more comfortable in demonstrating their full musical scope and artistic ability, from the curiously ballad-like 'Closetowhy', to The Carpenters-esque overtones of 'Exotica'. The album finishes with a monologue thanking all of their collaborators over the background of a beefed-up continuation of 'Bemyself'. At the end of what they describe as a "beautiful trip", I have to agree that it "certainly has been a groovy ride for me".