Christine and the Queens Chris review
Think you know Héloïse Letissier? Think again. Christine and the Queens return with a daring statement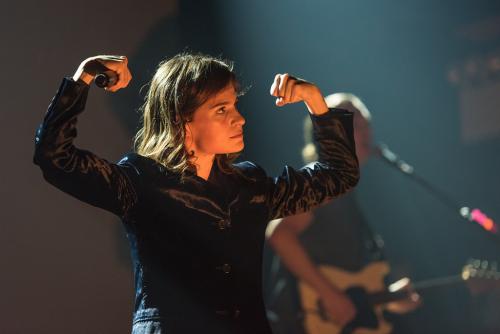 Three years on from her debut album, Héloïse Letissier has hinted for months at a new album that promised to be bolder, sexier and as individual as Chaleur Humaine was upon its release. The artistic force behind Christine and the Queens has certainly completed her checklist. Chris is - in one word - bold.
Unlike Chaleur Humaine, however, this boldness is not necessarily in the instrumentation. Chris is an album focused on making statements. Boldness lies in its lyrics and the expressive methods Letissier adopts in her vocals. The ability to switch seamlessly and emotionally from a visceral, spitting rebuke to a calm, elegant and even sorrowful contemplation, a key feature of Christine and the Queens' unique 'freakpop' sound, has survived from Chaleur Humaine to Chris. However, with the lack of excessive bass-filled electro beats and brash synthesisers, we are given a far greater chance to connect with the real meaning of Letissier's use of lyric and vocals to make a statement.
Making a statement is something Letissier is used to. Christine and the Queens emerged on the music scene as shocking, honest and elaborate in expression. Chaleur Humaine spoke of Letissier's experiences in the gay community alongside personal battles and even transphobia, but Chris is even deeper, and far more personal. The self, rather than just politics, is used to bring to light to the emotional experience that accompanies injustice.
Soon it seems to mature into an honest, face-to-face discussion with you of who Chris is, what she feels, and what she has experienced.
Through developing her alter-ego Chris, Letissier explores in critical detail the nature of masculinity and its interactions with both women and the LGBTQ+ community. 'Girlfriend', the lead single of the album, is a funky line straight from the 70s: catchy and irresistible to dance to. It is undoubtedly the song to define the album, declaring Chris' intent of exploring wider issues around gender and sexuality while also coping with personal demons.
But don't be deceived, for although the 70s disco, synthpop and funk inspirations are fused throughout the album, they become increasingly subtle as the album progresses. It seems to mature into an honest conversation between artist and listener about who Chris is, what she feels, and what she has experienced.
'Doesn't Matter' is dominated by lyrics which look back at the contemplation of suicide, feelings of isolation and the struggle for women to feel noticed beyond sexual objectification. All this above a simple but harsh bass and drum beat. Later in the album the tone changes yet again with 'What's-Her-Face' as we lose the Jackson-inspired experimental disco sound in favour of an ominously minimalist patchwork of haunting lyrics on the reality of not belonging. Yet again, identity takes charge in Chris' overall message in her music. Across the two albums, her message develops and is emboldened; it is a message of pride in the face of laughter, hatred, loneliness and confusion. It is to be human.
The main disappointment, though perhaps the only disappointment, is the sacrifice of the modern disco, beat-heavy musical expression of Chaleur Humaine to cater to this new depth in lyric and concept. Those potentially less able to connect very closely with this lyrical story of prejudice, pride, identity which is laced throughout the album, may lose interest to the indulgence of the personal.
Nonetheless, the disco-funk infusion is still present, and that really is what shines in defining Letissier's direction. The singles are catchy, powerful, and (as promised) sexy and bold. Beyond this, we are given the chance to connect with a story; an intimately true story which few artists are able to convey in such a raw and powerful way. Chris is an album with a message, but it is also an album that encourages you to enjoy and thrive in the sound itself