Black Panther album review: 'a spectacular, left-field soundtrack'
Gianamar Giovannetti-Singh is blown away by this stunning work that, led by Kendrick Lamar, is a display of some of the most diverse and exciting artists from across the world.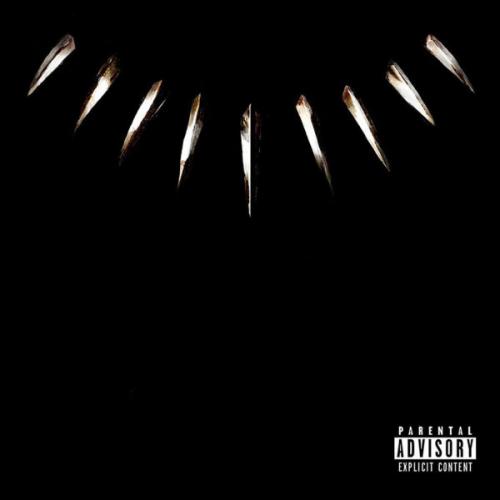 Before Kendrick Lamar even starts rapping his first bar on the opening (and title) track, 'Black Panther', you can feel that the album is going to represent a paradigm shift in the history of movie soundtracks. A frenzy of 'A Day In The Life'-esque strings shimmer with angst over an ever more possessed drum rhythm, which leads to a sudden break followed by a haunted, ghostly atonal piano motif. Over this loop, the world's greatest living rapper begins his characteristic introspective analysis, playing the role of T'Challa's enemy from the film, Killmonger. In a track exploding with the energy of his recent 'DNA.' and 'HUMBLE.' from his exceptional 2017 album DAMN., Kendrick sets the tone (and the standard) for Black Panther's soundtrack. 
Despite a wonderfully smooth transition into the second song, which features a verse by up-and-coming Top Dawg Entertainment star SZA, who's 2017 album CTRL appeared on multiple year-end lists, 'All The Stars' remains the weakest track on the album (and the sole reason why I was unable to award the album a perfect score). Sporting flawless radio-friendly production, 'All The Stars' is significantly below both Lamar's and SZA's usual experimental standard, although it's true that working within the constraints of producing a Marvel superhero soundtrack must impose some creative limitations upon artists. Luckily, the energetic yet angsty mood of the first track is restored in 'X', featuring ScHoolboy Q, 2 Chainz and Saudi alongside Lamar. Despite only being credited as a performer on five of the fourteen tracks, Kendrick appears somewhere on just about all of them, and he is listed as a writer and composer of all of them. 
"Black Panther soundtrack succeeds in teaming up the world's greatest living rapper with many up-and-coming black artists from across continents"
The fourth track, 'The Ways' is a sweet trap-oriented ballad sung by Khalid and Swae Lee with a subtle bossa nova feel, somewhat reminiscent of Lamar's own 'untitled 06 | 06.30.2014' from his 2016 compilation album untitled unmastered. Despite having a slightly irritating over-repeated sample of "you're dead to me", the fifth track 'Opps' keeps up with the fast pace set by 'Black Panther' and features a verse from the Johannesburg-based alt-rapper Yugen Blakrok. This song is followed by the heartfelt Jorja Smith-fronted guitar ballad 'I Am', drawing inspiration from the indie rock scene as much as from the cutting edge of modern hip hop, in some ways resembling the work of Mac Demarco and Steve Lacy, the latter of whom produced and co-wrote 'PRIDE.' The next song, 'Paramedic!' featuring SOB and RBE, is another trap track that sounds very similar to the only single Lamar released from untitled unmastered., 'untitled 07 levitate.' Both of the next two tracks, 'Bloody Waters' and 'King's Dead' feature the stunning spectral vocals of James Blake, currently supporting Lamar on the European leg of the DAMN. tour. The latter of these tracks is one of the album's standouts, with Lamar teaming up with Jay Rock, Future and the aforementioned James Blake to deliver quick-fire, aggressive bars over a trap beat with a subtle piano playing a similar motif to that in DAMN.'s 'HUMBLE.'
Following a multi-credited interlude track, with many elements in common with the main title theme from another recent film which many argue redefined the conversations on race relations in the United States, Michael Abels's 'Sikiliza Kwa Wahenga' from Jordan Peele's exceptional horror film Get Out, is the Zacari and Babes Wodumo-credited 'Redemption'. This outstanding track combines an afrofuturist drum beat with a Reggaeton-ish bassline, embellished with the angelic voices of Zacari (a collaborator on Lamar's 'LOVE.') and South African up-and-coming artist Babes Wodumo. Lamar and Anthony 'Top Dawg' Tiffith continue the practice of giving a major international platform to South African artists in the next song, with another Johannesburg-based artist, Sjava, rapping an entire verse in isiZulu on the slow-burning Isaac Hayes-esque Afro-soul track 'Seasons'.
The penultimate track, 'Big Shot', is another lowlight of the album; despite featuring typically talented flow from Kendrick, the track has an infuriating flute riff motif on repeat, and Travis Scott doesn't quite live up to his potential, sounding a bit whiny. Not to worry though, the album finishes with another banger, a Lamar x The Weeknd collaboration 'Pray For Me'. Whilst not as experimental as many of either artists' greatest offerings (nor does it sonically reference Kendrick's DAMN. track 'FEEL.' with the refrain "ain't nobody prayin' for me"), it serves its purpose well as a superhero-aggrandising track to leave listeners pumped and hungry for more.
The fact that Kendrick and his collaborators managed to produce such a spectacular, left-field soundtrack for a film produced by a subsidiary of Disney is in itself revolutionary and is highly commendable. Despite sounding slightly incoherent at times, the exquisite Kendrick Lamar and Top Dawg Entertainment-curated Black Panther soundtrack succeeds in teaming up the world's greatest living rapper with many up-and-coming black artists from across continents, creating music fit for what is being billed as a paradigm-shifting film of a generation.