My new music resolutions, from grunge to grime
Dipping her toes into new waters and looking back at the classics, Hermione Kellow sets a path for her year in music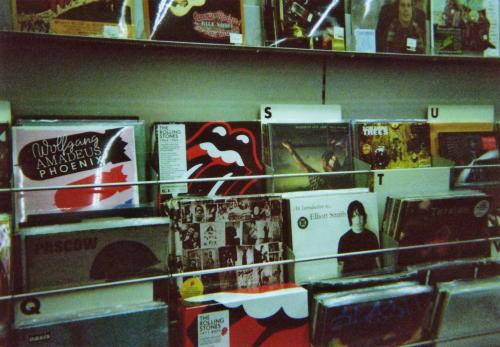 The Christmas tree is down, your New Year's hangover is long gone and the multiple boxes of Quality Street you acquired are now being used to store excess stationery. It is officially the season of resolution and in keeping with the atmosphere of self-improvement, I've decided to do a bit of musical preening myself.
Over the holidays I came to the realisation that there are tons of 'classic' albums I still haven't properly listened to. We're talking The Beach Boys' Pet Sounds, Nirvana's Nevermind, The Velvet Underground, the list goes on. It's true that I probably know the few famous tunes everybody else does, but it seems almost fraudulent to listen to such brilliant music in such a shallow way.
Therefore, this year I am going to attempt to listen to music in a more traditional way, before the rise of streaming sites made shuffling through an album so easy. Recently, my trigger finger for skipping tracks has been incredibly quick, so by instilling a bit more patience into my listening habits I intend to have a more fulfilling experience. In the New Year, I am making it my resolution to listen to a different classic album every week from cover to cover and to write a mini review on how I found the experience. Hopefully by the end of the year I will feel much more musically informed!
Hand in hand with this resolution is an exciting new purchase I have made to kickstart 2018. After years of research and desperately watching scenes from High Fidelity, I have finally taken the plunge and bought my first record player. For me 2018 should be all about appreciating the present, what is going on right now with friends, family and in general the world around us rather than giving into digital temptations. My aim is to appreciate music more this year and the physical presence of owning and buying vinyl is something that lends itself to this.
"Considering how thriving the Cambridge live music scene is, with such quick links to London too, there really isn't any excuse"
A resolution I'm sure many of you will share, is to see more live music. I absolutely love going to gigs but with the price of tickets and transport being high and my own lack of organisation, I tend to leave a lot of my gig-going to summer. However, considering how thriving the Cambridge live music scene is, with such quick links to London too, there really isn't any excuse. This year I am pledging to go and watch as many artists as I possibly can; after all, live music encompasses so much it would be a crime not to soak up as much as possible.
Two particularly exciting bands playing Cambridge Junction in February are Marmozets and The Amazons, both bold and exciting performers, now staples of the festival calendar, so be sure to snap up tickets whilst you still can! The same goes for general culture as live theatre, comedy events and art exhibitions are equally numerous. If comedy is your thing, be sure to catch some of your favourite comedians at the Corn Exchange this term as the venue will be host to a star-studded line up including Katherine Ryan, Joel Dommett, Jimmy Carr, Ed Byrne and Jon Richardson!
Another resolution I have for 2018 is to give some new musical genres a go. I have always considered myself as having fairly eclectic taste, being able to skip from indie/alternative to jazz, through classical and then into anything from electro-funk to contemporary. However, despite my best efforts I have never quite been able to get my head around grime/hip-hop/rap… to be honest I don't even know if there is a difference between the genres or if they are all the same thing! So, as I am on a musical journey of self-improvement I think it is about time I at least make an attempt to understand the style. 
This year is certain to be absolutely great for the music scene. With many well-known favourites making long awaited returns and plenty of exciting up-and-coming artists proving their worth, we are in for a year of brilliant new records and a whole host of great performers. Just as vinyl is returning and bringing quality music to a new generation, a personal resolution of mine for this column is to bring as much attention as possible to the brilliant new artists breaking into the industry at the moment. There is so much great talent out there and I look forward to showcasing as much of it as possible. So, in the spirit of turning over a new leaf and looking ahead to a brilliant term, let's raise the last dregs of New Year's bubbly to a newly enriched lease of musical life