Robert Plant at the Royal Albert Hall review: 'a truly inspiring performance'
Steve Buttercase is captured by a magical performance from a rock-and-roll veteran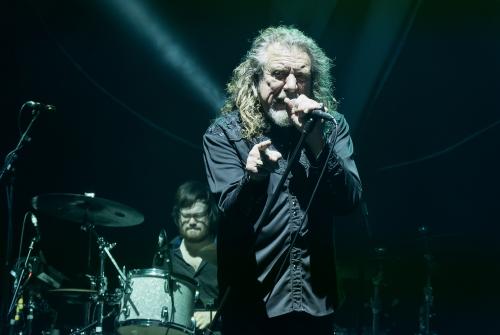 In 1975, on the balcony of a Los Angeles hotel suite, a shirtless rock singer, bearing a strong resemblance to a Norse God, was performing for a journalist. He threw his arms out wide and addressed the LA sprawl shouting: "I am a Golden God!"
He was probably right.
Back in those now-lost lawless times of the old-school 70s gunslingers, Robert Plant could justifiably claim to be the fastest in the West. He was the quintessential rock star. All clichés led back to him, then and now. The excesses, the sexuality, the onstage posturing, the voice, the look... Plant did it first and he did it best. As a teenager Plant had conquered the rock world with pure charisma, talent and a genuine love of his influences that came across sincerely in his singing style.
Led Zeppelin, ever magpies to the sparkling lure of old blues trinkets, had successfully reinvented the genre and added generous amounts of folk and white-boy rock to become the biggest act on the planet. Plant was their iconic figurehead.
Today he is just as charismatic, commanding the Albert Hall stage as majestically as he once held thrall over record-breaking arena crowds across America. Yet there is no pandering to those past achievements - instead there are strides forward with his brand of authentic, organic Americana evolving on stage and sounding as if it will never be played exactly the same way twice.
There is a palpable sense of reverence as well as excitement as he strides onstage, still sporting that long but slightly greying mane which these days frames a cragged lived-in face with sparkling eyes that have seen it all.
The band ignites the Albert Hall with 'New World' from the latest album Carry Fire - already another milestone masterpiece in Plant's long career.
"A truly inspiring performance, worthy of a music legend still energetically breaking into new territory"
There follows over the next hour and a half a truly inspiring performance, worthy of a music legend still energetically breaking into new territory. There were some wonderfully creative reinterpretations of Led Zeppelin favourites from the first four albums, including a guitar masterclass from Skin Tyson during 'Babe I'm Gonna Leave You' and a standout moment in a grinding, bluesier 'Misty Mountain Hop'. Skin Tyson is from Liverpool but his sublime guitar tones sound like they were dug up out of the alluvial silt in the Mississippi Delta. He is a fantastic musician.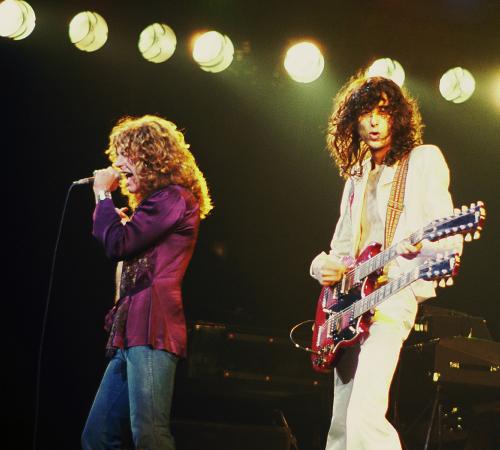 His fellow guitarist Justin Adams also conjures remarkable voices from his variety of stringed instruments - moving from subtle introspection to rock grandiosity effortlessly, and delivering both with equal aplomb. His highlight for me was creating a Moroccan Saharan sunset during the haunting opening to the title track of Carry Fire. In fact, that was probably my personal highlight of the gig.
Zeppelin were often criticised for failing to credit their sources. Not so with Robert Plant. In the course of the set he name-checked and thanked Huddie Ledbetter for 'Gallows Pole', Bukka White for 'Fixin' To Die', Richard Thompson for 'House of Cards' and the proponents of Celtic folk music in the Appalachian mountains for 'Little Maggie'.
This was a truly memorable and accomplished performance. There is so much to say about it. Seth Lakeman's virtuoso fiddle playing was angelic or demonic as required. Skin and Justin cleverly threw in references to all forms of "fire" in their performances - once with a few notes from The Doors 'Light My Fire' guitar solo and once with a snippet of Hendrix's 'Fire' - very subtle.
The evening concluded with a guest appearance by Chrissie Hynde for 'Bluebirds Over The Mountain' and she remained onstage for the obligatory Christmas duet - although '2000 Miles' played by The Sensational Shape Shifters is an acceptable concession to festive frivolity... and particularly when followed by the imperious riffing majesty of 'Whole Lotta Love' to close the evening.
"He has earned huge respect on his career journey and still delivers incredible music"
Plant may now be more elder statesman than golden god but he has earned huge respect on his career journey and still delivers incredible music, live and on record, as he enters his seventies.
The young Robert Plant would no doubt approve