Review: King Krule – The OOZ
Seth Jordan finds King Krule's latest an unsettling but thrilling ride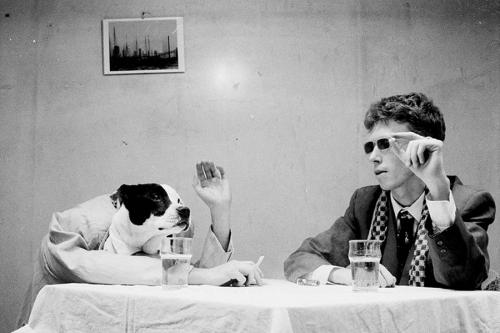 The cover of The OOZ looks up at a lonely plane leaving a pastel pink trail of gas across an blank blue sky. The image is paradoxical: is King Krule flying away or is he stuck down here on Earth? Archy Marshall's (his real name) preoccupation with floating and sinking, of separation from the world, has appeared throughout his musical career. He was 6 Feet Under the Moon on his debut and finding A New Place 2 Drown in 2015. Never satisfied, never belonging, The OOZ continues this odyssey of stifling loneliness. At just over an hour, the record is a meandering walk through the dark recesses of a solitary mind, channeling a brilliant mix of the alienation of depression and the everyday mundanity of the Bermondsey streets where Marshall grew up.
The opener, 'Biscuit Town', expresses this fusion straight away. Jazzy and mysterious synth chords float on top of a shuffling beat, over which Krule sings about his Motorola and a young Gianfranco Zola (ex-Chelsea football player from the noughties). His ability to turn a 'city of parasites' into art was something he displayed with gusto on his debut, yet this time it feels more and more like we are being pulled into his own mind. The songs, more often than not, feel like trips through thought spirals and depressive episodes. Conventional structure doesn't need to apply and the album, with much success, glides from idea to idea in a twisting, turning haze.
"Sonically, it's woozy mix of free jazz, ethereal ambience, punk rock and stuttering, trippy beats, colliding to create a profoundly alien pallet of sounds"
Sonically, it's woozy mix of free jazz, ethereal ambience, punk rock and stuttering, trippy beats, colliding to create a profoundly alien pallet of sounds. Whines, screeches and buzzes fill the background throughout. Even on the album's most punchy song, 'Emergency Blimp', a robotic wail begins at the1:30 mark, keeping the foreign feel and stopping the music ever reaching the accessibility of earlier hits on 6 Feet Beneath the Moon. The most bizarre of the instrumental choices is perhaps on 'Cadet Limbo' as he mixes honky tonk piano and klezmer-style clarinet, a marriage that is much more harmonious than one would expect. There are moments like this all through the record, Okay Kaya's pitched down, Anohni-like vocals on 'Slush Puppy' mixing well with Krule's deep voice and the baritone sax solo in 'Dum Surfer' adding an amazing new element to the driving punk. These sections often feel like bonus cuts from David Bowie's swan song 'Blackstar', the winding and hypnotic jazz creating an other-worldly atmosphere.
The nebulous nature of the song writing means some moments feel like they could take different paths. On 'The Locomotive' it seems the track is always about to gain momentum but constantly drifts away, and on 'Lonely Blue' it almost becomes a lilting waltz but draws back to a shuffling tempo. While these songs retain integrity and mostly fit with the meandering nature of the record, it's other ones that veer a little into self-indulgence. Shorter tracks like 'Sublunary' and 'A Slide In (New Drugs)' don't add much to the overall experience and, with the last quarter of an hour devoted to (very) slow burners, the title track (17th out of 19 songs) really should have be the final one. Before the album, King Krule expressed his nightmare scenario of being 'just a fucking pop artist' and, with the mainstream success of tracks like 'Easy Easy' (it was covered by Willow Smith for God's sake), these occasional misfires are his most obtuse moments of pushback.
Despite this slightly flabby track list, Marshall is able to achieve a uniform sense of isolation across the album. All the musically wizardry and creative flair, even when it doesn't quite hit the mark, drops the listener into textured dark worlds of loneliness and paranoia, insomnia and lost love, distance and alienation. It's an unsettling ride, but a thrilling one