Barns Courtney The Attractions of Youth review: 'pulsing with a fierce, rebellious energy'
Juliet Martin is impressed by this explosive debut album from 26-year-old Courtney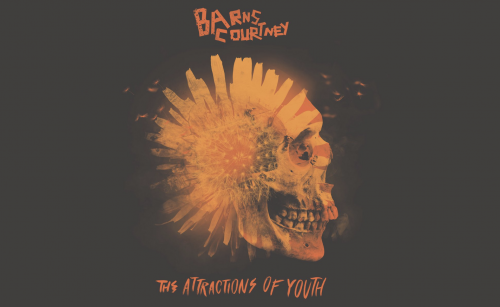 It's my firm belief that at festivals, the quality of the act can be determined by the size of the crowd – not by the few fans clustered around the stage at the beginning, but by the numbers streaming out at the end. Last year at Latitude Festival, drifting through the glitter-flecked clouds of dust and breathless heat of July, passers-by looked up in interest as a vast, disorderly throng alive with excited chatter spewed out from a small tent on the main site's perimeters. Caught up in the chaos, I wanted to tell the FOMO-stricken onlookers to believe the hype: we'd just witnessed a storm breaking.
Barns Courtney was my highlight of Latitude 2016. True, he was under the radar: locating his name on the line-up poster was a challenge, seven-eighths of the way down in minuscule font. But acts are always more exciting when their talent comes as a surprise, and Courtney's hybrid of gritty blues and soaring, infectious melodies was memorable in its unexpected brilliance. The initially modest crowd began to swell from the first song to the last lingering note of the encore. As Courtney took his bow, the tent was overflowing – and in a state of euphoric uproar.
"On The Attractions of Youth, Courtney delivers not just his blistering singles, but track after track of vehement, surging emotion"
Given his electric live performances, Courtney's hotly anticipated debut The Attractions of Youth had much to live up to. But it does not disappoint. The opening single 'Fire' sets the tone for the rest of the album, one of elated foot-stomping rock heightened by a sense of precipice, a dangerously careering momentum and full-throttle energy that threatens to spiral out of control. The drumbeat pants to keep up as Courtney begs 'Lord give me that fire'; we can almost feel the blood throbbing in his veins. Indeed, the visceral physicality of Courtney's lyrics lends a raw, primal edge to 'Glitter and Gold', where his shivering, folk-blues vocals are thrown into sharp relief by the stripped back chorus. 'Hands' is also a standout: a morning-after fable of love at first touch given substance by raucous, gutsy guitars.
These tracks will be familiar to those who have been following Courtney since 2015, when he began to make waves on Spotify with the first harbingers of an EP; an unflagging festival circuit of live shows at SXSW 2016 and BBC Radio 1′s Big Weekend brought similarly swift success. With his drawling Seattle accent, vintage leather and dishevelled curls, it would be easy to cast Courtney alongside the Matt Healeys and Alex Turners of our time, frontmen who have polished their dirty grunge image for a lucrative mainstream audience. But on The Attractions of Youth, Courtney delivers not just his blistering singles, but track after track of vehement, surging emotion. With 'Champion', a bluesy anthem reminiscent of Rag'n'Bone Man, brazen confidence is undercut with a vulnerability, a desperation for spiritual saviour rendered in the taut vocals which strain anxiously against the heavy drumbeat. There's a thread of heady dislocation in Courtney's songs: the rational is always just beyond his grasp. The distorted verse on 'Kicks', rusty in the hangover of a wild night, contrasts with a softer, whispered staccato which sinisterly invites us to 'come with me, I'll show you how to live for free.' Courtney goes some way to soothing the scars left by his rowdy guitar solos with the atmospheric title track. Here, the string and brass sections work well against the abrasions of his voice – the song takes flight in a transcendent confession of sin and plea for redemption. But my personal favourite is 'Hobo Rocket', where experimentations with dubstep give texture to the deliriously rich chorus, eventually disintegrating into static.
With this staggering debut, Courtney proves his talent as both a musician and a songwriter. Sensitive to emotional conflict but pulsing with a fierce, rebellious energy, the tracks lose nothing of the vitality of his live performances – but they do make me eager to be back in the crowd