Kelela Take Me Apart review: 'an intoxicating and provocative listen'
Kelela's "nonconformist sound" leads to an impressive new release, says Sabrina Gilby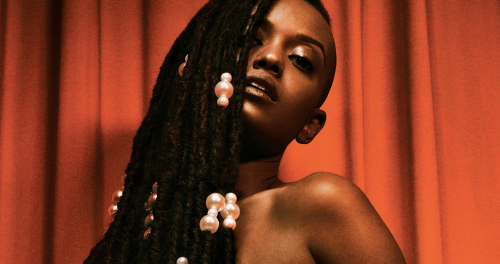 On Kelela's album Take Me Apart, the song 'Enough' depicts the stalemate of a relationship not able to withstand further infidelity; "Said you'll leave her behind / Probably telling her the same damn thing / At the same down time". The pain of betrayal is made palpable in Kelela's effective quilting of vocal textures. The line "It's not enough" is reverberated and echoed, forming a manufactured, synth-laden backdrop for her searing, natural voice to glide over the top: "Hold her hand/ Will your love ruin my heart?" Aside from signalling an emotional intensity that pervades the rest of the album, this example of vocal variation is partly what constitutes Kelela's nonconformist sound.
Born in Washington D.C. to Ethiopian immigrant parents and schooled in the white, middle-class suburbs of Gaithesburg, Maryland, Kelela has always been posited somewhere in the 'in-between'. In-between cultures, social groups - even her parents (who lived in separate apartments, one above the other). Her debut album, Take Me Apart, following her exquisite electronic mixtapes Cut 4 Me (2013) and Hallucinogen (2015), reaffirms Kelela's status as one of the most beguiling figures breaking out from the underground this year.
"Take Me Apart operates in a nexus of desire, vulnerability and autonomy"
An RnB singer, who is most likely found in collaboration with club-music producers such as Kingdom and Teengirl Fantasy, Kelela is a true-born of the period of musical 'blurriness' (as she put it in a Fader interview) between 2009-2011 that witnessed "a departure where mainstream black shit got embraced by white indie boys and almost usurped".
A way in which Kelela carries that 'blurriness' onwards and 'usurps' is by straddling Electronic and RnB genres and stitching a fabric of varied vocal traditions. 'Waitin' is an example of her historical love for self-sampling, "It's all I dreamed of/ I can't get started", is interpolated from Bank Head, on 2013's Cut 4 Me, and is a musical device borrowed from Craig David's own self-sampling style on Garage DJ Artful Dodger's 'Something'. In contrast, 'Altadena' communicates itself heavily through a neo-soul vocal tradition. Consisting of vocal passages that move in unexpected patterns, with an ease and delicacy reminiscent of Solange, it closes the album in a significantly more at-ease manner than which it began; "Nothing to be said or done/ there's a place for everyone/ Let me remind you". The soothing words reflect Kelela's comfort in her musical output and identity, something that is still not necessarily a given for a black, female artist in the music industry.
Kelela has described this very experience as 'brutal'; a struggle to assert herself without losing the support of the (predominantly white, male) industry executives on whom she depends to thrive. In another interview with Pitchfork she said: "My experience is that none of the people in those positions of power think that I know what I'm doing"; this grappling with noxious, race and gender-informed power asymmetries echoes throughout the album, notably on the title track, 'Take Me Apart'.
Dealing with the return to an ex-lover, the trance-like, drum and bass-driven chorus combines with whistle-register vocals to emulate the emotionally-fraught surrender, yet her repetition, "Don't say you're in love baby, until you learn to take me apart", makes her dominance in the encounter clear. "It's topping from the bottom", Kelela elucidated in the same interview with the Fader, "When you demand someone to take you apart, then you're the boss".
This theme of top-ending power dynamics also underpins 'LMK', a stand-out anthem, kick-firing a blistering, head-first plunge into single affairs. As such, Kelela demands a common understanding and sexual agency; "No-one's tryna settle down, all you gotta do is let me know" is the essence of her message and is a neat interpretation of the colloquial mantra 'Look, it's not that deep', collapsing the myth that women don't also want non-committed intimacy.
Her candidly playful pillow-talk on 'Truth or Dare', "T-shirt off, tease me / It's round three, would you tell me your fantasy?" utilises a playground-game metaphor as an effective throwing down of the gauntlet to her new lover, daring him, wishing him, to fulfil her. This brand of agency and vulnerability is Kelela's currency, and be it her fragility on 'Turn to Dust' or the 'don't-fuck-with-me' tone of 'Frontline', Take Me Apart operates in a nexus of desire, vulnerability and autonomy, all of which are forces that are not just at play in her music but also in her black, female experience of the music industry itself. Although a little less sonically adventurous than her previous work, it's still an intoxicating and sometimes provocative listen, with a degree of artistic subversion that will likely see her transition out of the fog of the musical 'in-between' and into a place of deserved recognition