Urban Bass: Has drum and bass in Cambridge finally found a home?
Creators of the new club night Urban Bass talk about the gap in Cambridge nightlife and the hope for a bass-ier future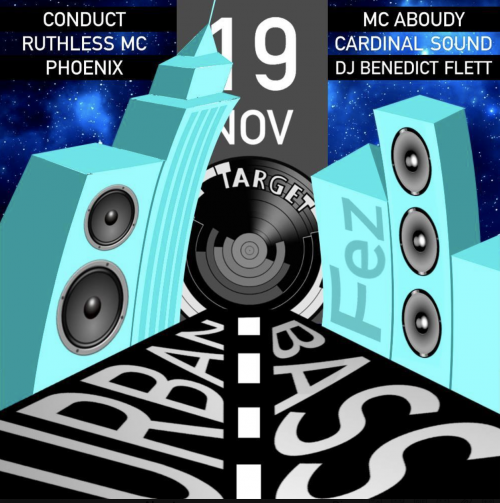 As the latest club night to arrive in Cambridge, Urban Bass is seeking to become a stronghold for the so far unrepresented genre of drum and bass. Creators Gideon Benedyk, Toni Morales and Alfred Jackquemot are hoping to pave the way for a regular space for locals and students to enjoy this music together.
From experience, those wanting to experience a good drum and bass night have had to make the hazardous walk to the Cambridge Junction, a staggering thirty minutes from the centre of Cambridge. Whilst Junction's 'Warning' nights have hosted some really great acts in the past, the venue ultimately lacks the intimacy and convenience that more central nights offer. One of the perks of student nightlife is the inevitable dynamic of bumping into countless people you know. In bringing this social element together with a love of music, there is a gap in the market that Urban Bass hopes to thrive in.
"Urban Bass ought to provide a simple yet appealing platform for students to enjoy drum and bass"
Speaking to one of the event's creators, Gideon Benedyk, the aim is to be "incomparable from other nights". Undoubtedly, the student scene has expanded in diversity of genre. Techno and house nights such as Haze or Turf are staples on the scene, but noticeably as a genre, "drum and bass is simply not active here". So Urban Bass is tapping into a simple market. Without the slightly unnecessary exclusivity of events hosted by ArcSoc or King's Bunker, Urban Bass ought to provide a simple yet appealing platform for students to enjoy drum and bass.
In terms of the demographic, Urban Bass "is aimed at all students in Cambridge – that being University of and ARU". Usually, there isn't much crossover between the nightlife of the two, but perhaps the uniqueness of the night might be able to change this. "We hope this will mark a real turn in Cambridge nightlife and expand opportunities for all and bring the two universities together in the clubbing scene." 
The night aims to span the genre, including bassline and garage, with the first event hosting national DJs including Conduct and Ruthless MC. Cardinal Sound, a feature of annual Strawberries & Creem festival, is the most recently announced artist. As regulars of large university nights, the experience of Urban Bass should end up being "similar to those who experience nightlife in the bigger cities of Leeds, Nottingham and Bristol", except all from the cosy comfort of Fez. It will be interesting to see how the music fairs in Fez, but Urban Bass is set to be an unmissable night for many.
Urban Bass will be hosted on the 19th November at Fez. Event and ticket information can be found here