Review: Alvvays – Antisocialites
Great music shouldn't always try too hard, argues Ben Adams on Alvvay's sophomore offering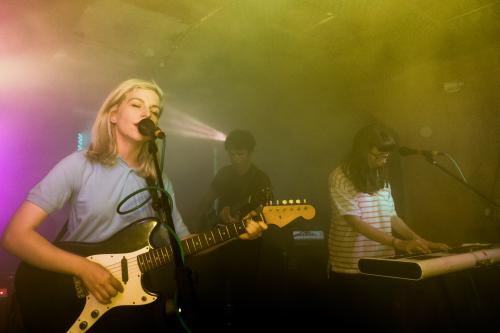 Really listening to the lyrics of an Alvvays' song, getting behind the glistening sheen and sun-drenched dream-pop exterior, is like taking off a pair of especially rose-tinted glasses. The opening track of the band's much hyped self-titled debut in 2014 might have sounded like a pristine slice of radio-ready indie, but by the time the first verse concludes it becomes apparent the narrator is stalking someone.
"What Antisocialites does — 80s-influenced pop awash with guitars and an ethereal lead vocal — it does very, very well"
Though just a ploy by the band to avoid legal action, the name of the Toronto five-piece is telling, reflecting a kind of innocence and simplicity warped by real-world complications. As Molly Rankin sings on early standout 'Plimsoll Punk': "When I chip through your candy coating, you're stuffed with insulation". Antisocialites begins with a different kind of realisation, that "there's no turning back after what's been said", and begins to tackle breakups, separation and drug trips across a series of short tracks. Whilst the contrast between downbeat lyrics and upbeat music is nothing we haven't seen before, what Antisocialites does — 80s-influenced pop awash with guitars and an ethereal lead vocal — it does very, very well.
With familial ties to the Celtic folk scene, Rankin has an almost supernatural ear for melody and writes witty, sharp lyrics full of bright observations. The rest of the band are tight, with drums surging forward or gently accompanying as needed, and Alec 'O Hanley's Marr-esque guitar work shining throughout. Simply put, this makes, as it did on the band's previous work, for some of the best indie music you'll hear all year.
The band hits its stride almost immediately on their tour through forty-or-so years of indie rock tradition, from the shoegaze of 'In Undertow' to the punk of 'Your Type' and the Krautrock-inspired motorik drums on 'Hey'.
Much like the work of Kevin Parker's psych-rock project Tame Impala, the album also strikes the right balance between indulging musical styles of the past whilst making use of modern production techniques. 'In Undertow' pulls wailing guitars and feedback from My Bloody Valentine but coats them in a pop sheen that is very much 2017.
The flow of the album is aided by a mixture of more upbeat songs and slower pop ballads that lend variation to proceedings without feeling at all like an unnecessary lull. 'Dreams Tonite' evokes headlights down dark streets with its atmospheric minor keys, while 'Already Gone' feels like Rankin out alone at sea with only a guitar and ambient feedback to keep her company.
Perhaps the main complaint to be levelled against the album is that, though each song is intended as a kind of vignette, all of them pulled together by aforementioned ideas of separation, the album fails to enter truly interesting thematic territory. Nor do the band expand much upon a sound which is already seen by some as a tired collage of existing indie-rock forms. But these complaints will be superficial if, like me, you are just attracted by the prospect of another half-an-hour of catchy-as-hell pop music.
As the most recent offering from fellow Canadians and critical darlings Arcade Fire shows, there are pitfalls in trying too hard. 'Everything Now' strove to be about something, but in its desperation to make a profound comment on the state of the world, there wound up being very little to enjoy. Antisocialites could be construed as being about very little, but damn if it isn't entertaining