Interview: !!!'s frontman Nic Offer on the future of dance music
Music editor Alice French speaks to Nic Offer, lead singer of American dance-punk band !!!, following the release of their seventh album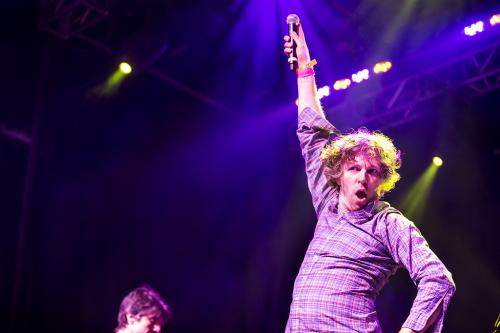 "We've never really been properly successful," asserts Nic Offer, lead singer of US dance-punk group, !!! (commonly pronounced 'Chk Chk Chk'). The band's recently released seventh album would beg to differ. !!! have been churning out albums for over 20 years, and Offer claims that it is their mistakes, rather than their successes, that keeps the band motivated. "You learn more from failure than you do from success. We've had a lot of knock-backs, and because we're not perfect, there's always another goal." Offer also insists that, despite !!!'s wealth of music industry experience, it is their maintenance of "the attitude of a young band" that ensures that fresh ideas and inspiration are always on tap.
"You learn more from failure than you do from success."
Speaking of keeping things young, Offer's favourite song from the latest album, Shake the Shudder, features a sample of a child's voice, lamenting the loss of her toys. 'What R U Up 2Day?' is characteristic of the whole album: quirky, energetic and, to be honest, quite weird. The influence of old school dance and funk underpins every track, but the whacky samples, unusual lyrics and sporadic injections of punk make this an electronic album like no other. However, Offer claims that !!! have never "tried to insert a quirk into dance music." He admits that the band has "never felt mainstream," but believes that the mixture of punk and dance always felt natural. The dance music industry moves very fast, and Offer appreciates that "there will always be people who don't like our music," but the band intend to keep doing what they're doing for the foreseeable future.
"The album is quirky, energetic and, to be honest, quite weird."
It is often said that !!! are a band best experienced live. Does their frontman think that social media and streaming are killing live music? "Rock is not dead," Offer answers, "The single greatest thing about the contemporary music business is that it's now easier than ever to get started. The software, kit and YouTube tutorials available mean that almost anyone can start a band from the comfort of their bedroom." This may be the case, but isn't there something to be said for the, now rather quaint, method of getting together with your school mates and jamming in your parents' garage? "The chemistry you get from playing live with a band is unique," he says. "No matter how big Spotify gets, I can't see live music ever dying out." Offer does, however, admit that there are drawbacks to making music with a group rather than going it alone, the favoured route for most dance artists in the charts right now. "You have to all make an effort to not get bruised egos," he says knowingly, "it's just like any relationship."
Having survived twenty one years in the music industry, it seems almost rude not to ask Offer what advice he would give to young musicians looking for their 'big break'. Humble as ever, he advises to use Led Zeppelin as inspiration. "Never try to repeat yourself, and always keep an innocence," is his sage contribution. I get the impression that, despite having just released his seventh album, Offer does not consider himself a truly 'successful' musician just yet. He clearly strives for perfection and, with regards to success, adopts the attitude that "everything is a journey." However, if the destination is brilliantly produced, creative electronic music that demands you get up and dance, then I would say !!! have already arrived.
Shake the Shudder is available on iTunes and Spotify now