Sigma: 'It's a very weird time for music'
DJ duo Cameron Edwards and Joe Lenzie talk to Felix Peckham as they become the first DJs to speak at the Cambridge Union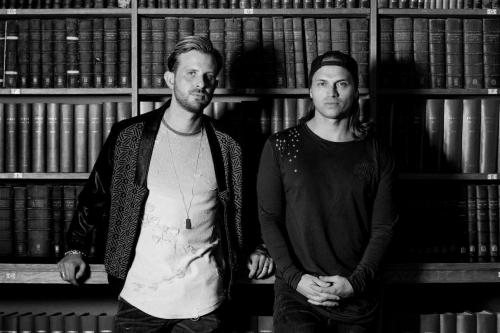 As I sat with Cameron Edwards and Joe Lenzie, I couldn't help but think of the starkness of the contrast between them and Katie Hopkins, the Cambridge Union speaker of the night before. Humble, polite and down-to-earth, Edwards and Lenzie—the DJ duo of Sigma—are straightforward about their rise from small-time Leeds gigs to two-time chart toppers.
 Lenzie, sipping from his half-drunk pint of lager, is eminently humble: "I guess we never thought we'd be here. We had ambitions, we had dreams to succeed and do well in our own industry, but we wanted to do well in the drum and bass world, which is a much smaller pond than the one we are currently in."
"We love what we're doing, and that's the most important thing"
I ask Edwards—who was working in a local Leeds record shop when he met Lenzie—about their successes, and whether Sigma has peaked, or if there's more to come. While he assures me that "we love what we're doing, and that's the most important thing", he doesn't ignore the perilous, and at times, ephemeral nature of their business.
 "The music industry is very unpredictable at the moment, and you can't really tell what's going to be big and what isn't. You can have a very hooky track but it doesn't necessarily mean it's going to be a hit."
The duo both mention Spotify, and the role that the music streaming service which has 100 million monthly users, has on the industry.
Edwards explains "the majority of the numbers come from streaming" which has changed the shape of music distribution: "Whereas before you would put out a single and get a certain number of radio plays which would help you get a higher chart position, now it's basically down to being on the right Spotify playlist. With drum and bass in particular its much harder to do that because even if you have a track that gets onto a lot of Spotify playlists, because the tempo is so fast, they generally put it right at the end of the playlist, so you're less likely to clock up a certain amount of streams."
 Lenzie picks up the baton and elaborates on some of these changes to the music industry.
 "The thing with Spotify is you either have a viral hit and people lock onto it and start streaming it and playing it, or you have to be a Drake or a Bieber, who have millions of followers and any tune they do is just instantly top of the Spotify charts. It's not a very fair way of charting music and there's a lot of music that doesn't really get listened to because it doesn't get pushed properly. It's a very weird time for music."
Despite the uncertainty about the number of Spotify plays, Sigma's ubiquitous 2015 'Nobody to Love' single has had more than 68 million of these lucrative plays. I ask about the inspiration for this single, given its role in propelling Sigma to a household name.
 Lenzie dismissively claims that they "just ripped off a tune basically." Giggling, Edwards explains "it was a remix. It was a Kayne West song, we just basically took the hook and remixed it." Indeed, the story behind the chart-topping single is remarkably inauspicious and clearly a happy coincidence.
 "Nobody to Love was just something to play on our DJ set and put on our website to get more people to sign up for our mailing list. We were giving it away for free! We had a couple of days where we weren't being productive and weren't getting that much done, so we thought let's do a few remixes. Then it just went a bit nuts."
Lenzie reiterates the unlikely genesis of one of the anthems of 2015: "We never expected it to be released. We played it out and it literally went down like a lead balloon. No one reacted to it and we thought this is awful, lets just scrap it."
 This isn't Sigma's first time in Cambridge; they were here last year, where they headlined the 150th Anniversary of the Trinity College May Ball (Varsity described their set as being 'phenomenal'). I ask how it feels to be back, speaking at the Cambridge Union, and becoming the first DJs to do so in the Union's 202-year history.
Edwards describes it as an "honour" and admits "It's not something that we make a habit of; I think it's the first time we've ever done anything like this." Lenzie laughs, saying "it's probably the last!"
 Finally, on music education in schools, Edwards tells me he was "lucky" that his teachers and parents were "open minded" and supportive of his musical endeavours from an early age: "I played the violin for years, and drums with the school band. On my leaving assembly I did a DJ set. My teacher was very supportive and that played quite a big part in me being able to think about pursuing it as a career."
Lenzie is more cautious, reflecting on his own experience at school: "I think that it's a lot to do with the teacher you have. I remember you'd look at my music teacher and think 'I don't want to be like him.' If you've got someone who is supporting you and encouraging you, then that's great, but I really wish I'd pursued my piano lessons—it was almost like a chore going there because of the teacher. I think these days kids are wanting to do music more, whereas when we were coming through it wasn't really seen as a career path as such."
 On their way out to make Cambridge Union history, Lenzie tells me Sigma have had "an amazing journey." Ever the humble duo, they leave by saying "we've achieved so much and done so many amazing things that you kind of forget how amazing this journey has been. There's been times when we thought this isn't going to happen, and there's been times when we just can't believe it has happened"