Review: Kendrick Lamar – DAMN.
Kendrick Lamar's new album is less ambitious but still powerful, argues Damian Walsh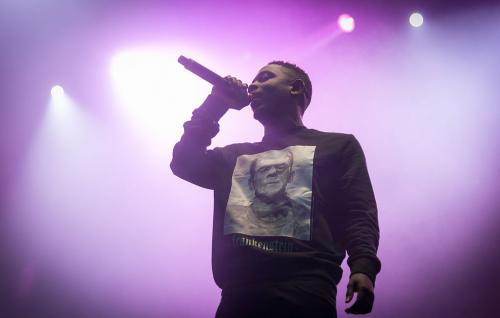 You couldn't say this album's release wasn't hyped. When Kendrick Lamar hinted, "Y'all got till April 7th to get y'all shit together" in his surprise single, 'The Heart Part IV' (apparently written a mere two days before its release), the internet exploded. A week later, the 'HUMBLE.' video dropped unannounced on Kendrick's YouTube channel. As April 7th passed with nothing but a new release date to show for itself, Reddit slowly filled with increasingly far-fetched and excited fan theories. The most popular claimed that DAMN. wasn't one album but two, and that this second LP (rumoured to be dropping on Easter Sunday) would herald a resurrection to rival Christ's own.
Perhaps predictably, that didn't happen. We got DAMN. as a stand-alone album instead. And we should be happy with it – it's a great album. But in light of the build-up, what are we to make of DAMN.? Does it live up to the hype?
For a start, it's noticeably different from the Kendrick you might be used to (especially if you know him mainly for the jazz-infused hip-hop of To Pimp a Butterfly). In an interview with the New York Times before DAMN.'s  release, he teased that "To Pimp a Butterfly was addressing the problem. I'm in a space now where I'm not addressing the problem any more". And it's true – you can't imagine any track on DAMN. becoming a political anthem like To Pimp a Butterfly's 'Alright' became for the Black Lives Matter movement in 2015. The new album is largely introspective, concerned with matters of religion, faith and conscience above political struggle. (As Kendrick raps in 'YAH.', "I'm an Israelite, don't call me Black no mo' / That word is only a color, it ain't facts no mo'.") Kendrick's 'fourteen tracks, carried out over wax' plot out what seems to be a flashback on his life after he is shot by a mysterious 'blind woman' in the opening track, 'BLOOD.' However, Kendrick (if he is the narrator – or if it's accurate to even talk about a narrator in this album) also stands as an Everyman at times: 'PRIDE.', for instance, is an exploration of his own pride, as well as the deadly sin in general.
The new album is largely introspective, concerned with matters of religion, faith and conscience above political struggle
Reviewers have emphasised the influence of Kendrick's Christian faith on this record, based on his comments in that same NYT interview: "We're in a time where we exclude one major component out of this whole thing called life: God. Nobody speaks on it because it's almost in conflict with what's going on in the world when you talk about politics and government and the system." Lamar's faith has always influenced his work, (see Butterfly's 'How Much a Dollar Cost?' for the example nonpareil), however what is new here is the album's inward focus, its nuance. You could see DAMN. as a development of Kendrick's thinking on Butterfly that political problems are also internal – as he controversially commented before that album's release: "What happened to [Michael Brown] should've never happened. Never. But when we don't have respect for ourselves, how do we expect them to respect us? It starts from within. Don't start with just a rally, don't start from looting -- it starts from within."
That development, however, comes at the cost of scope. DAMN. feels like a less ambitious record than what we're used to hearing from Kendrick. Admittedly, it shouldn't – it plumbs the depths of personal conscience; it's a record that goes right into Kendrick's soul. But on first listen, compared to good kid, m.A.A.d city or To Pimp a Butterfly, DAMN. feels a little flat. This might be due to the album's noticeably thinner concept, which I was disappointed by. All of Kendrick's major label albums have been conceptual so far – gkmc was subtitled 'A Short Film', while the tracks of Butterfly gradually constructed a poem as the album progressed. It's therefore easy to feel a little let down with DAMN. That being said, I love the use of a gunshot to frame the album (fired once in opening track 'BLOOD.' and again to end closing track 'DUCKWORTH.'), and the production on DAMN. really complements this concept – such as the use of 80s-esque backmasked vocals throughout the album, rewinding back to the gunshot at the final track before replaying Kendrick's seemingly-innocent first line: "So I was taking a walk the other day…". (In case you're interested, the reversed vocals just repeat the album's lyrics – no Satanic codes, sorry to disappoint.) Of all Kendrick's works, the concept of DAMN. has most in common with 2011's Section.80. "If you leave with nothing else tonight, you will leave with knowing yourself."
I don't think there's really a weak track on the album, but particular highlights include 'PRIDE.' and 'GOD.'. 'LOVE.' stands out for showing us an unusually straightforward glimpse into Kendrick's emotions. Coming just after 'LUST.', the track fits the album's concept without being overpowered by it – at heart, it seems to be nothing more than a love song, presumably to Kendrick's fiancée Whitney Alford. It's elegant in its simplicity, proving Kendrick is just as adept at crafting heartfelt, personal lyrics as he is dealing with hard-hitting political issues like 'gun control' and the 'race barriers' featuring elsewhere on the album. Special mention must go to Teddy Walton's [exquisite] production on this track, combining lush synths with Zacari's mellow vocals to perfectly complement Kendrick's lyrics. This track was made for long summer evenings.
Even in this uncomplicated love song, however, Kendrick's skilful command of language shines through. In the refrain, he asks "If I minimise my net worth, would you still love me?" – an act of romantic questioning in the same vein as 50 Cent's '21 Questions', as Genius notes. But the line seems too good to not also be a nod to his listeners, like To Pimp a Butterfly's challenge: "When shit hit the fan, is you still a fan?"
That's what Kendrick seems to be doing with DAMN. – playing games with his ego, undermining his image ever so subtly to test his fans' loyalty. For all the braggadocio of its singles, DAMN. is a genuinely 'humble' album. Kendrick has proven he can poke fun at himself with his wonderfully tongue-in-cheek new persona, 'Kung Fu Kenny', based off Don Cheadle's character in Rush Hour 2. DAMN. seems to see Kendrick attempting to shrug off the 'spokesman of a generation' label many have been pinning on him since Butterfly. College courses are already being taught on his 2015 album; that's enough to make any artist nervous.
This might explain his decision to shift focus 'back to my community and the other communities around the world where they're doing the groundwork' (NYT). In 'YAH.', he tells us: "My latest muse is my niece, she worth livin' / See me on the TV and scream: 'That's Uncle Kendrick!'" – an unexpectedly personal moment on the album. Later, in 'XXX.', Kendrick rejects being labelled 'anointed'. This attempt to shed labels isn't new – on Section.80, Kendrick also stresses: "I'm not the next pop star, I'm not the next socially aware rapper / I am a human mothafuckin' being, over dope ass instrumentation".
And 'dope' the instrumentation certainly is. A welcome new direction on this album is its largely mellow sound – a mix of laid-back beats and expansive synths which lean closer to Frank Ocean than Kendrick's usual aggression. The sparser production of DAMN.'s trap-influenced tracks, meanwhile, gives space for Kendrick's lyrics to dominate – which comes easily for such a literate lyricist.
"A mix of laid-back beats and expansive synths which lean closer to Frank Ocean than Kendrick's usual aggression"
One label Kendrick can't avoid is 'greatest storyteller in rap'. Tracks like 'DUCKWORTH.' and 'FEAR.' cement this reputation; they're DAMN.'s answer to 'Sing About Me' or 'How Much a Dollar Cost?'. Best of all, in my view, is the self-accusatory twist on 'XXX.', which is worthy of anything on To Pimp a Butterfly. A friend whose son has been murdered approaches 'anointed' Kendrick seeking prayers, to which K-Dot replies with a venomous call for vengeance, 'If somebody kill my son, that mean somebody gettin' killed', detailing the lengths to which he would go to protect his own: "Let somebody touch my mama / Touch my sister, touch my woman / Touch my daddy, touch my niece / Touch my nephew, touch my brother". Even when Kendrick is dealing out violent death threats, his tortured delivery makes sure he still sounds human, even relatable.
And then comes the interlude, and the track's hot-headed certainty collapses. The tempo  lurches from its previously violent pace topped by police sirens into slow, sober piano chords, after Kendrick explains he's about "to speak at this convention / Call you back –". We hear Kendrick's lightly distorted voice, as if from the next room – "Alright, kids, we're gonna talk about gun control" – and, as Kendrick realises his hypocrisy, Bēkon's voice floats overhead: "Damn". It's a clever use of the album title. Previously, the title conveyed all the swagger of 'The Heart Pt IV': "1, 2, 3, 4, 5 – I am the greatest rapper alive!" (think 'Damn son!'). Now, it's become a crestfallen exclamation, as well as suggesting the worrying possibility of damnation. For Kendrick, the dizzying heights of fame are also a source of danger.
If DAMN. were a debut album, I'd be singing the rapper's praises to anyone who'd listen. But it's not. And Kendrick hasn't exactly set the bar low for himself with his previous studio albums, good kid, m.A.A.d city and To Pimp a Butterfly. Admittedly, that's a high standard to demand but, then again, K-Dot's notoriously made it his mission to "raise the bar high". The fan theories expected too much, yes, but there's a reason they took off quite so dramatically (and it's not just down to the somewhat disappointing cover art).
We're used to expecting grand, full-scale productions from Kendrick. This time, he's delivered something more sober, perhaps more mature, and slightly less ambitious – but this must be seen as part of his determination to remain, well, humble