Live Review: Scott Bradlee's Postmodern Jukebox
Hannah Bowstead was thrilled by a riotous performance from the world's wackiest covers band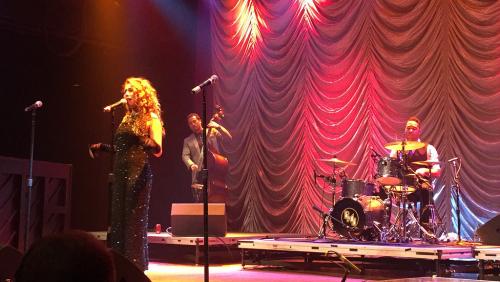 Scott Bradlee's Postmodern Jukebox is a collective of vintage lovers who perform modern songs in various styles of music from the last century. In many cases, I prefer their jazzy covers to the originals. But their live show is something else entirely: a whirlwind evening and a feast for all the senses that more than made up for the long wait in the rain outside the Corn Exchange.
Scott Bradlee himself was nowhere to be seen. I can only assume that he was playing the Postmodern Jukebox show in Russia that was happening on the same night. That's the beauty of Postmodern Jukebox: they can play two different shows in two different countries almost simultaneously, because they're more like a talent pool of over 40 different performers than a 'band' in the usual sense of the word. You shouldn't go to a Postmodern Jukebox show expecting to see a particular singer, because they may well be, you know, in Russia.
"The performers seemed to be imbued with endless energy, dancing, strutting and riffing their way across stage in jaw-dropping fashion"
That is not to say we were short on talent. This show boasted a house band of five (three-piece rhythm section, trombonist, and clarinettist/saxophonist/flutist), six incredible singers and a tap dancer. The changing line-ups and large casts of Postmodern Jukebox shows provide a great variety of performances. With 12 performers, we were never bored. Our host came in the form of the endlessly charismatic Ariana Savalas, an absolute riot of slinky dresses and saucy innuendo. She announced at the very start that this was a 'family show' , but an hour later she pulled an audience member on stage and proceeded to give him a lap dance, wearing little more than a sparkly black leotard and heels. Then she finished her song and flounced off stage. You can't argue that she didn't put on a good show.
But every performer had enormous stage presence. With six singers, the show whipped from upbeat 50s swing to slower, intimate solos to sexy Bond-theme-esque numbers with no time to breathe in between. We raced from Von Smith's energetic opener 'Call Me Maybe', which spanned the whole of his enormous vocal range in a matter of seconds, to Cristina Gatti's effortlessly sultry 'Womanizer', to a brief history of jazz music accompanied by the tap shoes of Alex MacDonald, who moved so fast his feet became blur. At times the fast pace made the show feel a little rushed, but for the most part it simply contributed to the upbeat, crazy atmosphere.
The performance was anything but laboured. The performers seemed to be imbued with endless energy, dancing, strutting and riffing their way across stage in jaw-dropping fashion. Special mention must  go to Aubrey Logan, who interwove the odd trombone riff into her singing and then proceeded to execute 10 one-handed cartwheels in a row, and to the crazy showmanship of Casey Abrams, who exploded onto the stage, stole the bass (and the show), and performed 'I'm Not The Only One'. He was perhaps the most memorable and loveable personality of the evening.
Downsides were few and far between. At times, the spotlight wasn't focussed on the lead singer, meaning that their face was in darkness as they sang, and the sounds levels had a tendency to be a bit off in some of the group numbers when three or more singers were competing to be heard. But this is all part of the charm of Postmodern Jukebox. They are reminiscent of an era when performances were one-take and it didn't matter if things weren't perfect. It was refreshing and exciting to see a live show that made the vibrant personalities of its performers its stars.
If you didn't leave the show tapping your foot, in awe of the singers' and musicians' capabilities, or wanting to become a jazz singer yourself, then you can't have been at the same performance as me