Review: Rag'n'Bone Man – Human
Sarah Taylor reviews Rory Graham's showstopping debut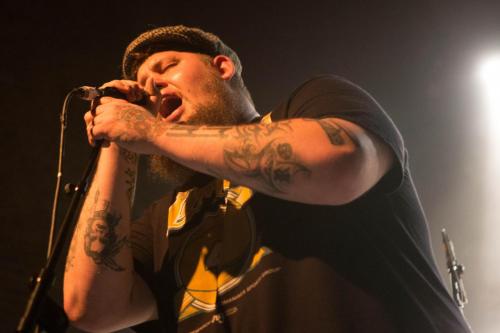 When Rory Graham walks on stage, you know about it. There's something unique in his voice which captivates anyone within earshot. Speaking to NME about people trying to define him, Graham, better known as Rag'n'Bone Man, says "they can't fit me in a box, which is good. I'm not really box-sized, am I?" He's certainly not; this mountain of a man can barely be missed by sight, and is impossible to ignore by ear. When he starts singing, his deep voice resonant of his imposing stature, people can't help but stop and listen. I've had the pleasure to experience this a couple of times in the last year, and I've always been floored by the brute force of that voice.
The rise of Rag'n'Bone Man has taken many by surprise. Graham has only recently begun to be recognised after what has been a slow and difficult journey to the top. Yet reach the top he has, having received the accolade of BRITs Critic's Choice 2017 and broken the record for fastest-selling male solo debut album. Quite the climb then, from his early days juggling a job as a mental health carer and giving away his Wolves EP for free. The new album, Human, hit the top spot in the UK charts, and the eponymous single has only been kept away from number one by the indomitable Ed Sheeran.
"He has 'soul' tattooed across the knuckles of one hand and 'funk' across the other, but it's the former that governs this album"
That single, 'Human', kicks off the album with R&B influenced looped beats and a chorus which packs a bluesy punch, grounded by Graham's rich tones. The other single is 'Skin', which gives a good demonstration of Graham's soulful style. He has 'soul' tattooed across the knuckles of one hand and 'funk' across the other, but it's the former that governs this album. That said, he claims "There are really three parts to the album and there's, like, quite a lot of hip-hop on there". He isn't wrong; his musical beginnings as an MC and rapper haven't quite deserted him, but neither have his days of playing blues at open mic nights in local pubs with his father. This album is genre blending at its best.
In 'Ego', Graham declares "I know my gospel but I ain't a preacher", and if any lyric sums up this album, that one does. Gospel and blues influences infuse the album but the lyrics are somehow unassuming, despite being so raw. Graham confesses in 'Bitter End' that he has had "Too many years of battle scars" and that he isn't afraid of wearing this vulnerability on his sleeve, but in 'Lay My Body Down' he implores of his audience: "don't shed a tear for me". That's perhaps a tall ask, given the weight of some of these songs; the depth of both his lyricism and vocal tone make Graham's demons almost as hard to ignore for his listener as they are for him.
No track demonstrates this better than the a capella number 'Die Easy', which closes the standard album. It's one of a few songs that battle with Graham's imagining of his own death, but is beautiful for all its darkness. The simplicity of Graham's unadulterated vocal power makes for such a perfect closing song that it's almost a shame to reopen the album with bonus tracks in the deluxe version. In these, however, Graham revives and reimagines some of the better tracks from his earlier EPs, namely the cutting 'Lay My Body Down' and the wonderfully gritty 'Wolves'.
But if you only listen to one song from this album, make it 'Bitter End'. This conflicted track puts Graham's demons on display and pushes his vocal range to extremes, but he still manages to make it sound easy. In short, it is the showcase of a showstopping voice. 'Human' is an incredibly strong debut from Rag'n'Bone Man and, having been a follower of his music since the Wolves EP of 2014, it's really nice to see more heads turning in his direction when they hear him