Fresh, fast and furious
Zach Lande details a quick guide to feeding yourself at Cambridge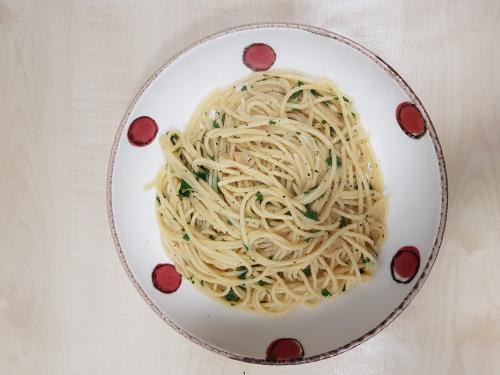 When you first start university, you become responsible for your own health and nutrition. This is especially evident when it comes to feeding yourself. The Cambridge environment makes this thrice daily task seem easy: you have college halls serving meals all day, as well as the high streets to cater to all your fast food, café, and restaurant needs. Despite a bounty of options, there inevitably comes a time when you want to take control of your diet and cook for yourself. The disparity between college facilities can makes this problematic, as many gyps and kitchens lack proper hobs and ovens. Sometimes you have to make do with rice cookers, compact grills, microwaves, and hot plates. When I was a fresher, I wished that I had a set of recipes that would enable self-sufficient cooking at Cambridge. Easy recipes, requiring basic equipment, that were cheap and quick, yet nutritious and delicious. If you're reading this and thinking the same, then I have good news for you. Five easy-to-master dishes carefully selected for maximum taste and minimal effort. Bon appétit.
Spaghetti aglio e olio is a traditional Italian pasta dish from Naples. It is made by lightly sautéing thinly sliced garlic in extra virgin olive oil over medium heat – with the addition of dried red chili flakes if you like them– and then tossing the infused oil with cooked spaghetti. Finish with finely chopped parsley, a generous squeeze of fresh lemon juice, and then season with salt and pepper. This dish is a masterpiece in simplicity that is far greater than the sum of its parts. You won't believe me until you try it for yourself.
Prep time: 5 minutes
Cook time: 13 minutes 
Couscous is a remarkably versatile grain that offers a blank canvas for bold, bright flavours. My favourite way to make couscous is tabbouleh, a Middle Eastern vegetarian salad. After the couscous is cooked, add diced cucumber and bell peppers, finely chopped cherry tomatoes, spring onions, coriander, mint, and parsley. Finish with fresh lemon juice, extra virgin olive oil, salt, and pepper. The salad goes brilliantly well with fried halloumi or chicken. It is also an excellent way to experiment with different vegetables, fresh herbs, and spices.
Prep time: 10 minutes
Cook time: 7 minutes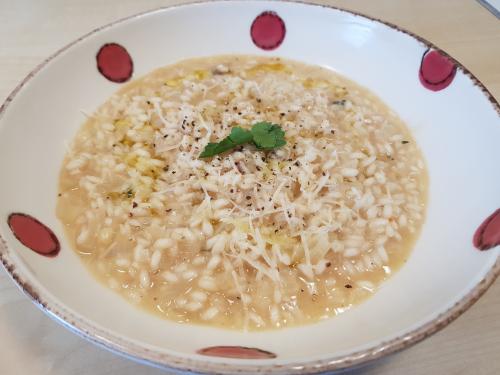 Risotto may seem intimidating, but it's actually an incredibly simple dish that can be made in a rice cooker. For a basic risotto bianco(white risotto), sweat diced onions, celery, and garlic in a pan until softened. Add risotto rice (I use Carnaroli or Arborio) and a splash of dry white wine. Once the alcohol has evaporated, slowly add ladles of hot stock to the rice, stirring constantly, and allowing each ladleful to be absorbed before adding the next. Taste the rice to check if it's cooked. If not, carry on adding stock until the rice is soft but with a slight bite. Finish the risotto with plenty of butter and grated parmesan cheese.
Prep time: 5 minutes
Cook time: 30 minutes
Stir-fry is a pillar of student cuisine and is a great way to use up leftover vegetables. If you can, steer clear of the bags of pre-cut mixed vegetables you see at the supermarket. You pay a premium for a small convenience, and they often lack flavour. Instead, try selecting your own ingredients so that you can fully customise the dish. My personal favourites are: spring onions, bell peppers, fresh ginger, garlic, carrots, broccoli, and cabbage. To maximise flavour in a stir fry, you want to use high heat and sunflower oil. Have all the ingredients prepped and ready to go so that you can move fast. Vegetables don't need long in the pan, otherwise they will burn. Once you have added pre-cooked rice or noodles, you can boost the flavour of the stir-fry with condiments like soy sauce, Worcestershire sauce, oyster sauce, toasted sesame oil, and fresh lime juice. Keep experimenting until you find your perfect combination.
Prep time: 10 minutes
Cook time: 8 minutes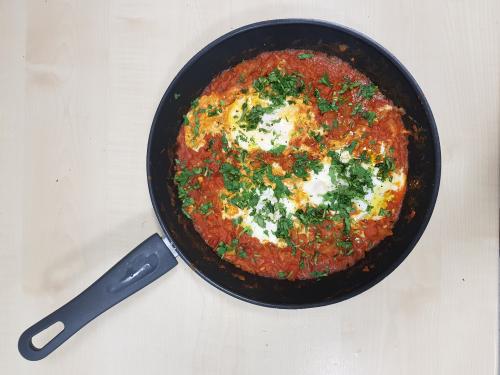 Eggs are perhaps one of the most versatile and accessible of all proteins. There are limitless ways to prepare them, and they can easily be turned into a hearty meal. An excellent example is shakshouka, a North African dish consisting of eggs poached in a spiced tomato sauce. Start by sweating diced onions and mixed bell peppers until soft. Add chopped garlic and fresh chilli and fry until tender. Throw in a dash of cumin and paprika, then add chopped fresh tomatoes and cook until the tomatoes have completely collapsed. Make wells in the tomato mixture and break an egg into each well. Cover the pan and cook gently over a medium-low heat for 5–6 minutes, or until the egg whites are set and the yolks are still a little runny.
Prep time: 5 minutes
Cook time: 20 minutes