Varsity Escapes: A comfort food quartet in London
In need of cruelty-free comfort food? Anna Hollingsworth takes you on a day trip through the finest cakes and carbs London has to offer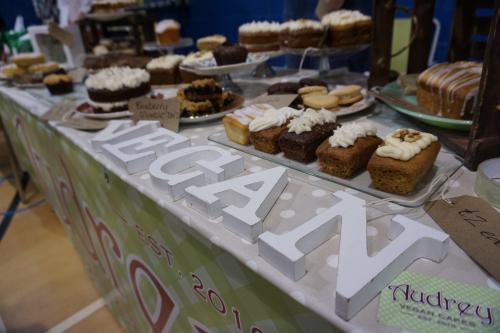 I'd like to say that my London trips are culturally motivated, and to an extent I'd get away with it. The Freud museum in Finchley offered the psychological equivalent of a deep-sea drill, the 'Age of Terror' art exhibition at the Imperial War Museum was, well, interesting, and I've always had a soft spot for Foyles. But ultimately that would be lying, because the real motivation for all my London travels has always been to explore food: my itineraries just happen to involve time to pick up cake when changing trains. I also think that suggesting breakfast dates to my London-based friends is absolutely reasonable and I admit to booking a flight based solely on the weekly cake rota at Vx (see below). As the forecast and the heating in my room disagree on whether it's summer or not, a day trip for a hygge boost is definitely in order. Voilà, my tried and tested quadrilateral for cakes, carbs, and general cruelty-free goodness.
Vx
Vx has somewhat of a cult status among vegan junk foodies, and is also the main culprit for me opting for later trains. Just a five minute walk away from King's Cross, though, there is always reason to pop in to grab slice of cake for the journey. From a loaded chocolate gateau to a Christmassy gingerbread number, Vx presents a different flavour of multi-layered, butter-creamed goodness each day. The slices are definitely generous (for once I'm not asking for seconds), and Rainbow or Unicorn Cake as the weekend special guarantees a sustained sugar rush (as well as type 2 diabetes in the long term, I'm sure).
In addition to the daily cake and a selection of éclairs, doughnuts, cookies, and apple turnovers, there is a savoury menu with vegan versions of everything from mac 'n' cheese and hot dogs to steak frites and Philly cheesesteaks: you name it and Vx will work their seitan and soy magic to make it. As someone who believes meat should never be faked, though, I stick to the sweet side of things. This is not particularly difficult either, as there are much better burgers in town…
Mooshies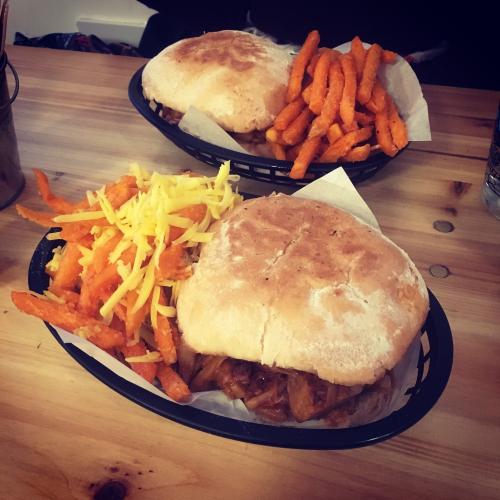 From King's Cross, tube it to Shoreditch for an exquisite burger experience. Mooshies do not attempt to emulate meat, but rather celebrate veggies: their slow-cooked BBQ jackfruit burger is exotic with a refreshing fruity kick, and their 'Fillet-Om-Phish' is next up on my list, offering a more nautical theme with battered aubergine, tartar sauce and nori seaweed. Their sweet potato fries hit the soft spot between crunchy and pillowy. Oh, and this is coming from someone who is a general chip and burger avoider.
Cookies and Scream
If I got a penny for the number of times people assume I live off a combination of lettuce and lentils, I'd be richer than the founder of Alpro. Not that I'm justified in blaming anyone: I used to feel the same way about gluten free baking. But Cookies and Scream do it all – vegan, gluten free, and bona fide some of the best bakes I've come across in my sugar-fuelled lifetime. Drop by for beautifully doughy cookies sandwiched together with ice cream, milkshakes that make a meal in themselves (I joke – there's always room for a little more sweetness), and just a general range of bakes and pies that qualify as X-rated food porn on the bakery's Instagram feed. Tucked away on Holloway Road, be prepared for a hipster vibe and the slightly bizarre combination of heavy metal background music and the comfort of home baking – Cookies and Scream really do what it says on the tin.
Yorica!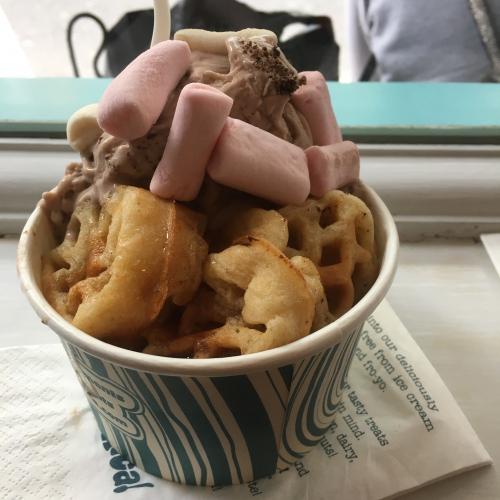 Our final stop goes even further than Cookies and Scream and takes 'free from' onto a whole new level: Yorica!'s fro-yo, ice cream, shakes, waffles and crepes are free from, well, just about all major allergens. I'm not quite sure what there is left to work with, and perhaps it's better that I don't know. Whatever the secret ingredient, though, Yorica! has managed to dish up a respectable range of flavours from 'Mellow Matcha' to 'Rad Raspberry'. To make the decision process for you easier, I highly recommend the banoffee, cookies and cream, and salted caramel ice cream flavours. Waffles? Yes please. And add some marshmallows and chocolate sprinkles while you're at it.
For those not dedicated enough to go day-tripping just for food, you don't have to go for the full house and do all of them in a day; it's just about acceptable to pick one and pop in after whatever London business you have. Personally, though, I've got my next Cookies and Scream date penciled into my diary. And no, it won't be an afterthought to an exhibition or gig.