Revision: the outdoors edition
After a revision revelation, Hannah Fytche gives us her top tips for successful studying in the sun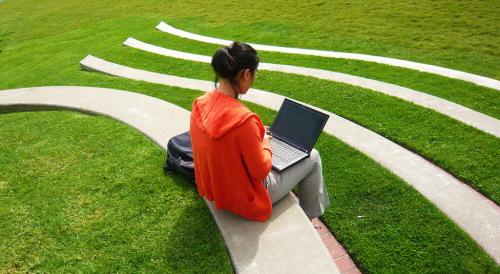 It's week one of Easter Term, and we all know what that means. Gone are the happy days of Lent and Michaelmas; here are the long hours of revision and coursework. The sun might (hopefully) be shining outside, but most of us will be hunkering down at library desks rather than enjoying picnics by the Cam. Or will we?
Taking my cue from one of my first-year lecturers, I want to suggest a new way to study. It's a way that allows us to both get learning done and enjoy the glory of Cambridge in the summer. Revision: the outdoors edition.
So, that first-year lecturer – she was a philosophy lecturer who taught me Plato, Aquinas, and Anselm, among others. These are hardcore texts, and when it came to the revision lecture, I expected to be told to study extra hard and to wade through an ocean of secondary reading. I imagined a term of insurmountable philosophical difficulty – and I couldn't have been more surprised! My lecturer said, with a smile: "Get out of the library, go sit under a tree by the Cam and read Plato."
I knew then that Cambridge wasn't about working myself to burnout in exam term. It's about learning Theology to the best of my ability, in the way that suits me best
I looked up from my lecture notes. The weight lifted off of my shoulders. Light beamed through the faculty window. Plato didn't have to be read in a busy, hot library to be learned for an exam. Rather, I could take my books, find a sunny spot near the river and let the texts breathe as I read them. I could revise outside.
Of course, I knew before that lecture that the outdoors was a place to enjoy and a place that I could study in; much of my A-Level revision had been done outside. But it was a joy and relief to hear those words from a Cambridge lecturer, too. I knew then that Cambridge wasn't about working myself to burnout in exam term. It's about learning Theology to the best of my ability, in the way that suits me best. And for me, that's as much outside as it is in a library.
Where do you work best? If it's in a library or in your room, that's great – but don't miss out on the greater outdoors. Take a break in your college gardens, study more restfully by listening to a lecture while walking across the Backs, or take a stroll through the Botanical Gardens.
If you want to up your time outdoors even more, try taking your books with you and creating an outside study space for a couple of hours. Here are some top tips to make the most of revising outside.
Check the weather before you go – and maybe take an extra jumper! I have definitely fallen prey to the deceptive spring sun: it looks more than warm enough but feels barely out of winter. Take an extra jumper with you for chilly days, and maybe a picnic blanket if the ground's going to be damp. On the other hand, don't forget sun cream if you're going to be studying when it's hot, and take plenty of water! (I've heard there's sometimes been a Pimm's punt too… watch out for that if you're working by the Cam!)
Set up your workspace well. If you're sitting on the ground to work, make sure you've got something to weigh down your paper if it's a little bit breezy. Taking less with you is always helpful when working outside – instead of your folder for the entire course, maybe take some flashcards to work through, or some reading that needs doing.
Anticipate distractions and think up solutions. Working in the sun and getting distracted by light glaring off paper? Wear some sunglasses. Reading by the Cam and don't want to hear the punt tours going past? Remember to bring headphones. There are distractions when working outside – but they are all solvable (and there are just as many distractions in the library, what's more). If you want to work outside, don't let fear of distraction put you off!
Escape the centre. College gardens are a gorgeous place to work – but if you want to get away from college and try somewhere new, why not head out to the Botanical Gardens? You could even walk to Grantchester, set yourself up for the day in the Orchard Café, and head back to Cambridge in the evening. Making sure that you get some fresh air and exercise even in the midst of revision is a great way to couple work with rest.
Enjoy it – and enjoy Easter Term. Many of my friends have said that Easter Term is their favourite, even given exams. Particularly if you make the decision at the start of term to work well, rest well and put exams into perspective, this term can be the best for enjoying time with friends in the wonderful city of Cambridge as you study. And you never know, you might even get through that tricky bit of revision better if you get out of the library, go sit under a tree by the Cam, and enjoy a little breathing space.