Gallivanting in Ghent
Tasha Staines praises the gem that is Ghent and all its cultural wonders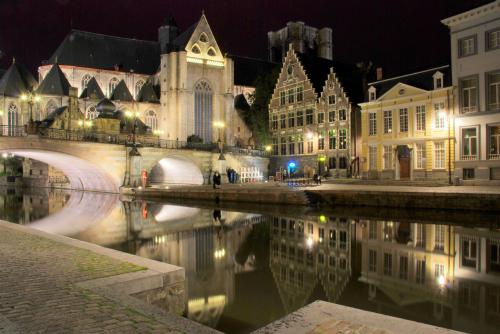 People often refer to Cambridge as a bubble as it is all too easy to forget about the outside world when you're here. It is no secret that travelling can help you re-centre and gain a wider perspective and for students studying at Cambridge this can be a real help during the holidays. If you are looking for a place to escape to with a young demographic and plenty of culture to absorb, then I would highly recommend Ghent, Belgium's third largest city.
Ghent was named Belgium's "quirkiest city" by the London Evening Standard earlier this year. While that may not sound like the highest of praise, going there is certainly an adventure you won't want to miss out on. With an Amsterdam-esque charm and rows of eighteenth-century architecture bordering the canal, Ghent offers any traveller a fulfilling and exciting experience. With bike rides alongside the historical canal, visits to cathedrals and castles, exciting food and a brand-new nightlife experiences, this city really does have it all.
I knew it was going to be a good trip the second I connected automatically to Eduroam. Ghent University is host to some 41,000 students and 9,000 members of staff, and was Belgium's first Dutch-speaking university. This city is a Mecca for students, who one can observe sunbathing and drinking next to the water, and spilling out of the local bars and restaurants. The University's motto reads "dare to think", and it is located in the heart of the city. The emphasis on learning and exploring can be felt throughout the city as you walk alongside art students painting on the bridges, and students of literature reading next to the water. The large student population enhances the foundation of fun and quirk that the city so famously harbours.
"An Amsterdam-esque charm and rows of eighteenth-century architecture bordering the canal"
Maybe the highlight of this quaint yet exciting gem is the fairytale castle positioned on the river. Ghent's 'Castle of the Counts' or Gravensteen Castle originated in the Middle Ages, and in the nineteenth century it was converted into a cotton mill before later being restored to the tourist attraction that can be found today. Once a symbol for torture and abuse of power, it was refurbished, and in 1907 it opened to the public. It can often be seen today as the venue of young lovers' wedding days.
Another thing to be explored in Ghent is its three historical towers: St Nicholas Church, the Belfort, and St Bavo's Cathedral. St Bavo's, founded in the seventh century, is host to Ghent's most esteemed masterpiece, The Adoration of the Mystic Lamb, also simply known as the Ghent Altarpiece, by the Van Eyck brothers. You can only go up the tower of St Bavo's Cathedral during the Ghent Festivities, but the view is spectacular.
Guided tours around the city are absolute essential, and one of the things that amazed me was the lack of tourists, especially from the UK; we were the only English speakers on both our boat and walking tour. This is definitely an undiscovered jewel of Western Europe when one considers Eurostar runs from St Pancras to Ghent (via Brussels) with Eurostar's "Any Belgian station" ticket for a £69 return.
If you are looking to travel to Ghent this summer, I would have to recommend the Gentse Feesten, Ghent's ten-day music and theatre festival. While there are ten stages of live music you will also find spontaneous street performances. First held in 1843, this is a celebration that attracts some two million visitors to the city and involves a lot of drinking, singing and partying in the historical streets and along the canal. If you are looking for a night out in general, then the young demographic means that you don't need to look far. Club 69, Kinky star and Hot Club Ghent hosts a series of live jazz nights. Alongside this you will find a series of pubs and cocktail bars. Dulle Griet tavern for example serves more than 500 types of beer, including the famous Tripel Karmeliet, derived from a convent recipe.
Ghent really is a magical city, and one that every student should take the time to explore. It has everything you could ask for and is the perfect way to wind down and relax after a term of exams.