Cambridge Shorts preview
A taster of some of the student productions showcasing this weekend at Corpus Christi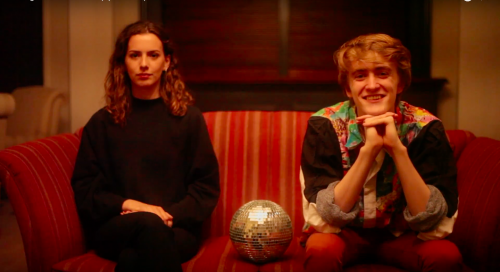 Back again, this time outdoors in Corpus Master's Garden, Cambridge Shorts brings us six more intriguing student films. Moving from psychedelia to stripped back tragedy, from the dark ages to alternative realities, the line up is as varied as ever. Now bringing in talent from Anglia Ruskin University and beyond, Shorts is expanding into new territory, showcasing again how much the Cambridge film scene has to offer. I caught up with the directors of each film to ask them about how and why they made their shorts:
Midnight Forest Canal
Returning to Shorts for a second time, Johnny King's bizarre and fantastical web series takes us back in time to before the events of the first episode (which involved psychedelic speed dating in a skate park). Midnight Forest Canal, King says, is "both an alternative reality (of the same name) and a project directed towards producing that reality". The episodes aren't driven by plot but by the development and expansion of a "simulated world on-screen". Highly stylised and, in this episode, pretty incoherent, the project seeks to be "abstracted and strange" but also "visually engaging and entertaining". Its focus on blasting the audience with competing elements (subtitles, frenetic music, visual effects) makes for an ever-changing watching experience, particularly as King has amassed a cast of over 35 so a new face could pop up at any moment. Looking to the future, Midnight Forest Canal will eventually become a 50-minute film, but what this will involve and where this hallucinatory world will take us next is unclear. "Goodness only knows", says King.
Christi Does East Anglia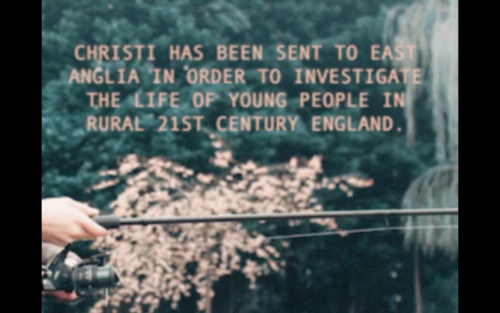 Another segment of a longer series, Jasmin Christi's Christi Does East Anglia is an attempt to "bring the cool back to the Fens". It deals with aspects of rural life around Cambridge, "an exploration of scenery that tells its own narrative". Shot in a boxy 4:3 aspect ratio and filmed on overcast days, the short is visually very interesting, almost painterly in its blue and grey evocations of nature. The colouring and quality of the footage makes it looks like film stock, but the film was cobbled together with a very low budget and basic equipment, a testament to Christi's innovation and persistence. Her next project for this series will be exploring the urban legends around East Anglia and hunting for the mysterious 'Fen Tiger'. Christi Does East Anglia is clearly made with great love and affection, and I look forward to seeing what she produces next.
Lionguard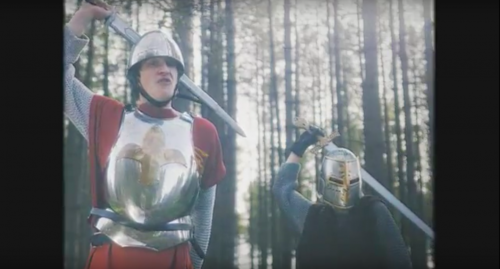 The only period piece in this year's lineup, Lionguard is a fantastically silly medieval black comedy about a brave knight on a quest to take a magical flower back to his castle. Harking back to Monty Python's Holy Grail and parody shows like Garth Marenghi's Darkplace, which themselves reference old adventure cliches, Lionguard is aware of its own ridiculousness and exploits it fully for comic effect. Shot around old Cambridge colleges, which aren't difficult to make look medieval, and in Thetford Forest during last year's snow storms, the film evokes the dark ages very well. It is more advanced in terms of cinematography than most student shorts, Director Rowan Hall Maudslay (who also photographed The Tortoise) showing a flair for exciting camera work which pays off particularly in the extended central fight scenes. It's great to see Shorts introducing comedy and parody into the lineup and Lionguard will certainly be a hit with the audience.
Wildlife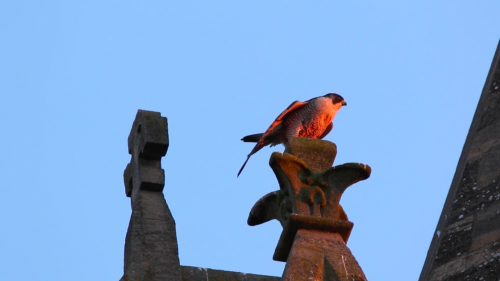 This the first documentary Shorts have shown and it packs a lot into its short runtime. Presenters Joshua Harris and Sean Irving take us around Cambridge's bird population, showing amazing footage of barn owls, great crested grebes and peregrine falcons. The pair's excitement at their subjects is what really wins you over, Harris describing with delight the "adrenaline-fuelled madness" of filming. The grebes become "sexy and charismatic" in his description, the falcons "absolutely awesome". It's a winning enthusiasm that adds an extra layer to already engaging wildlife photography. Surprisingly, close up shots of the birds in the centre of Cambridge weren't impossibly difficult to find, the animals accustomed to human life in the city. One particularly incredible moment shows two falcons having a brief fuck on the top of a Cambridge tower; visit Shorts for those five seconds alone. The next episode will focus on mammal life; this is certainly not the last we'll see of Harris and Irving's excellent series.
The Tortoise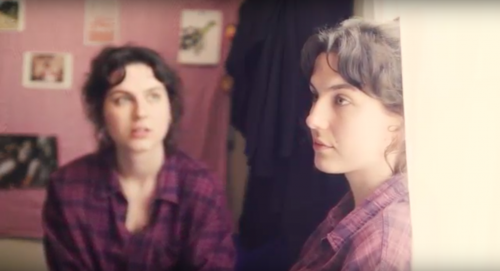 Winner of the Fletcher Players New Writing Prize, Alannah Lewis's The Tortoise is about a young woman with agoraphobia. Beginning with the death of her tortoise, the film shows her attempts to make it to the funeral whilst retelling, through flashbacks and narration, a life of anxiety and loneliness. It is a portrayal that balances humour and trauma, approaching an important and pervasive problem with empathy and wit. Lewis feels that Cambridge is the perfect place to set this short, "at once compact and empty". She aimed to make the characters "truthful, identifiable and slightly ridiculous (because, sometimes, anxiety is completely ridiculous)"; one particularly jarring visit from a friend demonstrates this beautifully. Directed by Lyndon Hanrahan and shot by Rowan Hall Maudslay, both previously featured at Shorts, the film isn't short on visual flair and pulls together past traumas, imagined futures and a lonely present in an exciting and captivating piece.
'Et si tu mourais demain' (And if you died tomorrow)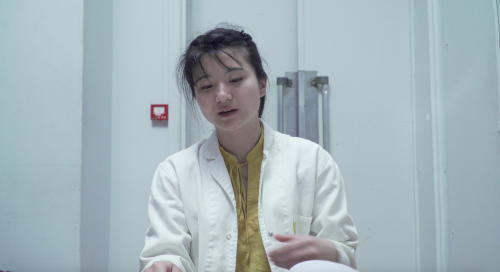 Leo Benedict's experimental film is the shortest of the shorts and was shot at the Conservatoire National Supérieur d'Art Dramatique in Paris during a cinema class he took this year. Stripped back to a bare room and a Jonathan Demme-esque direct camera address, the film shows a cancer diagnosis in real time. It moves in and out of silence, Benedict interested in theories of sound in film and the effect that jumping from "the world of doctor and patient" to the "worlds surrounding the recorded film" will have on an audience. The simplicity of the style was chosen to highlight the "harrowing, paralysing, discombobulating" nature of diagnoses, a bleak certainty "so very assured and singular that it frightens us." The film is straightforward but it works and demonstrates how small scale, focused precision can be just as affecting as longer work.
Cambridge Shorts screens on Sunday 17th June at Corpus Christi Master's Garden