Lights, camera, action: start making films in Cambridge
Interested in movies? We chat to Bea Goddard, Seth Jordan and Aaron Kilercioglu – three student creators who are keen to demystify the film community and emphasise the value of making films at university.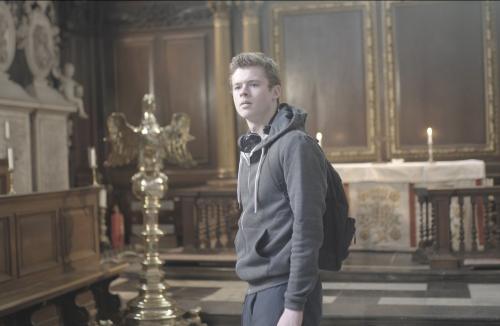 The variety of films being created in Cambridge is truly exciting. Aaron Kilercioglu and Seth Jordan, as director and assistant producer respectively, worked on 100 Days Since last term. The title refers to how long it's been since the mother of the film's protagonist, Mark, has left the house, and the moment he decides to take matters into his own hands. Jordan is currently also producing a short film called The Tortoise, a zany meditation on grief upon the death of a beloved family pet.
In the documentary sphere, Bea Goddard's thoughtful and challenging The Cambridge Climate had a successful launch recently at the CUSU Lounge. Though different in their styles and interests, all three are united by an infectious love of cinema and a desire to share both their films and their filmmaking.
Getting started
Bea Goddard credits a lucky turn for sparking her involvement in film. A pilot scheme for AS Film Studies had only recently been introduced at her school. Goddard, who had dabbled in YouTube in her early teens and always had an interest in film, seized the opportunity to confront a serious issue head-on and put the stories she uncovered to the screen. Coming up to Cambridge, she has continued to combine filmmaking with the issues close to her heart.
For many though, it was not until arriving at university that the prospect of filmmaking could be readily realised. Aaron Kilercioglu, current co-president of the Cambridge Film Association (CFA), made his first film in Lent Term. He already had a script written, but was unsure of how to move forward. After contacting the incumbent CFA committee for some advice, Kilercioglu was put in touch with the right people and his short film soon came together.
"You would be surprised how happy most people would be to let you help out on their set"
If you're looking to learn the ropes of movie making, Kilercioglu recommends checking out the regular CFA mailing list, or applying to any advertised positions on Camdram that take your interest. At the same time though, don't hesitate to reach out to the directors of projects currently in production and offer an extra pair of hands. "You would be surprised how happy most people would be to let you help out on their set," Kilercioglu muses, "and it is a great learning experience to see how films are made." His advice is also not to discount the value of making trailers for theatre, describing this as a a relatively low-commitment but absolutely invaluable way to hone filmmaking skills.
On set
For Seth Jordan, who works mainly as a producer, ensuring the smooth running of the production is his principal responsibility. Scheduling, organising funding and filming locations, as well as sourcing equipment and props all come under the umbrella of the producer. 
"The most obvious challenge is of course the cost of filmmaking," Kilercioglu admits. "All you need for theatre, at a basic level, are actors. You can't make a film without the often expensive equipment." The good news though is that plenty of arts funding is available at both university and college level – the trick is simply to be proactive in finding and securing it. In terms of student societies, the Dryden Society and Christ's Amateur Dramatics Society (CADS) have been particularly active in supporting student films. So if you already have a good idea of what you'd like to do, you can send a proposal to the relevant committees and they'll soon be in touch.
Story-telling, animation, photography, performance – cinema can incorporate all these forms and so many more
The CFA is always on hand to help: equipment is loaned out free of charge to all members, removing one of the great financial hurdles of student filmmaking.
More generally, Cambridge's student filmmakers view the sense of collaboration as both the central concern and most valued component in the production process.
"It's been great to create something much bigger, and not have to do literally everything!" Goddard laughs. For her short film, which focuses above all on our shared relationship as a University to environmental concerns, she made sure to involve the whole team in the big conceptual decisions. Producers, researchers, editors and presenters met at the very start of the process to discuss what they wanted the film to say.
A singular creative vision is arguably more important in a piece of narrative filmmaking, but, as Kilercioglu insists, this vision must crucially be one under which everyone can be united. He believes the director's role is not only to get the best out of the whole team, but also to ensure that all voices are heard and valued. 
Why film?
After interviewing Cambridge's filmmakers, the more pertinent question turned out to be 'Why film now?'. For a medium praised and blamed for its immutability, its capturing of things necessarily past, it is perhaps surprising how often our filmmakers emphasise the importance of the present.
In the case of The Cambridge Climate, the contemporary significance of the film is easily apparent. The particular challenge, in fact, was keeping up with the University's rapidly developing relationship to divestment. At the same time though, Goddard is excited and proud "to feel a part of the conversation", and indeed to be part of a constantly unfolding story.
But one need not engage in such a topical theme to feel the same way. There is a kind of wistfulness in how Kilercioglu and the CFA see the opportunity of filmmaking at university: one may never get the chance to make a film like this again – free of financial constraints and purely for the joy of artistic creation. Nor, indeed, may we ever find such so conducive an environment to filmmaking than we do right here in Cambridge.
The incredible thing about the medium of film is how naturally it takes most all other art forms in its stride. Story-telling, animation, photography, performance – cinema can incorporate all these forms and so many more, but not without a group of talented and passionate creators, determined to draw all these strands together and bring about something special.