Isle of Dogs review: 'goes down a long-awaited treat'
Reflecting on a highly original Wes Anderson film, Lillian Crawford contemplates artistry and morality in a fictional Japan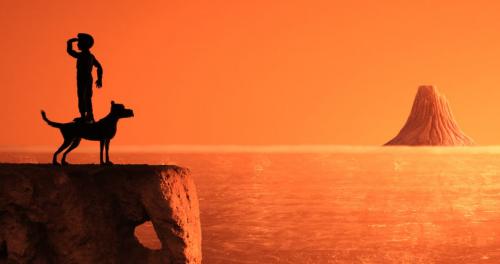 A Wes Anderson film is not a safe place for a dog. Be it an automobile collision or a khaki scout brawl, a poor pooch tends to fare worse than its human counterparts. Even the quote-unquote "fantastic" Mr Fox himself is distinctly dog-wary in Anderson's stop-motion animation debut. A fear is evident, a consistent persecution wielded by the clacking keys of the auteur's typewriter. Over eight films, he has perhaps unwittingly crafted his own Other that he must attempt to reconcile, with a little help from a band of carbon fibre canines.
The premise of Isle of Dogs thus emerges as a simple one – the age-old conflict of cat lovers versus dog lovers. It is a petty preference typically confined to teenage chitter-chatter and first date pleasantries, but here takes on a tyrannical tinge under the Kobayashi dictatorship of Megasaki. Favouritism and tenuity rule the day in the fictionalised Japanese archipelago, with wasabi-induced genocide apparently the final solution. In a simplified Madagascar plan, dogs are cast out to Trash Island where they drink toxic sludge and dine on the scraps of their masters, too afraid to bring children into dystopia. It is a bolder Nietzschean nightmare than the pie-machine gas-chambers of Aardman's Chicken Run which will go amiss by childish naivety in the same telling fashion.
"The bitches have bite, and when the time comes, they are the first to bare their teeth to adversity"
Lest we forget this is an Anderson picture, and the doom and gloom largely takes a back seat for the characteristic charm we so relish. Thrust to the centre is the latest misguided father-figure, or 'bad dad', to which the gruff tones of Bryan Cranston have been expertly lent. Unlike Herman Blume or Steve Zissou, Chief is not distant from his pack, and his story of redemption is probably the most satisfactorily fulfilled of the troupe thus far. If there is a missing link here, it is a loveable child persona like Ash Fox or Tony Revolori's inimitable Zero Moustafa. While Koyu Rankin gives an incredibly emotional performance as Atari Koboyashi, the language barrier prevents the same empathy from being replicated.
The decision to have the human characters speak in their native tongue is hardly to be criticised. On the contrary, much of the film's originality and comedy stems from the various devices used to convey the narrative to a non-Japanese audience, especially a perfectly cast Frances McDormand translator. Indeed, if one cannot quite connect with Atari, we find solace in Greta Gerwig's Tracy Walker, an exchange student presented, perhaps a little uncomfortably, as the Western voice of reason in this absurd state of affairs. There is an arresting moment during Atari's final speech that catches a rare tear in the eye, and goes on to pay homage to the concise power of the haiku.
Isle of Dogs is evidently a love letter to Japan from Anderson, but also from an astounding crew of animation assistants. Their collective eye for detail is startling, and entire sequences play out as testimony to their patience and respect. Others seek to induce intense repulsion – a sushi preparation scene intricately recreates the harrowing brutality of animal treatment in East Asian cuisine almost as effectively as Bong Joon-ho's Okja.
Trailer for Isle of DogsFOX SEARCHLIGHT PICTURES
While often masked by clouds of cotton wool, the film is alarmingly violent in places, although it rarely matches the decapitations of Princess Mononoke or other Studio Ghibli creations. Anderson's admiration for Japanese cinema is conveyed with a knowing subtlety, most beautifully through the Eastern themes of Alexandre Desplat's score. The influence of composer Fumio Hayasaka is as prescient as that of erstwhile directors Akira Kurosawa or Yasujirō Ozu, with a whole scene set to music from Seven Samurai. The result is an engulfing soundtrack that maintains the cultural setting even in the starkness of the island. This is aided further by a sake bottle igloo creating a sumptuous piece of lighting design rarely achieved by live-action filmmaking.
It houses the remainder of Chief's pack, a cast so large that Anderson is not quite able to give sufficient time to them all. We whizz past F. Murray Abraham and Tilda Swinton delivering the finest comedic performances, and the female characters only pop up for a bit of romantic foreplay. Yet their enforced gender roles – Scarlett Johansson's Nutmeg is a juggling show dog – seem more of a critique on their masters who have primed them for these positions, rendering them little more than slaves to their own societal norms. After all, the bitches have bite, and when the time comes, they are the first to bare their teeth to adversity.
As the taiko drummers strike up their familiar beat once again, harmony appears to have been restored. Anderson has faced his fears and raised dogs to the top of the billing – but what of the cats? The Kobayashis held them close to their breast, and yet they seem merely to have been an antagonistic symbol through which they could vent their tirade of scapegoating. At the end of a television interview, the Mayor throws off his microphone and an obedient feline to the floor, devoid of the attachment seen between Atari and Spots. The principles that tyrants uphold are as hollow as they seem, although no one is beyond the point of redemption. It might be heavy stuff for an animation, but sugar-coated in the typical adventure story, delightful characters, and a hilarious running gag involving Jeff Goldblum, it all goes down a long-awaited treat