Review: Questioning if You Were Never Really Here
Pany Heliotis attempts to capture the breathless nature of Lynne Ramsay's latest, leaving him attempting to pick up the pieces of one of the most hotly anticipated films of next year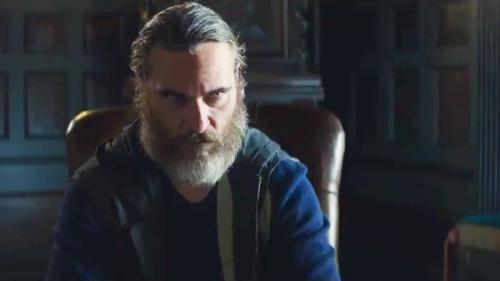 You blink. There she is. Snap out of it. Sharp intake of breath. The sun hits you. Stand on your feet. Blink. She's gone. A man bleeds on the floor. Exhale. A torch shows a blood-splattered room. You go home. Mom's making jokes. You blink. Man, I hate her. Slow breath. I love my Mom. Blink. Where is she?
"A benign sadist addicted to jelly beans suffering post-traumatic stress"
You leave your room. Breath out. There's the Regal. What's upstairs? Blink. Blink. Half-empty cinema. Bearded man. Sharp breath. Looks like The Master. Blink. But not. His body's warped, palsied hunchback. Sharp intake. He's haunted. Who is he? Breathe out!
Where did he go? Blink. There he is. Blink. Gone! Did they see him? Exhale. He's a soldier. Wait – inhale. FBI? Contractor? Breathe out. Who's following him? What? God Bless America.
Lynne Ramsay's You Were Never Really Here is a fever dream. Trauma incarnate. An assault on our aesthetic sensibilities, forcing us into conflict: how can such ugliness achieve such beauty? Can we transcend our personal terrors or should we embrace them, find kernels of hope in bloody effluence?
Ramsay's film is a lean slice of cinema. Each shot makes its point. Subliminal crosscuts give us impressions of backstory but without the catharsis of indulgence. Blink. Did I just see that? Exhale. No. I couldn't have. A film that runs on its own logic, this adaptation of Jonathan Ames's novella offers few explanations and yet transfixes.
Trailer for You Were Never Really HereYOUTUBE
Each frame is filled with consequence and a murky mysticism: when Phoenix's character enters a room, proceeding shots keep him just in the frame or suddenly absent from it. But Ramsay is not straining for magical disappearances but transience by way of metaphysical absence. If we do not know who we are, how are we ever seen?
Phoenix's character is a silent hunchback with suicidal inclinations, but a governing philosophy reveals itself purely through his actions: violent recovery of trafficked children. An angel besmirched in blood or a devil with a moral purpose? Phoenix's physical appearance directs us towards the latter.
Bulked up, but malformed with a left shoulder that juts out seemingly through his neck. Inhale. Who are we looking at? Exhale. What are we looking at? This is as confrontational a lead character as one will ever find in contemporary cinema: a benign sadist addicted to jelly beans suffering post-traumatic stress.
At 85 minutes, Ramsay's film shows things you'd wish you had never seen but quickly enough that you can recover. The same cannot be said for its subjects.
Stunning and horrifying. Claustrophobic but transcendent. Ramsay's latest is a cinematic panic attack. Breathe in. Blink. Breathe out