Review: Equality is absurd in The Square
The winner of the 2017 Palme d'Or, Aron Penczu considers what makes this lauded social study such an original work of insight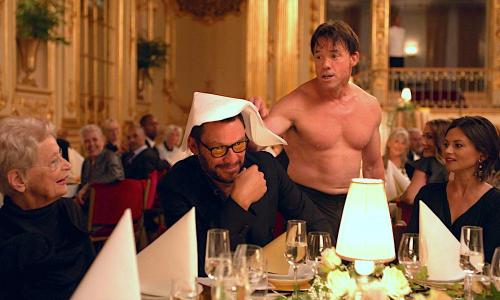 The Square is a series of interconnected, satirical episodes constructed around the life of a well-off Swedish museum curator. Its protagonist, Christian, breathlessly congratulates the stranger he thinks he has foiled an assault with: in fact, Christian's wallet and phone have been stolen. He narrows the phone's location to an apartment block with Find My iPhone and comes up with an unusual plan to get it back, with complex consequences.
"Its brand of irony, so apt for describing everyday relationships, is a blunt tool before large-scale inequity and inequality"
Meanwhile, the eponymous "Square", inspired by a real installation ("The Square is a sanctuary of trust and caring. Within it we all share equal rights and obligations"), rolls out at his museum, and the viral marketing campaign he signs off distractedly goes wildly wrong. Padding out its 142-minute runtime are comic vignettes like the hedonistic work party in the museum, a former Royal residence, and the inadvertent disfiguring of an art installation (mounds of rubbish) by a cleaner.
Although the film is most obviously a dig at contemporary art, Ruben Östlund's real skill lies in crafting individual moments of wit and insight. The scene in which Christian rehearses spontaneously veering from his written speech is a case in point: it is so well done, so apt for the character and the situation, and so well-timed, that the point about public sincerity resonates freely. When the film veers from this kind of even-handedness, as in the climactic provocation – ape-imitating performance artist intimidates luxury diners – it seems to grow weaker, though not all viewers will agree.
The Square is also, less loudly but insistently, a film about social and economic inequality, about homelessness, and about the ways privilege tries and fails to shut out the divisions which beset it. "Shots of homeless people, beggars and poor immigrants", wrote A. O. Scott in The New York Times, "emphasise [Christian's] bad faith, but they also replicate it and pass it along to the audience. The joke is on everyone." This is unfair, but it is hard to feel quite comfortable with this element of the film. Its brand of irony, so apt for describing everyday relationships, is a blunt tool before large-scale inequity and inequality.
Perhaps what is most compelling about The Square, as with Force Majeure, Östlund's brilliant previous film, is his technique. In the age of the continually roving camera, the Swedish director and his cinematographer have the courage to stay still. Their meticulously composed shots, held far longer than is usual in Hollywood, lend a sly irony to many scenes. Instead of cutting immediately to a response in conversations, we catch the awkward pauses or silences in between. Elsewhere, withholding an expected shot – like the damage to Christian's car when they pull out with a loud screech – creates rich anticipation. The editing, camerawork, and acting are equally precise. In the best scenes, one feels as though they are in the hands of a master.
At Cannes, The Square won the Palme d'Or, arthouse's highest honour. It is a little baggy near the end, perhaps – certainly less cogent than Force Majeure – but a joy to watch all the same