Black history is British history, why do we need a designated month to remember that?
In her latest column, Daniella Adeluwoye explains the emotional significance that Black History Month and specific, forgotten black British historical figures has had on the shaping of her personal identity and political awareness.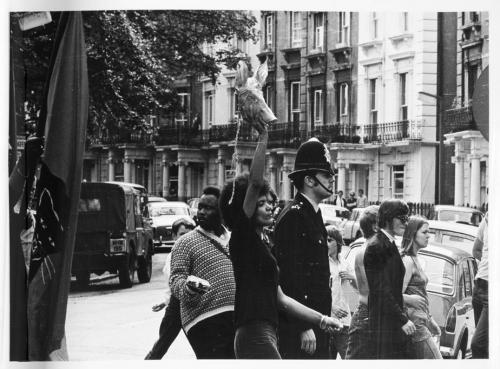 Whenever I visit Trafalgar Square, it greets me like an old friend. The Landseer Lions sit proudly guarding Nelson's Column as he looks over me. It is a place steeped in history: the Battle of Trafalgar, the Royal Mews, the English kings. But I had never considered that such a historical site could host black British stories. Delving further into books and flicking through pages, I discovered the unsung black heroes of Trafalgar: the black sailors who served alongside Admiral Nelson have been forgotten in one of Britain's most celebrated events. It made me realise that black history is not constructed from fragmented events, but instead it is deeply interwoven into Britain's history. Black history is history that we as a nation conveniently forget about until October.
I am British. My parents were born in Britain; they too are British. But growing up, I was always asked, 'no, but where are you really from?' As a mixed-race person, I have encountered enough racial tensions to make me feel unwelcome in my own country. Though my Britishness has always been contested, my parents have always encouraged me to be proud of my heritage and to explore it in relation to identity. It was this curiosity that made me look beyond the museums and tourist attractions of central London. While I enjoy strolling through the beautifully cobbled streets of London, past Trafalgar Square and English Renaissance theatres, Westminster Abbey and Big Ben, I have never felt like this history on display was my history. What I never thought I would encounter when exploring Britain's history was black and mixed-race individuals.
It continually frustrates me to realise that I walk around in complete ignorance of my own history
When I was at school, a substantial part of my studies was perceived through the myopic and Eurocentric lens of the curriculum.  As a student of a British state school, I was forced to study Pepys, Shakespeare, Austen and Pitt to name a few, but not many black historic or literary figures. It was only when I was allowed to focus on colonial identity for my English Literature coursework that I was presented with the opportunity to escape the sanitised version of Britain's history, and accidentally stumble upon Ira Aldridge, widely renowned as the first black actor in 19th century Britain. This initial spark of being allowed to explicitly study Britain's colonial legacy, within an institutional educational framework, sent me on a journey to uncover this remarkable figure.
Aldridge was an American-born stage actor who rose to prominence in London and Europe primarily by playing Shakespearean roles. Of the 33 actors who are honoured with bronze plaques at the Shakespeare Memorial Theatre at Stratford-upon-Avon, Aldridge is the only actor of African-American descent represented. He had also received top honours from various European heads of states, such as those from Prussia and Russia. Indeed, Ira Aldridge's achievements are so extraordinary that I have often wondered why he has largely been forgotten within Britain's literary and cultural consciousness. Why are there no theatres named after him in the West End or Broadway? Why aren't there theatrical schools that honour his legacy? Surely someone with his level of achievement should be worthy of such public and national remembrance? But this is precisely what happens with so much of black history in Britain: it is neglected to the point of oblivion.
Despite Aldridge's legendary status, finding information about him for my coursework proved very difficult. Searching through endless tabs on my browser, there was such little information available on such a remarkable figure. However, I came across Lolita Chakrabarti's contemporary play Red Velvet (2012), which covers the biography of Ira Aldridge in taking the role of Othello, which helped me better appreciate and understand the difficulties that Aldridge faced as a black person and particularly as a black artist in 19th century Britain.
To see such strong women be leaders of black resistance in Britain gives me encouragement as a woman of colour to also aspire to be such a strong and vocal leader of my people
In Red Velvet, there is a scene when the character Aldridge is in the private space of the theatre dressing room, putting on white paint to play the character of Othello. Due to the lack of information available, I sourced most of my information from my own literary analysis of the play. The white paint marks the destruction of Aldridge's identity, exemplifying the literal erasure of Aldridge's blackness. This depiction of Aldridge is pivotal to me, through the use of space as this scene is set within the private space of the theatre dressing room but it ironically performed on the stage – a public space, helping to highlight the theatre's literal erasure of his blackness. It signified to me how the theatre – an entire arena of art that is central to the cultural production and propagation of the constructed notion of Britishness – completely refused to acknowledge or accept any degree of blackness. Reading Chakrabarti's play made me realise how British theatre exemplified a broader narrative in which British history simply fails to portray the harsh realities of race relations by simply erasing race from its story.
It often seems like my conflicting experiences of identity are virtually insignificant compared to the difficulties that Aldridge encountered; but my encounter with Aldridge's story itself has stirred something more important in my search for identity: it helped me recognise that black history is clearly missing from our textbooks and national curriculum. What Black History Month allows us to do is to put those chapters back in.
For me, Aldridge's story represents the crux of history-writing: all accounts are incomplete, and are typically portrayed by those who still maintain power. British history is hegemonized by white Britons and weaponised to portray a romanticised version of its past, as indicated in my previous column. However, having the opportunity to study Aldridge as a part of my course of study helped me realise that a heterodox, black British history exists. That single opportunity has further spurred me to independently explore other black figures who have been transformative in Britain's history.
Our broader collective lack of awareness about the British Black Panthers demonstrates how the mainstream version of British national history is insistent on erasing any sign of blackness
I decided to begin at my doorstep. Living a bus ride away from the Marcus Garvey library in the London borough of Tottenham, I went to explore this unknown figure to me at the time. Marcus Garvey was a Jamaican-born political leader, black nationalist and supporter of Pan-Africanism in Britain who spoke frequently at Hyde Park and at London's many street corners in the early 20th century. Though there existed several African activists interested in African diaspora and African affairs before Garvey, Garvey advanced a specific philosophy that called for a global Afro-centric mass movement and economic empowerment that is now known as Garveyism. Indeed, his ideas served as inspiration to the well-known Black Power Movement of the 1960s.
Given the key role that Garvey has played in global black history, the question arises as to why Garvey's story has been delegated a footnote for, instead of the main body of, London's history. As far as I can tell, Garvey is marginalised from London's history because he symbolises something too radical for this nation's outright denial of the black British struggle. But we should not see London's marginalisation of Garvey as a single story. Instead, Garvey should remind us that black British history is not a singular history, but rather a normalised, regular and accepted part of Britain's history.
Following what I learned from my research on Garvey, one day while sitting on the tube on my way home from school, I decided to watch a documentary about the Black Panthers – figures synonymous with the Black Power movement in the US.  Identifiable by their suave black leather jackets and berets, many do not know that we too had British Black Panthers who also represented a British Black Power movement.
The British Black Panthers were a group formed to combat racial discrimination in Britain in the 1960s, notably prominent for their stance against police brutality of black folks. Alethia Jones-LeCointe and Darcus Howe, both prominent figures in the British Black Panther movement, helped to form the Mangrove Nine, a group of nine activists who protested racially motivated police raids in 1970.
Black women have been traditionally written out of history unless they are characterised as passive resistors
The Mangrove restaurant was an important meeting space for black intellectuals and in the Notting Hill area during the British Black Power movement. Despite having no evidence, the police repeatedly raided the restaurant on the grounds of drug possession. In response, the black community staged a protest, with 150 people marching to Notting Hill's police station on 9 August 1970. Clashes between police and protestors led to several arrests and a prolonged trial of 55 days on charges ranging from 'inciting racial hatred' to 'incitement to riot'. All were acquitted of the most serious charges, and the Mangrove Nine case became the first case that judicially acknowledged behaviour motivated by racial hatred within the Metropolitan police.
As I excitedly continued my research online of these black British heroes, what was even more inspiring for me to discover were the black women who led the Black Power movement. Among them were Altheia Jones-Lecointe, Beverley Byran, and Barbara Beese – prominent, vocal, intelligent, black women who refused to let their bodies be subjected to further abuse. In most writing about Black Power in the 1960s, black women have been traditionally written out of history unless they are characterised as passive resistors, whilst men form the images of the movements. To therefore see such strong women be leaders of black resistance in Britain gives me encouragement as a woman of colour to also aspire to be such a strong and vocal leader of my people.
However, because these British activists signify something very different to how Britain likes to present itself as honourable Queen of Commonwealth nations, they are in danger of being forgotten. Indeed, our broader collective lack of awareness about the British Black Panthers demonstrates how the mainstream version of British national history is insistent on erasing any sign of blackness and particularly black struggle. This further perpetuates the narrative that Britain is innocent from propagating any form of racism, delegitimising the existence of past and current black Britons, further marginalising the black community from the firmly established notion of white Britishness.
Every October, I encounter numerous stories of inspiring black Britons, and it continually frustrates me to realise that I walk around in complete ignorance of my own history. For all these reasons, the month of October remains particularly important to me because it enables me to properly explore my identity in ways that school and national education would never allow me to do.
It is my hope that one day we will no longer have to celebrate Black History Month because the history of people of African and Caribbean descent in Britain is fully assimilated into our everyday curriculum and stories as British people. But until black history is celebrated as mainstream history, October remains an important month in my navigation of identity to understand more about my own roots. In the words of Marcus Garvey: 'A people without the knowledge of their past history, origin and culture is like a tree without roots.' Let us hope that with every passing October, we will increasingly become a nation that resembles a tree with rich, deep, intertwining, intersecting, overlapping roots.