Write a Long Read for Varsity
We're now accepting pitches for high-quality, research driven pieces of long-form journalism, to be published on the Varsity website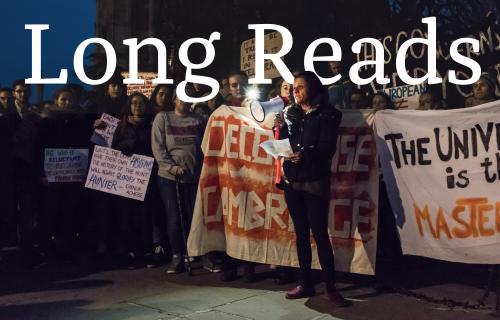 Are you looking to take your writing and journalism to the next level? Well good news! We're excited to issue our first set of commissions for Varsity's new Long Reads section.
Long Reads represent the very pinnacle of quality at Varsity (and the final stage in our replication of The Guardian). More importantly, it gives you the opportunity to showcase your ability to produce top quality journalism whilst delving into a topic which cannot be reasonably covered in a 600-900 word Comment or Features article.
Therefore behind each Long Read article will be a considerable amount of research, interviews and background work, resulting in pieces which will be around 3,000 words long.
As an example of the type of work we're hoping to help you produce, this is the sort of content we are looking for, only in a longer form.
If you'd be interested in writing a long read, then do send us a pitch. You can pitch from the list or come up with a fresh idea. We are looking for pieces with a clear Cambridge angle, but that angle could, in principle, relate to any topic of your choice.
Like a standard pitch, please include a brief outline of how you aim to approach each commission in your article (200 words maximum). On top of this, please consider:
Feasibility
Break down the details relating to feasibility of your research, this should include (for example):
Who you plan to interview (and potential fallback sources)
Whether relevant figures/data are available or who you plan to put Freedom of Information requests to
Any gaps in your sources that you anticipate, mainly so we can think about how we might help you fill in those gaps
Presentation
Then please note any ideas and suggestions you have about how we can improve the presentation of the article online to go above what we normally do. We to differentiate long reads from our standard, weekly articles. We're looking to include videos, high-quality original images, info boxes and such but any innovative ideas are really appreciated!
Experience
Although not required, if you have any examples of previous writing, please also include links the most relevant work you've done before.
Commission List
Here are some potential long-reads we've come up with. You're welcome to make proposals for these or pitch your own, but they should give you an idea of the kind of topics we're looking for.
1. Stronger, faster… broken
In sports, themes relating to over-exercising leading to injury, sexism, eating disorders and mental health in general have become quite prominent, with many professional athletes speaking out about their own experiences. This is also something that is reflected in the Cambridge sports scene. However, certain university sports clubs are facing issues with their members becoming injured partly because of the lack of proper guidance, but also because of the hype that is built around Varsity matches and increases in training to win a spot on the team. With all this in mind can sport can become unhealthy?
2. The strange death of cantab liberalism
How did Cambridge go from being a supposed safe Liberal Democrat seat to a Labour seat with a 12,000 majority in just two years? It's not just a matter of the two previous years: The May 2017 local election result seemed to indicate the parliamentary seat would be on a knife edge so where did Labour's 12,000 votes come from? How does this link into nationwide trends and events and what does it tell us about them?
3. A picture says more than a thousand words
What does the artwork in Cambridge colleges say about the atmospheres, values, and power imbalances in them? For example, the art collections of Trinity and John's are immense and incredibly expensive, with both artistic and financial gems by the likes of Vandyke and Reynolds. By contrast, colleges such as Selwyn have much less to present in terms of art, meaning less grandeur in the halls and less money tied to their items. Murray Edwards, in turn, has a notable collection of art, all of which is by female artists such as Judy Chicago, playing into its values of female emancipation. How big a difference does the art colleges have actually make to their finances and atmosphere? Are students even aware of it? Why does it have such significance?
4. The forgotten history of women at Cambridge
Feminism in university recurrent theme, and especially in Cambridge it is often emphasised how late on women were admitted into full degrees. However, Cambridge was never a man-only bubble, and while we hear stories of what it was like to be among the first women to be admitted into previously all-male colleges, we don't hear as much about what it was like to be a woman not associated with the university officially, yet interacting with the male students. For example, in the 1970s trainee nurses would be recruited to come to Clare ents. What other examples of this overlooked history are there? What role does class play in this story and why it's so often overlooked. What are its legacies for us today?We'll be considering pitches from 10pm on Monday 18th December, so get your pitches in to longreads@varsity.co.uk by then for the best chance of a commission!
Don't hesitate to drop us a line if you've got any questions,
Anna and Noah
Long Reads Editors, Lent 2017