June Event Review: Sidney Sussex
Oliver Winters praises the theme of this year's Sidney Sussex June Event 'Childish Things'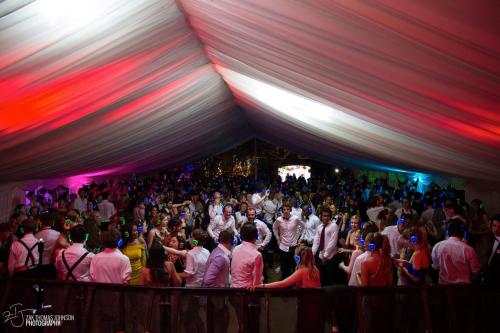 Having already been to Trinity and Downing, its fair to say that by the time Sidney Sussex June Event rolled around, energy levels were low however expectations still remained high. And in many ways, the night was exactly what was needed. The theme 'Childish Things' was tastefully implemented, from giant inflatable flamingoes adorning the top of Cloister Court, to my personal favourite, a huge inflatable obstacle course. Overall the entire event was nicely tied together throughout the night by a collective sense of fun and a generally playful atmosphere, however there was never a 'wow' factor that really hit me.
Spread out over the beautifully decorated College gardens and Cloister Court, the layout was clearly thought out and for the most part, worked extremely well. Although there was little indication that there were different sections of the event, which could at times make wandering around feel a little aimless, the even spread of activities and stalls all across the college prevented the relative lack of space available from ever feeling like a problem.
"Apart from one highly unfortunate encounter with a glass of mead, I highly enjoyed both the variety and copious amounts of alcohol available"
Both the food and drink hit the spot both in terms of fitting alongside the entertainment and atmosphere. The ever-present staples of Aromi pizza, ice cream and candy-floss were complemented nicely with vegan hot dogs, pulled pork burgers and a superb selection of sweets to make sure that no-one went hungry during the evening. Drinks-wise, perhaps a little more originality with regards to the cocktails on offer would have been welcome, but nevertheless, apart from one highly unfortunate encounter with a glass of mead, I highly enjoyed both the variety and copious amounts of alcohol available. In particular, the paddling pools filled with VK's and bottles of cider nicely linked to the theme and provided valuable refreshment for guests from the heat of the night.
Musically, the Ents officers did a top job of ensuring a wide variety of high quality acts on both the stages, and the Knox Shaw room as well. Clearly a concerted effort was made to have Sidney's own students perform. My time spent at the Second Stage in particular was highly enjoyable, with a notable highlight being the headliner Fionn Connolly, who performed an entertaining and at times moving combination of covers and originals. Arguably an improvement of the night could have been to ensure that both headliners, Fionn and Dr Meaker did not overlap to allow ball-goers to enjoy both acts, but then again with such a wide variety of high class musical acts throughout the night, it was inevitable that at least some opportunities to watch performers would go begging.
Although no May Ball is ever complete without a silent disco, a special mention must go out this one. With enough headphones for every single guest, instead of worrying about finding a spare pair amongst the crowd, everyone was free to boogie the last hours of the night away in style, often leaving the main stage to dance around the gardens in total bliss. As an added bonus it also allowed everyone to finish the event together, screaming out the chorus of 'Mamma Mia' as one in drunken harmony.
In many ways the event was hindered by its early finishing time of 2am not least because of the lack of any sort of survivors photo, but an impromptu after-party on The Mound certainly kept the party going long into the night. It may not have reached all the levels of a May Ball, but it was certainly good value for money, a valuable addition to my May Week and a fair reflection of all the hard work put in by the superb committee