Garden Party Review: Newnham
Aimee Lister comments on the playful yet sophisticated ambience at Newnham College's 'Big Top' Garden Party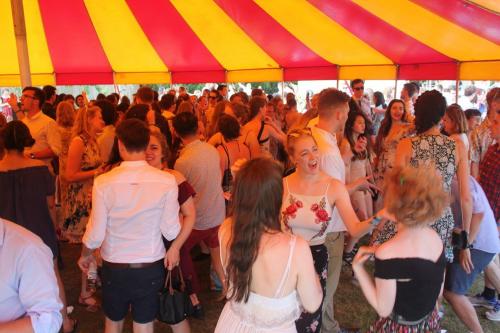 Newnham's 'Big Top' garden party did not disappoint. A thoroughly summery and whimsical affair, the pastel buntings and fairground themed marquees made the sweltering weather bearable. The abundance of cotton candy, popcorn, and pick 'n' mix evoked a childish nostalgia, which was only further inspired by the face painting happening close by. Designs were on request, which was rather special, and eventually almost everyone was traipsing round Newnham with face paint to match their dresses.
"The abundance of cotton candy, popcorn, and pick 'n' mix evoked a childish nostalgia."
The huge buckets of Pimm's, that are a necessity at this kind of event, did not disappoint – nor did they ever seem to run dry – and were a relief for all of us suffering underneath the sun. The food was incredibly flavourful despite being the standard barbecue hamburgers and hot dogs. You were able to choose which variety of sausage you wanted (something which we all found rather exciting), and for vegetarians there was grilled halloumi on offer. The sweet potato fries were also a crowd favourite, and were well worth the queue. For the sweet tooth there was ice cream, sweets, and cotton candy. And although some of the chocolates ended up in a liquid form by the end of the afternoon, the selection was ample and abundant.
The heat was the only element of the day that made it hard to appreciate every aspect of the party, which of course was nobody's fault. The inflatable jumping game – that reminded me of a hazardous version of wipeout – and the slide were just a bit too hot to the touch. And the same went for the animal petting zoo; the room in which the animals were being kept was like an indoor sauna. But all of these were objectively the aspects of the garden party that really brought it together. The attention to detail was stunning, and it really felt as though the committee had used the space to its full potential. The hanging decorations from the trees and the red and white striped marquees all pulled the theme together. It was perhaps a shame that the main attractions were not located under shade, but again, this was due to the sweltering heat wave as opposed to any organisational error. It did mean, however, that a lot of the party-goers congregated under the relieving shade of the trees away from the main space.
Overall, Newnham garden party was well worth the £30 ticket that I had been so sceptical about before. The food, the ever-flowing Pimm's, and the beautiful pastel decorations, combined with a childish yet sophisticatedly executed theme really did make it a wonderful afternoon