May Ball Review: Emmanuel
Aleks Gribel-Phillipsreflects on the wonderful theme of 'The exhibition' at this year's Emma May Ball and how the college grounds transformed into a playground of paintbrushes and canvases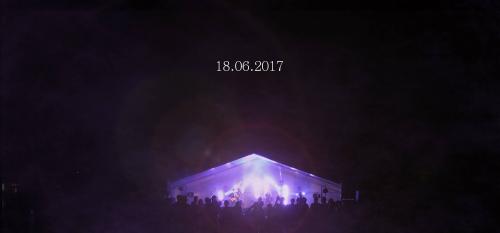 I'm an Emma May Ball survivor. At approximately nine in the evening on 18th June, I entered my college and partied until six in the morning the following day. And my god was it worth staying up for.
The college was sectioned off by courts into different periods of art – playing on the exhibition theme of the event – however, how relevant the schools of art were to the contents of the court was more tenuous in some courts than others; I don't see how craft beer and chips with gravy quite reflected Surrealism, but both beer and chips were too good to miss. Yet, this didn't seem to be an issue overall, as the many varied attractions were so good in and of themselves that they didn't warrant justification – a room-sized ball pit speaks for itself.
"Where they did hold on to the theme was in the small touches, which I felt elevated the event to something very classy"
Where they did hold on to the theme was in the small touches, which I felt elevated the event to something very classy. Not only were there photo booths, a caricaturist and a Snapchat filter all playing on the idea of imagery, but the entrance via the Emmanuel tunnel was decked out in faux cave painting and mood music to begin the night making you feel you were genuinely journeying through art, the Gin Bar had a roving magician going table to table doing tricks and people dressed up as life-size Greco-Roman statues.
The headline act – if you could call her that – I will have to admit was a bit of a disappointment. When it came to her slot, Nadia Rose was nowhere to be seen, and instead a romping bluesy brass band took to the stage proclaiming that they, collectively, were Nadia Rose. Of course, they weren't, but the Brass Funkeys stepped into the breach and provided a brilliant, energetic set, pulling out New Orleans jazz versions of songs such as Oh When the Saints and Rather Be that got everyone on their feet dancing. If anything, they were the highlight of the night, and the rightful headliners. When Nadia Rose did finally arrive, her set was considerably shorter than first expected and it felt like her unique style didn't quite gel with the nature of the event or the mood of the crowd.
Yet the rest of the evening's entertainment seemed to be a resounding success. It felt as if everyone was catered for – if you liked jazz, there was a tent in the Fellows' Garden for you, if you liked a silent disco there was a court for you too. When the early morning hit and people were beginning to flag there was a cover band that started banging out crowd-pleasing mashups.
As well as the plethora of entertainment, there was an abundance of different food and drink stands that literally catered for everyone, and what elevated this aspect again was the thought put into them. Not only was there a bar or a bath tub serving every type of drink you could want – bubbly to VKs – but the opening of the different food stands had been staggered so that there was never not food being turned out, and what food was on offer seemed to be tailored to the mood of the crowd at that point in the night; when we entered there was fresh Korean gimbap platters, Jack's Gelato and Mediterranean chicken to whet the appetite, when the evening was in full swing there was delicious pad thai, duck and crab burgers to fill you up, and when the hangovers were starting to set in a bacon bagel stand opened up to everyone's delight.
In short, the Emma May Ball may have strayed from the theme at times, but this didn't matter as the raucous affair was a bloody good party that had something for everyone. It had all the characteristics of a wonderful ball – good food, good music, good entertainment – but went the extra mile in delivering every single thing it had to offer. I can't wait for next time