Finding winter style inspiration in niche childhood cartoon characters
Marie-Louise James seeks style inspiration from cartoon characters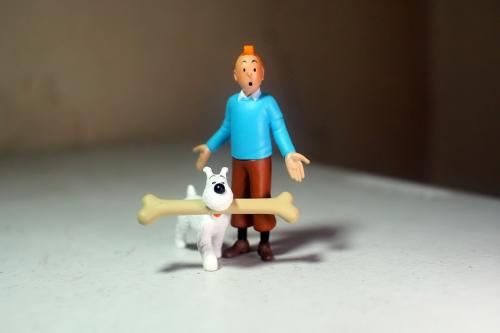 Whether a marketing ploy or simply a wave of childhood nostalgia, the past few seasons in fashion have seen a lot of cartoon collaborations. Designers can't seem to get enough, from streetwear Betty Boop motifs to Mickey Mouse tennis polos. Disney in particular has reigned over recent fashion brand collaborations, including H&M x Moschino, Lacoste, Coach, Levi's, and Uniqlo.
But rather than go for the classic Disney characters everyone knows, and because we're in Cambridge, why not look to some more niche (though equally fashion-savvy) cartoon characters for inspiration? Give it a go.
Captain Haddock
Cantankerous yet lovable, the pipe-smoking and whiskey-loving Captain Haddock is one of the most popular characters in the Belgian comic book series The Adventures of Tintin. Not only does his character have an incredible amount of depth and growth in the stories, but he also has an impressive wardrobe to boot.
Haddock's style is a combination of seafaring and luxury. As Tintin's mariner friend, he mostly wears nautical pieces: fisherman caps, Fair Isle jumpers, jackets studded with gold buttons, and weathered orange combat boots. Yet as resident of the ancestral family estate Marlinspike Hall—or in French, Le château de Moulinsart—he has an array of fur-lined coats, calf-leather brogues, and pinstripe bathrobes.  
As a possible contender for my style icon of 2019, Haddock has many wardrobe pieces that can be seen in trends today. Greek fisherman hats and newsboy caps are ubiquitous. The taboo of wearing blue with black is a thing of the past. And just take a look at Tommy Hilfiger x Gigi Hadid Spring 2018, a nautical collection that seems to only use sailor caps, embroidered anchor motifs, and chunky knits. Meanwhile, Ralph Lauren embellishes countless blazers and turtlenecks with gold anchor buttons. Even Kim Kardashian was spotted wearing an orange faux fur stole in Heathrow Airport. Haddock did it first! 
Anastasia
The 1997 animated musical film tells the story of Grand Duchess Anastasia Nikolaevna of Russia, known by legend as one of the only survivors of the Romanov family. Whether the story has any historical truth or not is another matter, but Anastasia's undercover look as she escapes from Rasputin to Paris is very winter style-'spo worthy.
In fact, I prefer Anastasia's bundled up look to her glamorous Parisian royal ensembles, mostly because the outfit's components are all androgynous—very Comme des Garçons. Having just left the orphanage in which she grew up, Anastasia throws on whatever will keep her warm in a Russian winter.
What looks like a long, burlap tunic is actually a kosovorotka, or Russian men's peasant shirt. The band collar of the kosovorotka is sometimes embroidered, and the buttons are often set asymmetrically. Here the yellow ochre complements the overall earth-tone colour palette of the outfit—a nice contrast for bleak snowy days—with military greens, warm browns, and occasional touches of grey to break things up a bit.  
And finally, the coat. It's the centrepiece of the outfit: warm and well cut, loden-meets-robe, boxy with strong lapels. Celine and Max Mara would be envious. Topped off with a baker-boy hat and lace-up boots, the look becomes even more chic. Slightly bohemian, slightly minimalist and very effortless: look out Paris, Anastasia is coming to your next fashion week!
Grumpy
Resuming with less likely sources for fashion inspiration, we have Grumpy from Disney's Snow White and the Seven Dwarfs, the original old school Disney princess film from 1937. Why choose Grumpy as our fairy-tale fashion icon over the other six dwarves? Although all seven can be commended for their colourful outfits, Grumpy has the je ne sais quoi that makes for a true style rebel.
Grumpy's signature red-and-brown ensemble has a lot of details which can be picked up in fashion today. A belted jacket, for example, is a great styling trick that has gained traction in the past few seasons. While belts were formerly assumed to cinch the waist with a pair of jeans or a skirt, they can now simply be worn over a blazer or coat. Featuring a statement gold buckle and black leather number, Grumpy's outfit puts waistbands on centre stage before Gucci belts were even a thing.
Grumpy's red tunic has something very street-style about it. With patchwork elbows and an oversized sartorial fit, the baggy silhouette emulates the exaggerated proportions featured by brands like Vetements or Maison Margiela. Grumpy also rocks a monochromatic colour match with his tan slacks and slip-on shoes, all accessorized with a coordinating beanie. Now that's attention to detail. Snow White's puffy sleeved and popped collar potpourri of an outfit doesn't stand a chance.
Lucky Luke
Adding another Franco-Belgian cartoon character to our list of comic strip style inspo, Lucky Luke has mastered the cowboy look. His unchanging style recipe is a white broad-brimmed hat, black vest, bandana, yellow shirt, skinny jeans, and a pair of brown leather boots (let's not forget the belt, too). Lucky Luke's primary colour palette is particularly bold and eye-catching: mixing bright shades of blue, yellow and red can seem like a challenge, but Lucky Luke shows us how it's done.
The key to a colour-blocked outfit often lies in the way it's accessorised: for Lucky Luke, the staples are white leather details and concho hardware. His red bandana adds the finishing touch, be it a more traditional paisley pattern or a silk neck-scarf. The exaggerated stitching on the denim seams adds an extra element of texture and fits well with the cartoon chic of Moschino's latest Spring 2019 collection, in which all the pieces were covered in stylised inky squiggles. To make Lucky Luke's uniform more winter-friendly, switch out the black mini vest with either a long black trench or—taking a page out of his book—a shearling brown leather jacket.
And finally, get yourself a sassy stallion that matches your sartorial ensemble. Not everyone is as lucky as Luke when it comes to his quadruped companion: with his voluminous blonde mane and white fell, Jolly Jumper is a horse capable of just about anything—chess-playing, tight-rope walking, and, most importantly, coordinating outfits.
Tintin
To come full circle, we couldn't talk about Captain Haddock without mentioning his sleuthing counterpart, Tintin.
Tintin sports a variety of looks throughout the comic book series, but his style is always polished. Just treading the line between smart and casual, Tintin's outfits provide plenty of style lessons: for one, that it's okay to mix black and brown. There's something about breaking that fashion rule—one especially applied to menswear—that feels thrown together and effortlessly cool. Just watch Tintin slip on his cream coloured Burberry trench coat as he dashes out the door to solve the next mystery!
Usually sticking to the vintage journalist look (the series did, after all, first appear in 1929), Tintin's suits have a relaxed fit, with the trousers gathering around the mid-calf. He wears a colourful sweater over a shirt and tie, something that, when imitated, has the fabulous potential of channelling Diane Keaton in Annie Hall (1977). A button-up white shirt and thin cashmere sweater go a long way, and lighter pastel shades of blue and yellow accentuate an otherwise nude-tone palette. Accessorise with monk shoes and a beige cap, and you're ready to fight a gorilla named Ranko on a mysterious Scottish island!
Speaking of accessories: is Tintin's white Terrier, Snowy, really there to be a loyal helper, or is his canine companion just an excuse for a four-legged style accessory à la Paris Hilton? Why not both.