Your Couture Week Cheat Sheet
Your the one-stop guide to nailing your fashion knowledge, Helena Baron looks back at the many and diverse highlights of Couture Week 2019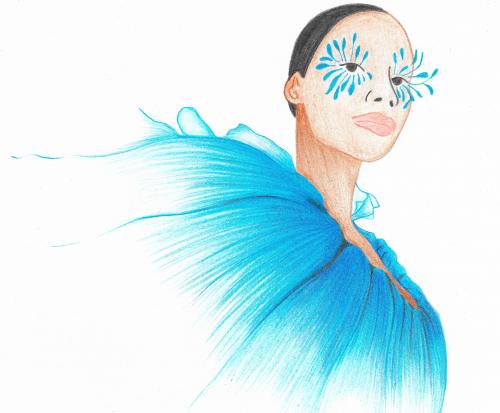 Every January, the womenswear fashion month marathon kicks off with five days of haute couture in Paris. With some of the most highly anticipated presentations of the season, the week showcases the intensely technical and artisanal work of highly-specialized seamstresses, embroidery-technicians, leatherworkers and countless other teams that spend hundreds of hours creating a single jacket, dress or skirt. The main difference between haute couture and ready-to-wear is that everything is handmade, right down to the last (incredibly technical) detail. Various different teams of artisans lend their particular skill to creating a single item, which is only available upon bespoke order and won't be mass produced. It is also a strictly French form of fashion, and designers must adhere to very clear rules in order to be included into the very exclusive fold. To most, this is an extremely expensive but intensely beautiful manifestation of fashion, closer to art than it is to the clothes we wear day-to-day. And over last week, this certainly rang true: with a succession of shows, the pieces ranged from the ironic to the tear-inducing, from the clean and modern to the strictly traditional. Now that the whirlwind is over, here's your cheat sheet to the week's highlights.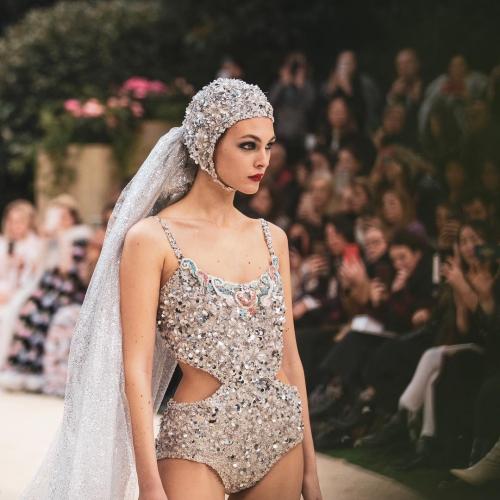 The Classics
An Italian villa formed the backdrop to the always-impressive Chanel show, which this time transported spectators to an Italian lake-side, where 1950s tailoring met delicate pastels, frills and florals. Models paraded around with dark, diva-like eye makeup and equally dramatic hair while their sharp but fragile silhouettes floated around them as they strolled around the Grand Palais. In a world so intensely fast, Chanel seemed to take a step back, culminating in the most laid-back of its famous wedding dresses: a simple-cut (albeit heavily embroidered) bathing suit.
"Dior's circus comes to town"  read the headline of a British newspaper hung backstage at the Dior haute couture show. But as opposed to its 1950 London debut, this revival drew Dior firmly into 2019. An all-female acrobatics group performed around and with the models: women quite literally holding women up, supporting them and celebrating their beauty. A somewhat eccentric collection, the models sported harlequin-esque makeup while the clothes coupled frayed edges with intricate embroidery, and flamboyant frills with toned-down colour palettes.
"their sharp but fragile silhouettes floated around them as they strolled around the Grand Palais"
Valentino was breathtakingly beautiful, and not just for the clothes. Though the classic and yet thoroughly modern collection had the industry basking in its couture glow, the beauty of Pierpaolo Piccioli's creations ran deeper. Not only did the creative director redefine the meaning of couture by  blending the new with the craft's strict traditions, but he also had models of colour don at least half of his 65 looks for the show, subverting the often overlooked fact that couture was intended for white privileged clients.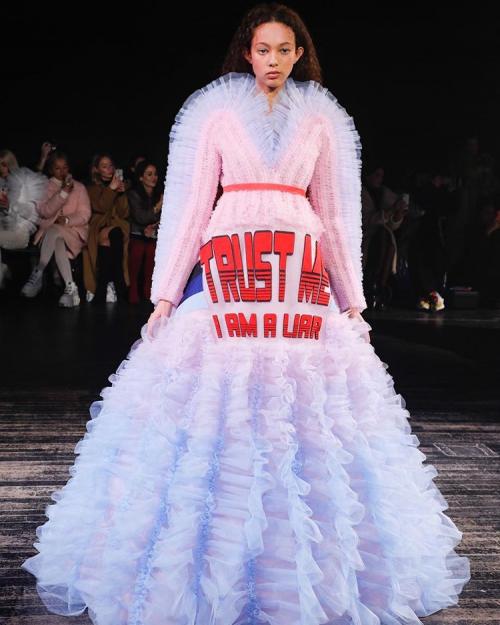 The Instagram Warriors
The shows of two designers took very different approaches to viral culture last week. On the one hand, Viktor & Rolf cashed in on its potential, with dresses emblazoned with phrases such as "I'm not shy I just don't like you", "No photos please" and "I am my own muse", ensuring their creations were instantly meme-worthy. On the other hand, Maison Margiela presented its guests with a collection of obtrusively-colourful, saturated garments, referencing how overwhelmingly inundated we are with images in the media and our obsession with our phones - a warning, perhaps, to the danger of this form of decadence.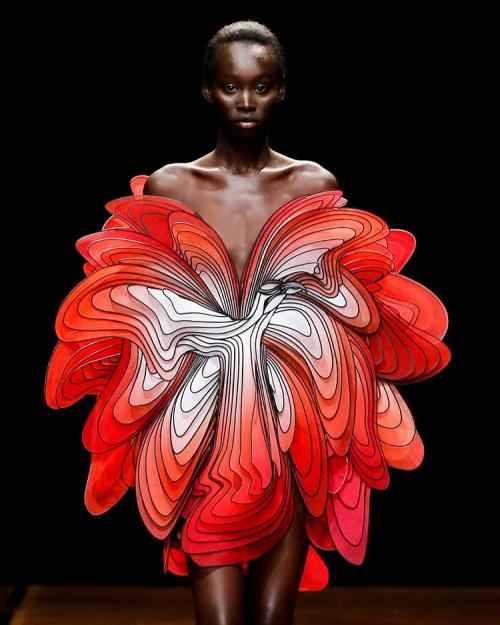 The Enigmatic One
Sculptural, otherworldly, and mysterious, Iris Van Herpen's designs feature everything from intricately pleated sculptures to trompe l'oeil layering and defiantly fluid gowns. This season, the Dutch designer cast an Indian summer glow over her collection, straying only slightly from her signature 3D-printed, ethereal creations for a slightly more fluid, romantic mood. Smoky purples, husky blues, burnt oranges and deep reds dominated the collection, which nonetheless retained the impressive combination of art, sculpture, graphic design yet intensely flattering design that Van Herpen is known for.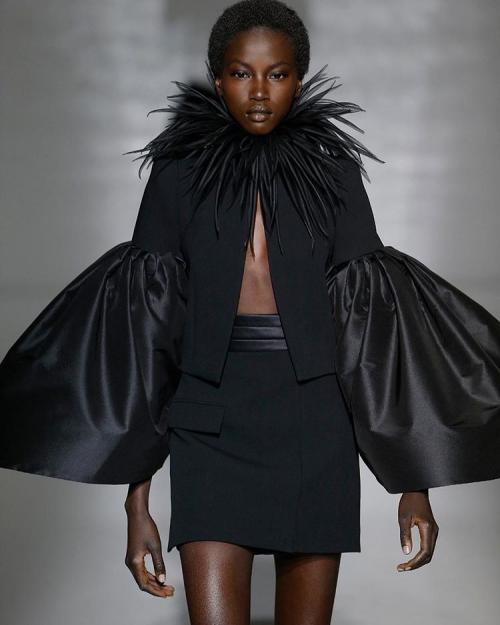 The One for the Oscars
Awards season is now well underway, but the real contest is who will get to dress the biggest stars in the industry come the Oscars. I would love to see Claire Waight Keller's Givenchy collection make a few appearances. Its modern take on lace, billowing skirts and stand-out giant bow backpacks ensured that her designs remain sleek and sexy with a daring 'fashion' edge. The Givenchy couture wearer is bold, self-assured and not afraid of a burst of volume. Alternatively, I would love to see a return to the golden days of the Diva with Ralph & Russo's glamorous collection that seemed made for the Monica Bellucis of the world: sequins, feathers, body-hugging gowns, audaciously high slits and a subtle but sexy amount of sheer.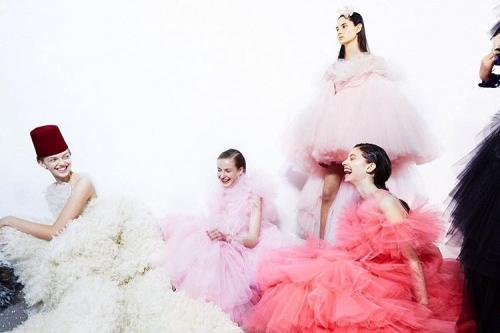 The Playful Ones
As incredibly lucrative the couture industry may be, it does know how to have fun. With its famous flamboyant tulle creations (which Rihanna is a huge fan of), Giambattista Valli did not disappoint, reinventing them in black, reds, pinks and even the colour of the year, coral. But the playful extravagance didn't end there - it was also applied to voluminous taffeta sleeves, skirts and bows. Schiaparelli brought the fun factor too, with bubble-gum colour schemes embedded in whimsical, fairytale-worthy creations, paraded by models who literally had stars in their eyes. The highlight? A spherical dress covered in periwinkle and crimson feathers.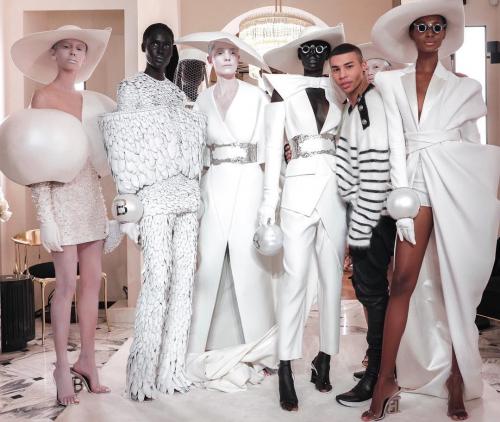 The (Old) Newcomer
New year, new couture venture. Known for its sharp and sexy ready-to-wear (and for its affiliation with and love for the Kardashians) Oliver Rousteing's Balmain made its couture comeback to somewhat mixed reviews: clear intentions to respect the house's founder's classic silhouettes, with a modern, icy twist that didn't completely fall into place. But the house is certainly one to continue to watch.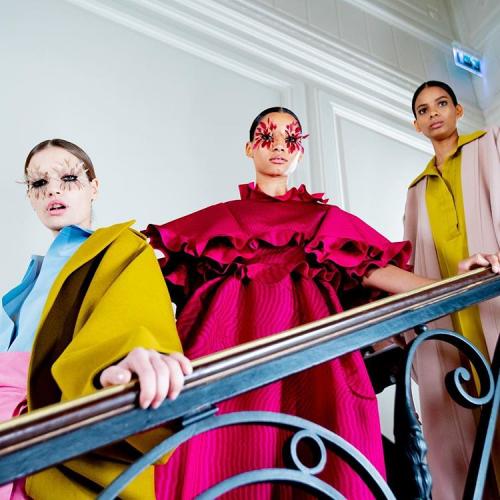 The Standout Show
It's probably reductive to single out just one show and just one designer as the standout from the whole week. The amount of work and technical know-how that is needed to make just one of the pieces above is astounding in itself. But personally, I love fashion the most when it goes beyond the art, beyond the skill and the beauty of the clothes themselves, and furthers the industry's values to evolve its significance. So, if there's one show to take note of, it would be Pierpaolo Piccioli's sublime Valentino presentation: gentle and yet forceful, stunning in its design and beautiful in its message – no wonder it reduced Céline Dion to tears.