Breaking the binaries
Three students show how their clothes allow them to challenge boundaries and restrictive ideals by expressing themselves in unique, unconventional ways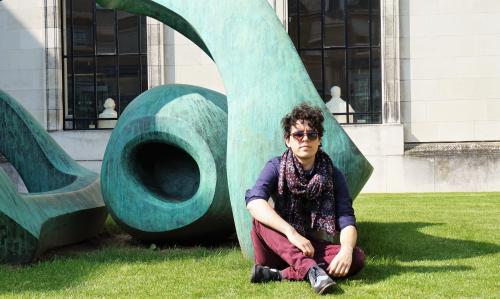 Clothing and boundaries can seem frustratingly interlinked. There are binaries and rules we all supposedly ought to follow: older women must opt for flowy, feminine, and unrevealing items; men in their early thirties must opt for hard, distinct lines and cuts, avoiding patterns.
A fair bit of that has been criticised overtly, which is great – but still these arbitrary expectations exist for what 'male' and 'female' clothing ought to look like. Florals are feminine. Band tees are masculine. It's not only toxic, but pretty boring – and these binaries exist beyond gender. Fashion is, and has always been, used to indicate class, geography, profession, and so on.
Jasmine: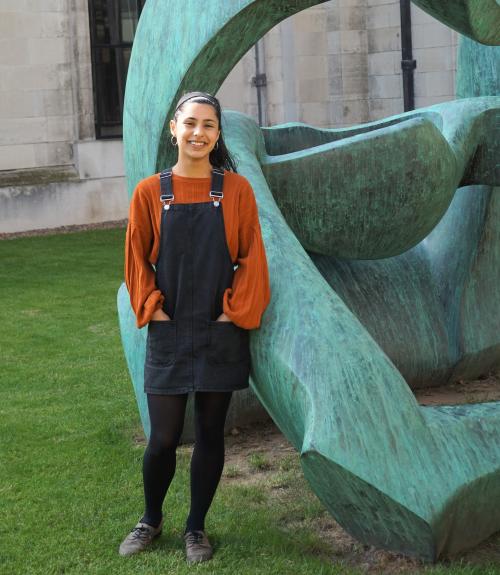 "I got these dungarees the week before I came to Cambridge, because I thought I'd get rejected in my SocAnth lectures if I didn't look edgy enough. They have pockets, which I'm a big fan of since it's so rare in women's clothing to get pockets, and it really irritates me. They remind me of the pinafores we used to wear in primary school.
If I wear something after the trend has 'passed' it means I've genuinely considered it and haven't just followed the flock
I've heard that dungarees are really 'last year', but I like being out of sync. If I wear something after the trend has 'passed' it means I've genuinely considered it and haven't just followed the flock. So I don't think it's necessarily a bad thing. Maybe we should just rebrand 'last year' as a positive concept.
Apparently I look like a pumpkin when I wear this jumper; maybe it's the colour or the sleeves. I don't mind, it makes me think of Cinderella – even if I'm the carriage, not the princess."
Naomi: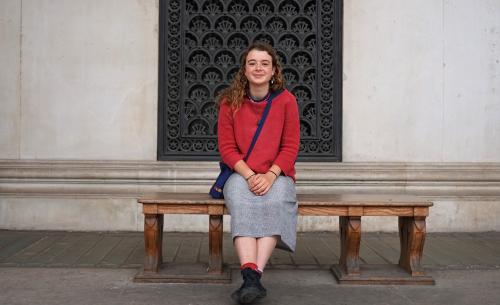 "I made my skirt with my grandma when she was sick earlier this year. It was a really nice thing to do with her. She's one of the coolest ladies you'll ever meet, she's got an MBE for working with bereaved prisoners. She's got a lot of rage, and I like that. When we made the skirt, my grandma said I would need an underskirt underneath, which keeps getting caught in my bike. Because we made it ourselves, it doesn't really keep its shape at all – it keeps falling down so I have to hitch it up, it's maybe not very ladylike – but whatever, I like it.
My jumper was my mum's – she was going to throw it away because it had these massive holes in the elbows, but I thought it was amazing so I stitched the patches on. There was a time in my life when I had patches on everything; I was known for having holes in all my clothes."
Ferdinand: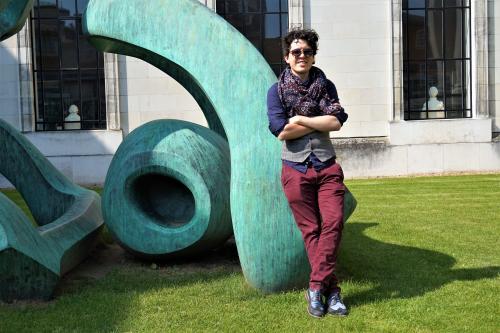 "I bought this scarf from Florence when I was on holiday there last summer. It was in the window of a shop that I'd passed every day on the way into town, and I'd kept looking at it, thinking that I really liked it – it was quite a swanky shop, so I wasn't sure if I could shop there.
But then on the last day of the holiday, I thought I'd be gutted if I didn't get the scarf, so I went and got it. I like it because it was from the women's section. I like having clothes that are not traditionally masculine, like brooches or scarves that are just a little but more feminine. I strongly reject the idea that guys should wear tracksuits and plain t-shirts and things, 'lest they turn into a woman'.
I love brogues – I don't really get along with trainers very well. I'm trying to branch out into more casual shoes, but I think generally I just feel more natural in brogues. I probably have about five or six pairs and I like multi-coloured or bicoloured ones. I think people do tend to get boring with shoes, so I try not to.
dI always feel nervous wearing waistcoats because you always have to be cautious not to look like you're a character from Wodehouse. You want to avoid looking poncy when wearing a waistcoat. I do get slightly mocked, but who cares, I like them.
That certain things about an individual can be identified by their clothing isn't always bad or detrimental. But it's amazing seeing how people defy the binaries of male and female, 'in' and 'out', respectable and not. I don't think I'm the only one who's filled with a surprising amount of joy and fascination when I see someone walking down the street with purple hair, a Lolita dress, and big Doc Martens."