Shirts can tell stories
Three students, three shirts. What is the sentimental significance of your favourite top?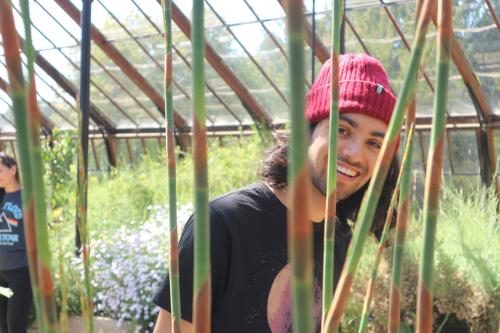 Fashion can perform a strangely narrative purpose. In talking to people about their favourite clothing, alongside notions of individuality and emulation, of ethics and environment, of cost and source, there exist stories layered upon stories.
Studying English I probably over-sell the importance of storytelling in day to day life. But it is important, and I've found it amazing to see such recurring themes of sentiment attached to clothing, and all because of the narratives that accommodate it.
Clothing can exist as a series of reminders – of times long gone, of happy times, of funny times, of the very best of times. Personally, wearing such clothing makes me unreasonably happy. Hearing people talking about their clothing has been a joy.
Rosie:
"I really, really love this shirt. I got it from one of my favourite vintage shops in Oxford when I was about fourteen. Generally, really good things happen when I wear it – originally, I wore it to a job interview, and I got the job – so I made a joke about it being a lucky shirt, and it developed into a weird superstition in my family. I remember I had to wear it for my sister at one point, because she was waiting to hear back about a job, and I met my boyfriend in this shirt. Just generally really good things happen. I feel like most of my clothes I wore when I was fourteen were awful, whereas this is something I can stand by.
"I love midi skirts, I think they're the best length a skirt can be. This has a slit which means I can cycle in it back home, which is a core part of Oxford fashion. It was also a present for my birthday.
"My espadrille shoes give me a sneaky extra inch of height – I really like them because they're extremely comfy. They remind me of ballet shoes, winding around the leg, and I really like that."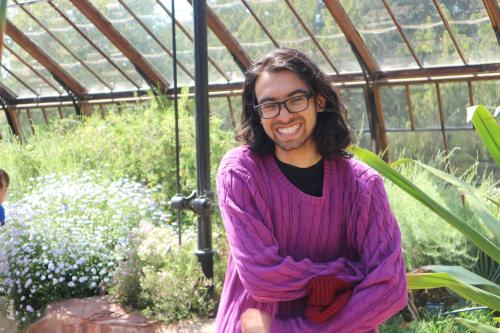 Ruben:
"This jumper, I think, is my dad's old jumper, and I remember I just stole it from his wardrobe once and started wearing it. One of my teachers at A Level used to be mean about it whenever I wore it in, so I used to just wear it more in order to annoy him. At one point he went on this big tirade about how 'not all of us can wear big pink jumpers like Ruben' and pointed at me – and it wasn't even relevant to what we were talking about. But I like it a lot.
"The T-shirt is a Slowdive T-shirt, I got it at a gig. They're one of my favourite bands and the gig was really good – I basically never buy band tees, but this time inspiration struck me. It's a really cool expression of their music, and my friend was buying a significantly worse T-shirt that they were also selling, so I thought I'd have to have this one.
"I had a red hat like this one which I wore throughout the whole of first term, and I lost it. Then my girlfriend bought me a replacement one at the start of second term. This one's even better because it goes over my ears so it keeps me even warmer."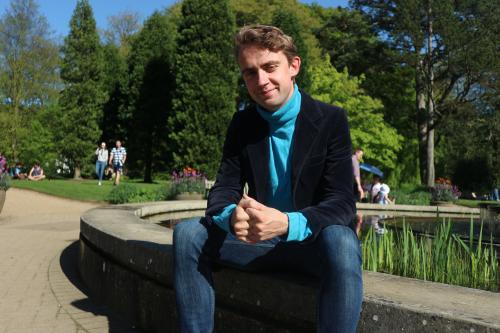 Ed:
"I got the velvet jacket on eBay, five years ago, for £15 – including shipping. It's the sort of thing which can be worn with a tie, with roll necks – it's a staple. I don't know anything about it apart from the label, which says 'Made in West Germany', which makes me think 80s. It's got this very retro vibe to it, and it's been everywhere. Surrey, Kent, London, Cambridgeshire, Hertfordshire. It's a frequent flyer. It's been it India, where I discovered it was a little warm for formal wear. It was 38 degrees at the time. In a way, it's seen me come of age, and it evokes a time which I think I'm pleased not to live in, but am rather fond of remembering. I associate it with my gap year, which was really good.
"And I've always liked the colour of the turtleneck, it's pretty outrageous. It also just makes my jacket feel more casual, so when I wear it I look less like a businessman."
Fashion can form as a dialogue with the past – be this through recurring trends, vintage looks, or in a really personal and intimate sense. We love to wear things that remind us of other things, we love to attach associations to our shoes, we love the people and times our hats or shirts or jackets remind us of. This is one of my favourite things about fashion, that it's a surreal meeting point between the radically creative and innovative, and the radically sentimental.