The beauty of ugly fashion
After Crocs made yet another return to the runway, James Dickinson considers why 'ugly' fashion is now so popular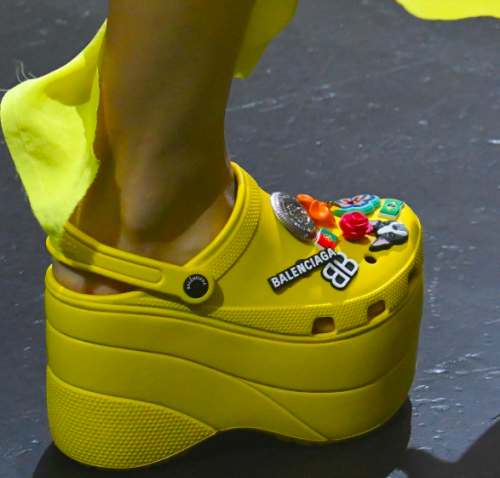 I'm yet to find a shoe that is as universally hated as Crocs. Everything about them reeks of ugliness: they make your feet look disproportionately large, they're unnecessarily clunky, and they are embarrassingly practical. So when Balenciaga designer, Demna Gvasalia, sent a 10cm platform-version of the monstrosities down the catwalk during Paris Fashion Week, the Internet was shocked.
But should we have been so surprised? Recent years have seen the meteoric rise of the anti-fashion aesthetic. Designers Gucci and Vetements are undoubtedly some of the most talked about brands at the moment, with creative directors pushing, quite simply, ugly clothes. But these designers aren't alone. The various fashion weeks were rife with ugly clothing – whether Shayne Oliver's bra bags for Helmut Lang (padded and with a zipper at the top of each breast to allow quick access), or Dior, once known for its voluptuous shapes and silhouettes, sending slogan T-shirts down the runway.
"We are now so inundated with images of beauty in magazines and on social media that ugly fashion seems an easy way to break the mould"
Fashion has always dabbled in ugliness. Fashion is a business, and has always been evolving to find the new must-have item to increase profits, and static ideas of beauty do not ring well for a business trying to sell you new clothing faster than your old clothing needs replacing. But the extent of the ugly clothing aesthetic truly is staggering.
With Instagram and Youtube, it seems that ugliness is the only way for fashion to stand out. The rise of Youtubers has caused the eradication of the days of teenagers with clear smudges of orange foundation on their neck, wonky eyeliner or heavy black eyes; many 14-year-olds now know how to contour.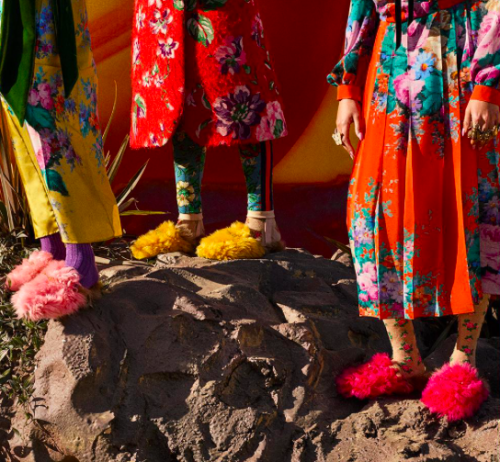 Similarly, Instagram provides you with the perfect chance to curate your image, with many people having two Instagrams – one for the aesthetic and one for friends, so they are not contained by their personal brand. We are now so inundated with images of beauty in magazines and on social media that ugly fashion seems an easy way to break the mould.
Beauty might be fulfilling, but its ubiquity renders it forgettable. When beauty is the aesthetic of the majority, fashion must resort to the ugly to retain its exclusivity. The rise of fast fashion has also put this exclusivity into peril. Any Zara or Topshop/Topman will have near replicas of designer clothing mere weeks after they've been shown on the runway. H&M goes as far as to designer collaborations – everyone now has the opportunity to get into this once elusive world.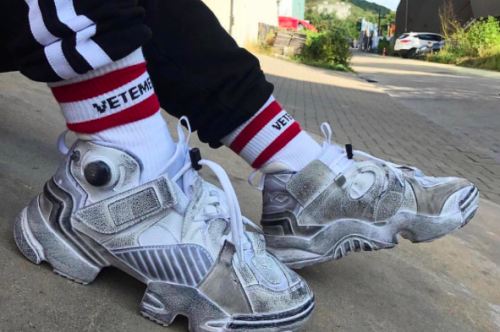 In truth, ugliness works. Whether Gucci's embroideries and snake motifs, or Vetements' jackets of gargantuan proportions, these pieces of ugliness are instantly recognisable. They're also a lot harder to replicate without looking like a blatant rip-off, meaning fashion brands can retain that aspirational quality that is so needed for high-end labels.
---
The modern meaning of the shoulder pad
Ultimately, 'ugliness' should be welcomed. Our ideals of beauty need challenging and what better than mainstream ugliness to subvert them? Vetements' clothes swathe the body and go against all the tenets of classical beauty with their wonky, ill-fitting style. Unfitted clothing does away with the patriarchal classical ideal for clothing to enhance certain key features of the body. It also is more inclusive of body types that previously would be frowned upon for wearing figure-hugging clothes. Criticism of fashion's upholding of damaging beauty ideals has been done before, but rarely has it left the avant garde to infiltrate the mainstream to the extent it has today.
With increased creative freedom from the restraints of classical beauty and the potential to revise harmful ideals of attractiveness, it is safe to say ugly has never looked so good