Salvete et valete on the runway at fashion week
Robyn Schaffer looks at the recent collections of Clare Waight Keller, Maria Grazia Chiuri and Raf Simons, three designers who have recently made much talked about moves to new fashion houses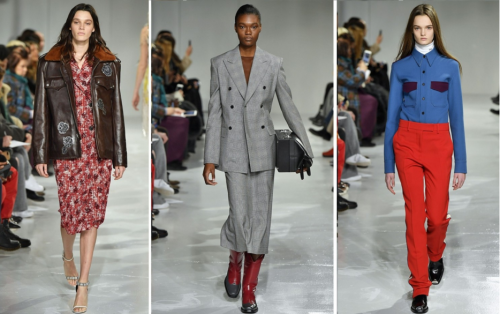 Just a few months ago, I wrote an article entitled 'Comings and Goings' discussing the recent announcements that a number of iconic designers would be leaving their positions as creative directors at their respective labels. In that article I reflected on the effect they had on these labels and how their successors may (or may not) follow in their footsteps.
Once again, it is that time of year when Fashion Month draws to a close and the industry reflects on its hits and misses, paying particular attention to designers who either presented their final collections for a label, or those presenting their first. The fast-paced nature of the fashion industry certainly takes its toll on designers, and so it is imperative for them (if they are to successfully make their mark on a brand) to create and maintain a strong identity throughout their collections, which not only pays respect to the brand's heritage, but also looks forwards to the future.
Valete!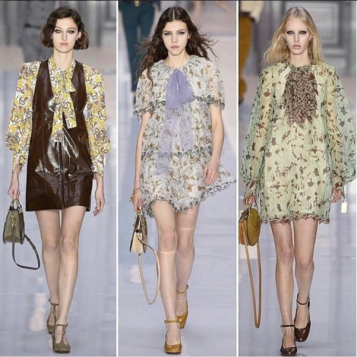 Perhaps a perfect example of a designer who did just that is Clare Waight Keller, who has just shown her final collection for French label, Chloé, at Paris Fashion Week after acting as its creative director for six years. The British designer, who has previously worked under Tom Ford at Gucci, has been admirably consistent in developing a brand image for Chloé, often presenting collections which balance the masculine and feminine, yet retain overall a relaxed, laid-back attitude which has attracted clients all over the globe, including an A-list following from the likes of Sienna Miller and Chloë Sevigny.
One of Waight Keller's most memorable collections was that of Spring/Summer 2016, where she showcased tracksuits in bold colours alongside flowing boho maxi skirts, amplifying the 'athleisure' trend to new heights of popularity. For her last collection, which she claimed she did not want to be retrospective (as final collections have a tendency to be), we couldn't help seeing nods to former collections. There were scatterings of organza, lace and loose silhouettes in addition to newer elements such as 60s-and-70s-inspired mini dresses, floral prints and chunky outerwear, cementing Waight Keller as a designer who left her legacy at a brand and is now leaving some very big shoes to fill.
Salvete!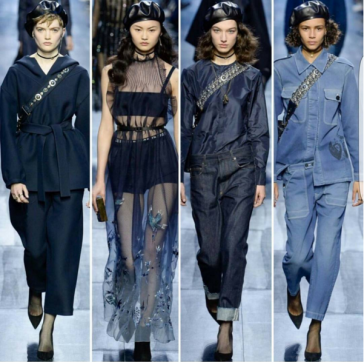 We may then look at Maria Grazia Chiuri, who, after working alongside Pierpaolo Piccoli at Valentino for 17 years, has taken up the position of creative director at Christian Dior, after Raf Simons announced he would be moving to Calvin Klein. Chiuri's first collection was met with mixed reviews; feminine, elegant gowns reminiscent of her Valentino days were shown alongside fencing-inspired ensembles, yet the feminist slogan t-shirts seemed a bit out of place. For her second collection this season, however, Chiuri appeared to have found her place. A simple, yet dark and ominous colour palette consisting of a spectrum of dark blues allowed Chiuri to experiment with shapes and fabrics, enabling the new Dior girl's own identity to shine through.
Raf Simons may have left Chiuri a lot to live up to at Dior, yet he himself also has much to prove at Calvin Klein, following in the footsteps of Brazilian designer Francisco Costa. Calvin Klein in the days of Costa was known for its success with minimalism and simplicity, something which Simons also is renowned for, particularly from his time at Jil Sander, and so moving to Calvin Klein seemed like the perfect fit.
Simons' first collection contained just this; minimal silhouettes and statement block colouring teamed with injections of leather and feathers comprised Simons' "celebration of America" and, in his own words, its "different styles and dress codes". In short, it was Simons doing what Simons does best, and it seems as though by sticking to this, he may prosper just as much as he did at Dior.
These few designers alone have shown how it is possible (and crucial) to cement a clear image and identity in a brand, but not necessarily succeed. Yves Saint Laurent is claimed to have said, upon seeing Tom Ford's debut collection for YSL in 1999, "in 13 minutes on the runway you have destroyed 40 years of my career" – no wonder designers today feel the pressure