The highs and lows of CUCFS 2017
Despite several hiccoughs along the way, the University Charity Fashion Show proved to be a spectacular celebration of diverse beauty, writes Ellie Mullet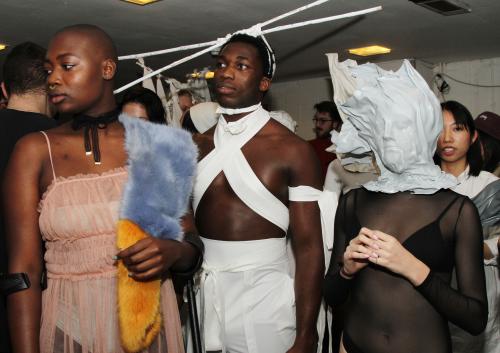 The annual Cambridge University Charity Fashion Show (CUCFS) is a philanthropic student-led showcase of both fresh talent and established labels, now in its third year. The committee promised that this was a night not to be missed, and they were certainly right: for fashionistas from across the university and beyond, it was a showcase of sensational styles.
Opening with a futurist collection from UAL graduate Yui Jiang, there was a sense of abstract ethereality as the faces of the models were obscured by wind swept moulded masks. The celestial inspiration was repeated near the end of the show, with a fantastic fibre optic dress by Tae Gon Kim. Paraded along the catwalk in complete darkness, the fuchsia glow emitted from the knitted web of glowing strands was mesmerising to watch.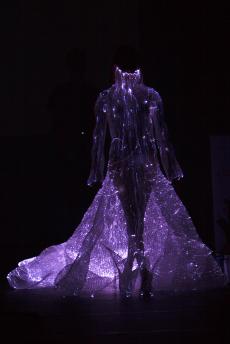 The biggest impact was made by the assemblages of clothing which were more conceptual rather than compatible with everyday life. Alessandro Trincone's collection of Japanese-inspired garments blended sharp tailoring with adornments of frills and bows, finished with elaborate headpieces. Angel Chen's vibrantly coloured designs were predominantly co-ordinating sets of long hooded coats with matching cropped trousers, which were embellished with glittering lizards and stars and made out of tribal or doodle inspired fabrics. Abzal Issa Bevok's compendium layered oversized tailored pieces, featuring turned up hems and paper-bag waists, over PVC garments, finishing each look with a pair of matching tailored, structured gloves. An unlikely pairing on paper for sure, especially for menswear, but it worked, albeit in an unusual way. 
Streetwear was another one of the main themes, with offerings from Stüssy, Gianni Mora, Yeezy and the Hood Lab. Between them, relaxed tracksuit bottoms, oversized t-shirts, rucksacks and bumbags were the items of choice, but while this might be 'wearable' fashion (aside perhaps from the hoodie and heels combination), it did lack a sense of pushing stylistic boundaries.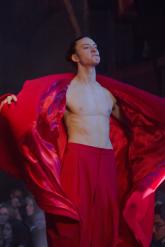 Ben and Esongkuo were the two standout male models, for their infectious attitude added a little extra sass to the show; the former had a fabulous hair flick which made the crowd go wild. Xelia and Emma were the noteworthy female models, although all showed applaudable confidence when walking in front of hundreds of people with only a pair of pants to just about cover the modesty of their bottom halves. The whole cohort remained professional throughout, yet the cheers from outlooking friends prove they were respected for reasons which stretched far beyond their good looks.
Despite special guest Richard Browne Jr pulling out of the show last minute due to personal reasons, there was still a focus on beauty beyond conventional boundaries. Undoubtedly this was inspired by the chosen charity, the Douglas Bader Foundation, which focuses on supporting amputees and those born without limbs. There were visual and audio interludes from influential individuals, not to mention a special appearance from amputee blogger Mama Càx, who gave an inspirational speech about loving your body.
In terms of entertainment, Kalvin Schmidt-Rimpler Dinh provided the catwalk soundtrack, a role which he filled perfectly, and he then went on to provide the audience with an atmospheric, hypnotic performance as part of Kikoband, one of Cambridge's most exciting student bands. Unfortunately Princess Nokia's headline set finished abruptly, bringing a premature end to a great night: she felt she had been 'disrespected' by a crowd member, and while it's hardly unconventional for fashion shows to make a political comment, it was unfortunate that this long awaited event suffered an anticlimax due to her abrupt exit.   
The 'unlimited' alcohol might have run dry, and the headline act was cut short, but the fashion was very much in full flow: CUCFS 2017 was a real appreciation of both professional and student talent, and definitely lived up to expectations.