Scan it, print it, wear it
In the first article of her column, Flora Walsh explores 3D printing and how it's being used by the fashion industry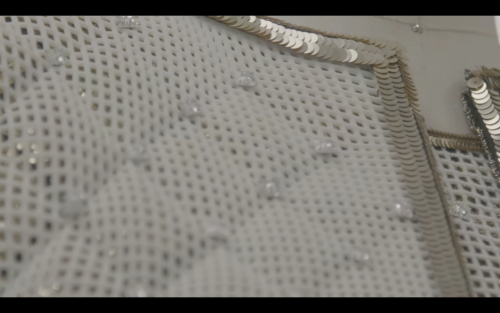 What if you could order an outfit on your way home to find it freshly printed out and ready to wear when you open your front door? You wouldn't be blamed for mistaking this for a scene from a science fiction film. But, no longer confined to the big screen, this is marked out as the future of fashion. 3D printing was first used for modelling in architecture and engineering 20 years ago, but has since stepped into mainstream design, captivating fashion designers and entrepreneurs alike. From haute couture to high street, 3D printing could revolutionise what we wear and how we shop.
The theme for this year's Met Gala, the 'Oscars of Fashion', was Manus x Machina: Fashion in an Age of Technology. It is unsurprising, then, that 3D printing featured heavily on the red carpet and in the exhibit. The Belgian technology company, Materialise, contributed to several of the dresses exhibited at the Gala. In late 2014, Vogue magazine did a feature on 3D printing, rendering the six-foot supermodel, Karlie Kloss, down to a series of six-inch 3D print-outs in collaboration with Shapeways, a Dutch 3D printing company based in New York. The miniature Klosses were then flown all over the world for 'photoshoots' in iconic locations. Shapeways was also commissioned by Victoria's Secret to produce the iconic wings for their annual runway extravaganza, custom made to fit the body contours of supermodel Lindsay Ellingson.
However, as yet, 3D-printed materials have not come close to the functionality of traditional fabrics. The mainstream of 3D fashion is directed toward 'hardware' accessories. 3D-printed jewellery and glasses frames are increasingly commonplace, and the technology has been used in shoe and bag design. The lightweight materials available in the 3D printing world have allowed designers to push the boundaries of volume and dimension to create previously unrealistic designs.
For the moment 3D clothing lives in the exclusive world of couture. Impossibly intricate and captivating works have graced the runways of designers such as Iris van Herpen and threeASFOUR. Van Herpen said the technology "freed me from all physical limitations. Suddenly, every complex structure was possible and I could create more detail than I ever could by hand." It is this freedom that appeals to more and more designers. Most creations are highly structural and all but unwearable – more like works of art fitted around the human form. But, as with all things in fashion, that is set to change.
Entrepreneurial designers already have their sights set on bringing 3D fashion and its potential for customisation to the masses. Until now, couture clothes have been unique pieces, painstakingly designed and crafted by highly-skilled artists to fit the wearer's form exactly. The nature of couture production meant that it was the exclusive purview of the rich and famous. However, 3D printing is on track to democratise the world of couture. There may come a time when domestic 3D printers will be sophisticated enough for consumers to scan their own bodies, send their measurements to online retailers and instantly download the blueprint for their chosen outfit, fitted exactly to their body, to print out at home. Although he admits this is a distant goal, Joris Debo, the CEO of Materialise, told Bloomberg that several companies are already looking into developing this technology.
Andrew Bolton, the curator of the Manus x Machina Gala, echoes Debo's excitement, claiming 3D printing to be "as revolutionary as the sewing machine." Bolton sees it accelerating environmental development in fashion due to "the ability to mould exactly…there's no waste, whereas there's always waste with textiles." In a world ever more focussed on environmental reparation, this aspect of 3D printing is certainly something worth developing, not just for fashion. Even in the last three years, Debo has noticed a marked improvement in the functionality of 3D textiles, from garments initially resembling "body armour", to the development of more flexible textiles, as seen in Danit Peleg's most recent ready-to-wear collection. While we may be a long way from a world of 3D fashion, at this rate, it is no longer in a galaxy far, far away.