Fatal Consequences
Louis Shankar on this Fitzwililam Museum exhibition and the relationship between art and war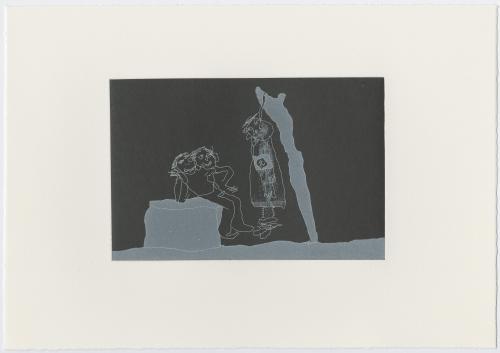 Alongside the high-profile Silent Partners that opened this week, the Fitzwilliam Museum brings us another new exhibition. Fatal Consequences is part of a series of shows that mark the centenary of the First World War. It juxtaposes prints from the Turner Prize-nominated Chapman brothers with those of nineteenth century Spanish printmaker Francisco Goya in order to explore and criticise the effects of war.
The Disasters of War is a series of 82 prints created by Goya over the course of ten years, relating to the Dos de Mayo Uprising and subsequent Peninsular War of 1808–14. Eight of the most startling Goya prints are exhibited here alongside a complete set of Jake and Dinos Chapman's subversive collection of the same name.
The Champman brothers have always been incredibly influenced by Goya, initially looking at him as part of an examination of "what it meant to become an artist". Their interest soon turned, however, to obsession as they appropriated his imagery and symbolism within their own twisted, surreal brand of art. An earlier exhibition of their defaced Goya prints, a "rectification" as they called it, was mockingly titled Like a Dog Returns to Its Vomit.
Taking World War Two and the Holocaust as primary inspiration, the Champans' prints are graphic and startling, especially for anyone unfamiliar with their confrontational style of art. Swastikas and hanged men both make multiple appearances, often at the same time. Their sketchy, sometimes childlike, draughtsmanship is a stark contrast to Goya's, whose works have a considered and diverse use of line and texture.
The white ink and black paper of the complete set of Chapman Brothers' prints gives the pieces a ghostly, eerie quality; when contrasted with the conventional black-on-white editions also presented, the effectiveness of this choice resonates. This is not an exhibition for the faint of heart.
Even more creepy, though, and perhaps suitably for Halloween, are the prints done on pages of children's colouring books. Bold, cheerful designs show through the sketchy images of pestilence and war.
Dinos Chapman once said of Goya, "I'd like to have stepped on his toes, shouted in his ears and punched him in the face." The works on show here seem to reflect this wish: the brothers' pieces treat their source of inspiration in an iconoclastic manner, referencing, scrutinising and destroying Goya's imagery.
Exhibited together, the prints' shared message — a damning indictment of the true horrors of war — shines through, magnified. The "invention and intervention" promised by the exhibition's publicity is joined by inversion and insight. Not only is war re-imagined but so too is the artistic process across the centuries. A must see.
Fatal Consequences: The Chapman Brothers and Goya's Disasters of War, is open now and runs until 8th February 2015