Get Away: Aid & Abet
Gabrielle Schwarz escapes to this multimedia art space on the outskirts of Cambridge
Cambridge, however beautiful, can often feel small, crowded and claustrophobic. Feel the need to escape? Let me suggest heading towards Cambridge Railway Station: but don't do anything as radical or expensive as fleeing on a train. Instead, turn left outside the station, pass the bicycle shop and arrive at Aid & Abet. This enormous (and freezing cold) warehouse functions as a contemporary art space, and is currently housing exhibition Dark Hours / Fixed Spaces.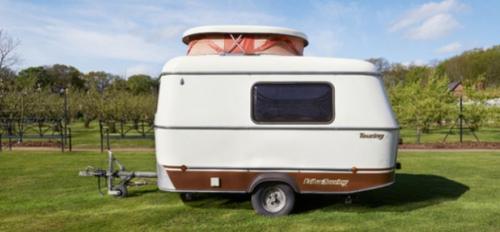 As its title suggests, the exhibition explores the time and location that its artworks occupy; in the programme, it claims to be 'navigating the liminal spaces through time'. This may sound pretentious, but surprisingly it actually makes sense, as the exhibition's layout really does carry the visitor on a journey through the progressive stages of a day. At different times, and in different areas, different films are presented in a fortnight-long series of events. The centrepiece is 'The Project Space' which, every night, is transformed at sunset into a temporary cinema with a large screen and several rows of chairs. Over the two weeks, the starting times for the screenings will creep earlier and earlier (5.46pm, 5.44pm, 5.42pm) before a big leap as Daylight Saving kicks in, the final screening beginning at 4.18pm. In the daytime (12-4pm), the action relocates to a smaller 'Film Room' where one of these films is shown on repeat. Behind this room is another enclosed space, a small white structure containing the piece 'Landscape' by Axel Antas. On one of the stark white walls a video still image of morning mist in the Pyrenees is projected, a ghostly pale view floating among the expanse of white, described by the artist as "a glimmer of the Romantic sublime"
During my afternoon visit, 'One Minute Volume 6', a series of 38 minute-length 'films' curated by Kerry Baldry was playing in the Film room. 'Film' is a loose term to describe the boundless variety of (mostly) moving (mostly) videos presented. The collection opens, for example, with sixty seconds of black screen: over which was playing an alarming soundtrack of fuzzy and screeching sub-bass sounds. Although this opening left me dubious that I would remain successfully engaged for the full duration of the film, its only shared feature with the other 37 pieces was their completely individual natures. The black screen was variously replaced by dancing figures in skin-tight shiny green bodysuits, a camera-phone recording of the November 2011 protest against student fees in London, a moving illustration of a whistling man; it closed with a fixed shot of an organ grinder and his monkey playing his music directly to the audience. There was no way of knowing what was going to come next; only that (while it might be beautiful, it might be funny, it might be incredibly weird) either way, it would be finished in a minute's time - and so you might as well wait and see. This element of expectation as well as the consistently thought-provoking and entertaining quality propelled me through the volume, never once resulting in boredom. 
Yet the state of expectation is not over. Not only are there more film screenings ahead, but on November 1st,another location within the building will emerge: '¡Arriba!', 'a subtly modified caravan which plays three interconnected films'. On the 3rdthe entire space will be transformed into a music venue by Cambridge-based event producers Bad Timing in 'an evening of music and visuals'. So far this cavernous warehouse has artfully displayed its potential for combining moving images and sounds to present beautiful works. I will definitely be escaping here again soon. 
Aid and Abet presents Dark Hours / Fixed Spaces 
25th October – 10th November
www.aidandabet.co.uk