Change, even if slowly
This week serves as a reminder that things do change, even if it doesn't always seem like it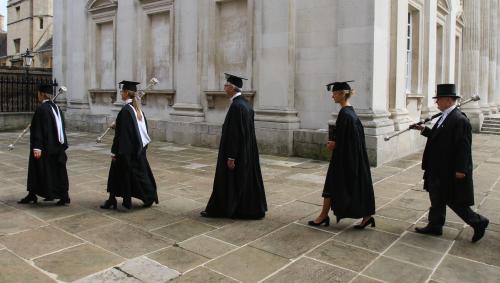 Perhaps unsurprisingly for an institution that has been around for 800 years, change comes pretty slowly to this university – no doubt many of the Freshers who matriculated this week will have been struck by the archaic traditions and vocabulary that we're all expected to abide by. Yet this week has seen more change than most.
On Monday morning, Stephen Toope was installed as the University's 346th Vice-Chancellor. The Canadian has arrived at an inauspicious time for universities, and those in charge of running them. With the issue of tuition fees at the centre of our political debate, and explored more fully on p.2, universities are under increasing pressure to prove that the £9,000 a year each of us pays is value for money. It is surely imperative on Toope to make the case for universities, and for their worth both to us as students and society at large.
The particular office of Vice-Chancellor is also under close scrutiny. Lord Adonis has been leading criticisms of Vice-Chancellors over the summer, accusing them of being paid far too much, and even running a 'fee cabal'. Toope's opposite number at the University of Oxford, Louise Richardson, has faced fierce criticism after suggesting that it wasn't her job to protect students from homophobic academics, and appearing less than humble about her own pay.
Toope has rather a lot on his plate, then. He would do well to show a certain sensitivity to the political climate we're in, and demonstrate that he understands the frustrations of students not only surrounding the issue of fees, but when their representative seems so out of step with their own beliefs. He also faces a challenge in determining what exactly a Vice-Chancellor does, something the average Cambridge student might not be all that clear about.
Not all change comes with pomp and ceremony, but that doesn't make it any less important. Murray Edwards announced this week that transgender applicants will no longer have to have their gender legally recognised before applying. While this looks at first glance as just one college's change of policy, its ramifications can already be felt: as this week's front page reports, both Newnham and Lucy Cavendish are looking at making similar reforms.
Both those changes and the arrival of a new Vice-Chancellor serve as reminders that despite the centuries-old buildings and out-of-touch practices, things do change around here. That's something we should take heart from, and keep in mind when faced with the most conservative aspects of Cambridge life