We should be more concerned about Northern Irish abortion laws
Trump caused uproar with his comments on abortion, but really we should be looking at the problems much closer to home, argues Kate Reid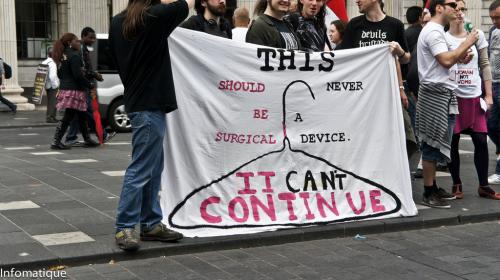 Even had I tried, I would have struggled to ignore the international outcry in the press and on social media following Donald Trump's comment that women who have abortions deserve "some form of punishment". The Guardian called it "the biggest crisis of his campaign" and Trump retracted his comments under pressure just hours later. But remarks like these, and those of Trump's opponent Ted Cruz, who denounced Planned Parenthood as "a criminal enterprise", reveal how contentious the issue of abortion remains in America today.
However, as this political crisis plays out across the Atlantic, an even more disturbing injustice is perpetuated on the other side of the Irish Sea: a court convicted a 21-year old woman in Northern Ireland to a three-month prison sentence, overturning a two-year suspension. This was because, at the age of 19, she self-administered an abortion at home and her housemates notified the police.
Obviously this is an upsetting and shocking event to have occurred so close to home, and I feel particularly strongly about this issue because I am half Northern Irish. I have women in my family who, throughout their adolescence, had to save up for 'abortion funds'. This was their one comfort against the fear that they would accidentally fall pregnant and would have no choice but to ferry across to Liverpool. Irish journalist Linda Cahill, when describing in the Irish Times her experience of a Liverpudlian clinic, remembers there being "a separate price list for Irish women. They recognise that we have extra costs so there is a reduced rate."
This is currently how the UK is dealing with the inadequacy of Northern Irish and Irish abortion laws: alleviating the problem, but not attempting to solve it. Having an abortion is already a harrowing process for many women, accompanied as it often is by intense and unfair social judgment. The addition of financial pressure through costs and travel makes the experience even more of a trial for the women who have to endure it.
Northern Ireland is not an area covered by the 1967 Abortion Act, meaning that instead "it is unlawful to procure a miscarriage where the foetus is abnormal but viable, unless there is a risk that the mother may die or is likely to suffer long-term harm, which is serious, to her physical or mental health." This means that abortion can still be illegal in Northern Ireland even if you are a victim of rape or incest. As a result, every year, over 1000 women travel to clinics in other parts of the UK to procure legal abortions; an option that is only available to women who have the financial means to do so. The cost of travelling from Northern Ireland to an area of the UK where abortion is legal can range from £400 to £2000. As is the case for this particular 21-year-old, and is the case for many of my relatives, this is an expense that a number of women cannot afford.
The most troubling aspect of this law is, perhaps, its recent reaffirmation. The Independent reported that the woman "was convicted under ancient laws which were passed under Queen Victoria and have sat untouched on Northern Ireland's statute books for over 150 years." Unfortunately, that is not the case. It would almost be easier to understand if these draconian measures had been left forgotten and untouched by modern government, but the reality of the situation is that these laws were reaffirmed by Northern Irish politicians as recently as 2015. However, in November 2015 the Belfast High Court ruled that Northern Ireland's near total ban on abortion is "incompatible with human rights", which indicates the self-contradictory and conflicted nature of the Northern Irish standpoint on this issue.
Not only has the abortion law in Northern Ireland been declared an affront to human rights by the Belfast High Court, but it is also entirely out of line with public opinion. A recent independent poll that was commissioned by Amnesty International shows that 69 per cent of people think that the law should make abortion available in the case of rape; 68 per cent thought it should be available in the case of incest and 60 per cent thought it should be available where the foetus has a fatal abnormality. In a country where the public and the Belfast High Court agree on the outdated nature of this law, surely the politicians responsible for upholding it can be convinced. 
However, there has been a troubling inaccuracy in a number of the articles about the conviction, claiming that Westminster has legal influence over Northern Ireland's abortion laws. Westminster is not responsible for Northern Irish abortion laws: devolution means that Stormont, not Westminster, has legal power over Health and Social Services. If people wish to agitate and protest against Northern Ireland's abortion laws, their efforts are misplaced when directed at Westminster. Instead, the focus of the discussion, and the pressure directed at elected officials, should be shifted towards the Northern Irish Assembly to really make a difference.