Girl Talk Art Exhibition: "Spaces to celebrate female talent can be really empowering"
Lydia Bunt interviews Girl Talk events officer Emma Loffhagen about the society's upcoming art exhibition, celebrating International Women's Day.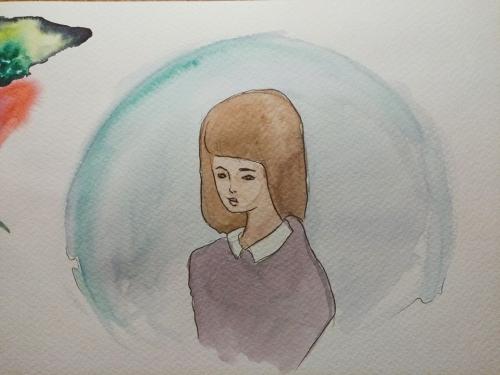 International Women's Day seems like the perfect time of year to specifically showcase art made by women, and Girl Talk are very much jumping on that bandwagon. The Cambridge society was set up five years ago by two students, and is a multi-media platform aimed at celebrating womanhood and feminism in all its forms. I talk to Emma Loffhagen, third-year HSPS student at Jesus and events officer for Girl Talk, about the upcoming art exhibition she's organising and its potential for the Cambridge arts scene.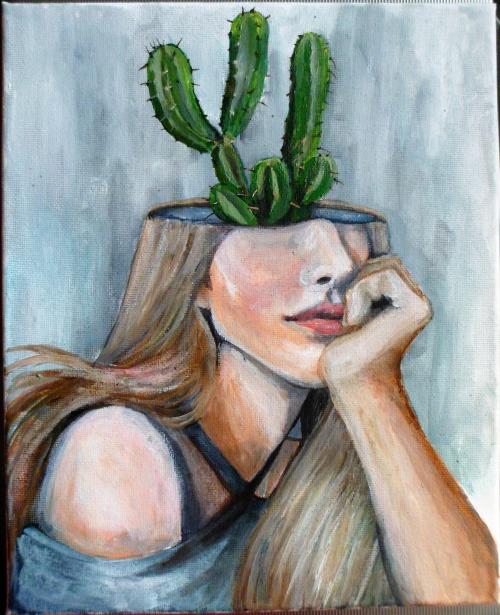 This year's exhibition, which opens on Friday, follows a successful art event in 2019, and Emma hopes that the tradition will continue into further years. Emma and the Girl Talk team accepted submissions from women and non-binary artists in Cambridge, but beyond this stipulation the curation is happily loose. The art can be on any theme, not necessarily pertaining to female experience – what matters is that it was created by women or non-binary people. "I can't get my head around the number of submissions and the talent on display," Emma muses.
The exhibition will also raise money for the Women and Homelessness Action Group, a relatively new Cambridge-based charity. Whitworth House, a hostel for homeless women in Cambridge, was almost closed down last year and only has a limited number of spaces, in any case. WHAG aims to set up a hostel with more spaces for vulnerable women, making it a worthy cause for funds raised by Girl Talk next week. How will they do this, exactly? Emma explains how some of the art being exhibited has been made into postcards, which will be sold at the exhibition. As an avid collector of arty postcards, I'm pretty keen on this idea.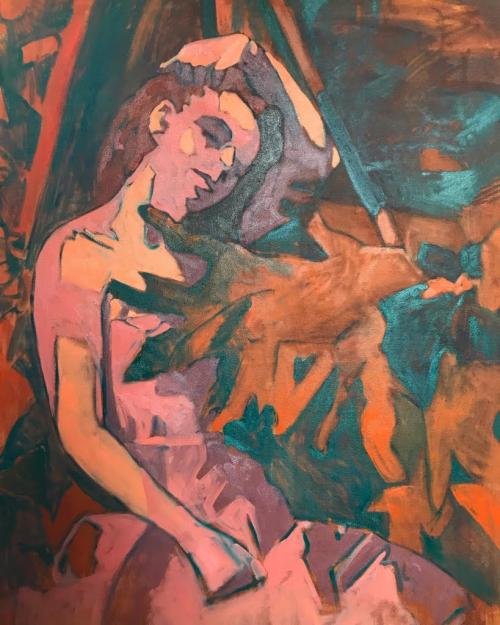 But what can we expect from the exhibition itself? Painting, poetry and photography all feature, as well as the odd artist's book and magazine piece. The artist in residence on the Girl Talk committee, Kate Towsey, has contributed pieces. One is fully interactive and has something of the Tracey Emin about it – a tent on which people can stick Post-it notes scribbled with their impressions of homelessness. Another is a denim skirt sewn with words relating to sexual assault. It explores how clothing can be perceived as inappropriate in certain contexts, with a nod to the law prohibiting upskirting and defending women's right to wear what they choose.
But it's also great to see that some of these pieces don't treat 'woman' as a rigid category. Many of the work samples I glimpse are clearly exploring gender difference, starting to break down a binary that you might assume an event like this, one for 'girls', upholds. Clearly Girl Talk's inclusion of non-binary voices in this exhibition also suggests this awareness.
"Our exhibition is unique in that it's just for women to exhibit in," Emma says. "I don't think there's anything else like that in Cambridge." Why does she believe is it crucial to have spaces in culture that specifically celebrate women? "Some of the submissions we have discuss experiences that are personal and often very specific to women," Emma poses: "Art can be an outlet for that." Around International Women's Day, she suggests, it's particularly important to tease open spaces that celebrate women's stories and not get complacent in our feminism. But she is keen to maintain an atmosphere of inclusivity – anyone is welcome to come to the exhibition.
"Spaces to celebrate female talent can be really empowering." Here the notion clearly works, especially as Girl Talk are collaborating to reduce homelessness experienced specifically by women. But this exhibition's is also clearly aware of how gender categorisation isn't always productive. 'Girl Talk' is adapting to the present, and they'll be bringing some much-appreciated creativity to Cambridge ahead of International Women's Day.
The Girl Talk Art Exhibition launches on Friday 6th March and runs until 8th March.