Fitz Favourites: seeing citrus connections at Kettle's Yard
In the second instalment of his column, Damian Walsh ventures beyond the Fitzwilliam Museum and explores the Kettle's Yard lemon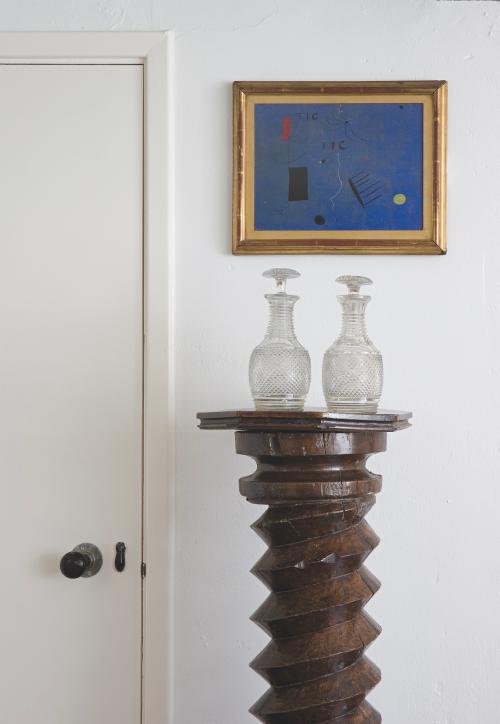 In a large pewter bowl in the corner of the room sits a lemon, under two dark sea paintings. It looks as if someone's left it there absent-mindedly, to come back and pick up again later. A zesty drop of yellow amid a particularly monochrome corner of the house, it draws your eye, as so many things in this eclectic gallery do.
A zesty drop of yellow amid a particularly monochrome corner of the house
'This gallery' is the wonderful, sprawling, homely Kettle's Yard, Cambridge's much-loved modern art collection. The house itself evades description; bought by Jim and Helen Ede as four dilapidated cottages in 1956 and opened up to students soon after (then expanded several times after, most recently in 2015-18), it was the Edes' home until 1973. It still feels far more like a home than a traditional gallery. I think that's what makes it so special to students, often living away from home for the first time. Every day during term time, Jim Ede would offer guided tours for any student who dropped by for his 'open afternoons'. He sounds a bit like a kindly (if slightly wacky) grandfather.
Ede described Kettle's Yard not as an art gallery or a museum, but 'a continuing way of life' where 'stray objects, stones, glass, pictures, sculpture, in light and in space make manifest the underlying stability' – a rare quality in Cambridge. The lemon seems to me like an unassuming symbol for the whole gallery. (And, seeing as you can buy a lemon brooch in the gift shop too, I think the curators agree!) Placed there by Ede originally to complement the yellow spot in Joan Miró's abstract Tic Tic hanging nearby, it's part of a web of connections knitting the whole house together.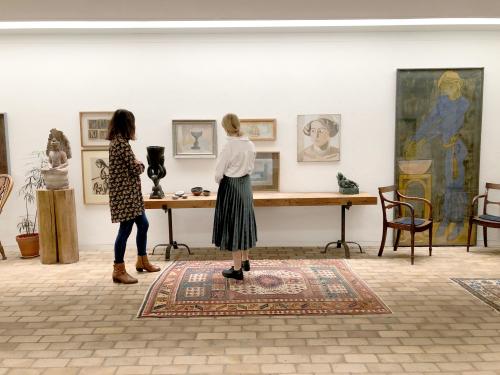 Miró's surreal, jumbled painting is difficult to understand. Ede saw it mainly as an 'opportunity to show undergraduates the importance of balance'. 'If I put my finger over a spot at the top right', he explains in A Way of Life, and no doubt demonstrated to students, 'all the rest of the picture slid into the left-hand bottom corner'. Taking out the middle makes everything fly 'to the edges'. The painting is much like Kettle's Yard itself: removing one item would be like losing a link in the chain.
You start to feel that everything, like the lemon, is placed deliberately
As you walk around the house, you start to feel that everything, like the lemon, is placed deliberately. A woman on my tour notices three sea shells scattered on the downstairs mantelpiece. 'You'll often,' the guide agrees, 'find things here in threes.' Clearly it's the magic number. I wonder whether the shells are also a gesture towards the sea paintings, back in the corner with the lemon.
In this web of connections that spreads across the whole house, you, the visitor, are the missing piece. Chairs are freely scattered around the house, and you're encouraged to sit in them and take in the art from a different angle. If you needed more prompting, paintings are arranged in unexpected places: one picture of flowers is at ankle height, impossible to study unless you find the nearby chair and relax.
There are no labels in Kettle's Yard. Besides matching my own, vague, hippyish distaste for 'labels', this lack of description also disrupts the sombre distinctions that often hang over galleries: dividing 'art' from 'non-art'. The pebbles, the feathers, the flowers that adorn the house every spring take on just as much significance as the works of 'art' themselves. 'Stones are strange expressions of miracles,' wrote Ede. He artfully arranged 76 of them in a spiral on his bedroom table to demonstrate his claim. I wonder if lemons are miracles too. Can lemons also be 'art'?
Visiting Kettle's Yard raises more questions than it answers: that's part of the fun. It can also feel spiritual, like finishing a pilgrimage. The careful arrangement of the house is an invitation (as Blake's familiar quote goes) to 'see a world in a grain of sand'. I could add, 'or in a pebble, or a table…' This doesn't have to be confined to the gallery: noticing connections between small, artful things might spread out into all the apparently ordinary objects you see that day. After all, when life gives you lemons…