Breast Cancer Art Exhibition: preview
On 2nd February, Pink Week will be taking over Cambridge for the fifth time – this year the event will be welcoming something new. Lois Wright sits down with curator Miranda Nicholson to discuss the first ever Pink Week Breast Cancer Art Exhibition.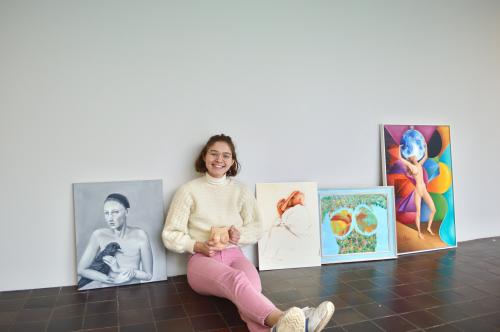 Each year around 55,000 women and 370 men are diagnosed with breast cancer. On 2nd February, Pink Week will launch in Cambridge for the fifth consecutive year. Inspired by the late Dina Rabinovitch's activism, Pink Week aims to raise awareness and funds for breast cancer charities. This year, Pink Week is welcoming a whole new event: on 3rd February 2019 the first ever Breast Cancer Art Exhibition will open.
This project has been in the works for a while; first conceiving the idea in August of last year, History of Art finalist, and first-time exhibition curator, Miranda Nicholson spent much of her Michaelmas term sorting out the logistics – something that, when juggled alongside the academic commitments of a final year at Cambridge, is quite a feat.
"It's bigger than I expected it to be" Nicholson admits when asked about the size of the project she's undertaken. Fortunately, she's had "some amazing people to help, and great people to work with" when arranging the exhibition. Aside from Nicholson the committee of five is made up of Sophie Marie Niang, Constance Ayrton, Honor May, and Faith Inch – all students at Murray Edwards College, and all of whom have played instrumental roles in arranging the exhibition.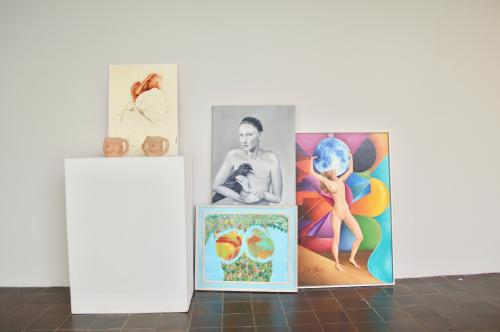 Via a series of fortuitous leads, Nicholson landed the project in the inbox of Peterhouse alumna, and founder of the Breast Cancer Art Project, Adriana Ford. A few days after her own reconstructive surgery, following a breast cancer diagnosis in July of 2016, Ford founded the Breast Cancer Art Project in October 2017 with the vision of it becoming a platform on which those affected by breast cancer could share their artwork.
Working in collaboration with the Breast Cancer Art Project, Nicholson aims to stay true to Ford's original aims: "I think this exhibition is to convey the reasons that they have done this art: as sort of a cathartic release, or just a way to spend their time when their sitting in a hospital bed, and I think that I'm trying to stay true to what Adrianna wanted from the project in terms of representing those artists."
"even though your body can change, the essential elements of you are what makes you you will still be ignited"
As a venture still in its infancy, the Breast Cancer Art Exhibition will only be the second physical exhibition that the Breast Cancer Art Project has had a part in hosting – the first having been held in Puerto Rico in October of 2018. Although this meant that a lot of the works that are to be displayed in the exhibition were exhibited across the Atlantic only a few months ago, Nicholson has found that "getting artworks has been easy enough" as there has been a lot of help in getting them to the UK.
In total the exhibition is made up of sixteen works – twelve of them being sourced from the Breast Cancer Art Project, one on loan from David Hilbeck, and the rest being provided by the all-female New Hall Art Collection that is housed in Medwards.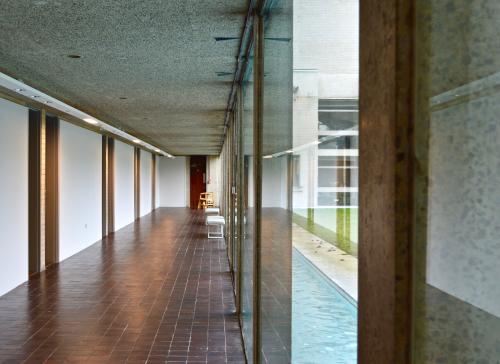 Despite, the vast number of works that belong to the New Hall Art Collection, "surprisingly few" cover topics like illness, disease or the artists' own suffering. Nicholson tells of how, in her search for relevant pieces, she opened up a catalogue detailing the works in the collection and "just flicked through and read some of the artist's biographies and stories behind each of the art works", eventually picking out some that were associated with the artists' own suffering – particularly with cancer.
The area of Medwards in which the exhibition is going to be held is "curatorially very interesting". Pointing at a corridor just across from where our interview was taking place, Nicholson explained how half of the available space is windows, so no canvases could be placed on that side. Instead, against the glass will be free-standing plinths and sculptures, some accompanied by headphones playing podcast clips of series such as You, Me and the Big C, adding an auditory element to the exhibition.
"breast cancer affects everyone"
One particular sculpture, likely to be stood against the glass windows, is a piece by Danielle Piat named Indistinguishable, which Nicholson described as "a sort of porcelain silhouette of a figure, and in the back you place a candle, and there's a hole right where the heart is. It's called inextinguishable so the idea is that even though your body can change, the essential elements of you are what makes you you will still be ignited." Piat made the piece to honour her mother and grandmother, both of whom battled breast cancer, with the former having lost that battle.
In keeping with the tradition of the New Hall Art Collection, the exhibition will solely feature works from female artists. The fact that Medwards is an all-women's college also adds an extra degree of poignancy to the exhibition as, although breast cancer is not solely a women's disease, one in eight UK women will likely develop breast cancer in their lifetime. Additionally, as over 99% of new breast cancer diagnoses each year are in women, the organisers believe that an all-women's college is "quite an appropriate place" to hold an exhibition of this nature.
Overall, the exhibition will be an experience rich in art of many media, all brought together by one overriding message: "breast cancer affects everyone".
The Breast Cancer Art Exhibition opens on 3rd February at Murray Edwards College, Cambridge and will close on 24th February 2019. The opening night will include performances from Adriana Ford, Susan Olivera, a contributing artist all the way from Puerto Rico, and Miranda Nicholson.
All proceeds from the exhibition will go to its costs and the Breast Cancer Art Project. Any donations made will go to the seven Pink Week charities for 2019: Breast Cancer Care, Breast Cancer Haven, Breast Cancer Now, Coppafeel, Ellen MacArthur Cancer Trust, Teens Unite Against Cancer, and Victoria's Promise.
Many thanks to Sophie Marie Niang for helping to organise this interview.