Review: Sondra Perry's Typhoon coming on
Thomas Dixon lauds Perry's exhibition at the Serpentine, declaring it to be "a condensed visualisation of injustice"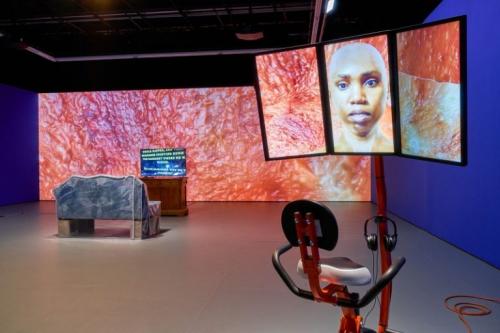 Sondra Perry is a New Jersey-born artist working across digital media and performance to explore the creation, depictions and dissemination of 'blackness' throughout history. Exploring the nature of black representation and identities across many mediums, including digital platforms and performance, Perry presents us with a dystopian installation to the Serpentine Sackler Gallery for her first solo exhibition in Europe. In doing so, she also brings a much-needed political lens to look at the "modes of representation" within video art and moving images and the identity politics at play in post-internet art.
When walking into the gallery and its site-specific installation you are greeted with moans and wails, part of a soundscape especially designed to go with her latest animation, Typhoon coming on. Perry takes J. M. W. Turner's painting of the British slave ship Zong and melds it with a CGI reconstruction of her skin creating projections on the walls which undulate and ripple like the waves in Turner's oil painting, essentially creating a sea of black bodies.
Perry has created an immersive environment with an eerie atmosphere which becomes haunting upon realising the source of these materials. The floor to ceiling waves also serve as a kind of reflection on the visibility of these bodies. In Turner's painting the figures are drowning, hidden beneath the waves, faceless and unidentifiable; in the same way, Perry's installation removes any identifying features and instead has anonymous cries. Typhoon coming on thus also encourages us to reconsider the legacy of the British slave trade and the connections between the loss of black lives and art. This is made even more urgent with recent movements to decolonise university curriculums across the country, and in Cambridge.
"This exhibition is a chance to reflect on how police brutality and institutional racism are not isolated phenomena"
While this is going on around the corridors of the gallery, in the centre are three separate video pieces. In the first room there is a rowing machine and a biking machine with three monitors attached to each. These are Graft and Ash for a Three-Monitor Workstation (2016) and Wet and Wavy – Typhoon coming on for a Three-Monitor Workstation (2016). Both are interactive and encourage audience members to sit and perform exercises on the machines.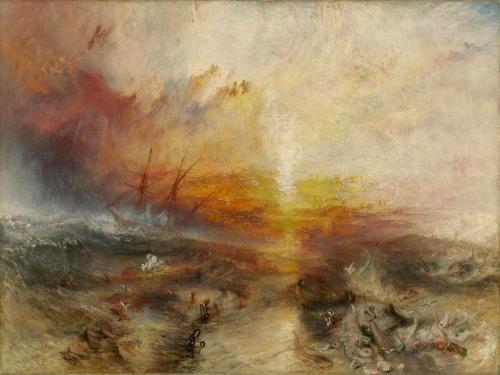 In Graft and Ash, a digital avatar narrates your duration on the bicycle machine, accompanied by a monologue on different aspects of labour, work and capitalism. The avatar mentions the problems with accrediting success to "personal characteristics instead of biased structural systems" and how that may affect the health of black people. The narration also describes the materials of the work itself, creating the impression that the work is self-conscious perhaps in an illusion to AI: "We were made with Sondra's image, one of them, with a Sony rx100 under fluorescent lights in her studio in Houston Texas on April 15th 2016. We were rendered to Sondra's fullest ability, but she could not replicate her fatness in the software used to make us."
In the second space the viewer is confronted by TK (Suspicious Glorious Absence) (2018), a video compilation of news reports, images from Perry's family home, radio interviews and footage from protests. This is an extended version of Perry's 2016 work, Resident Evil. In the original press release, Sun Ra, the legendary jazz pioneer and philosopher, is cited as a key influence for this piece.
Throughout the video Eartha Kitt's performance of I Want to be Evil is juxtaposed with clips of biased or unfair media coverage of 'Black Lives Matter' protests. In one section, Ramsey Orta, who filmed police murder his friend Eric Gardner, is being interviewed, and instead of focusing on the incident at hand the interviewer decides to question Orta on his past convictions, casting doubt on his filming of the incident through her remark, "your hand is remarkably steady". In another clip, footage from the curfew in Baltimore following the murder of Freddie Gray shows an emotional protester argue with a Fox News reporter who calls the protesters "vandals".
TK (Suspicious Glorious Absence) is undoubtedly addressing the power of media and representation. In compiling these clips, Perry is exercising a power of her own by controlling how these images are seen, shared and contextualised. The exhibition is a condensed visualisation of injustice but also focuses on how such unfair stereotypes and identities are fictional and fabricated.
This exhibition is a chance to reflect on how police brutality and institutional racism are not isolated phenomena but are lingering problems still waiting to be addressed on an international level. April 22nd marked 25 years since the murder of Stephen Lawrence, a black British man from south east London, at the hands of a gang of five white teenagers. After the initial investigation five of the suspects were arrested but no one was convicted until 2012 – another example of the Metropolitan Police Service's institutional racism. This murder will be the focus of an upcoming documentary 'Stephen: The Murder that Changed a Nation' on BBC One, to be broadcasted ahead of the anniversary of his death.
All in all, Sondra Perry has created a pensive, thought-provoking exhibition, one which has far reaching consequences within western societies.
Typhoon coming on is open to the public at the Serpentine Sackler Gallery until the 20th of May.